Want to be a vampiress this Halloween? Learn how to create a fang-tastic vampire look with these vampy makeup tips. Explore our Halloween Makeup & Face Paint to take your vampire costume to the next level! Note: some makeup products may cause an adverse reaction in people who have latex allergies.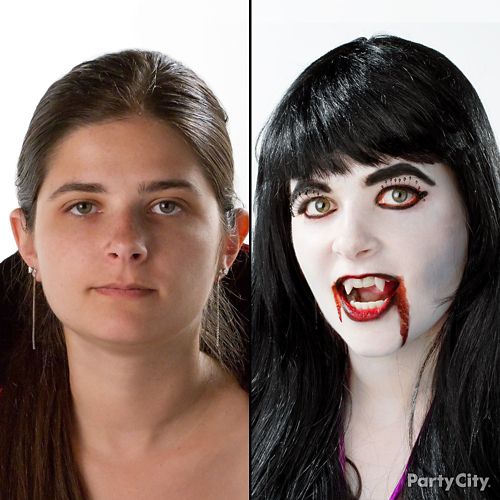 Supplies:
Grease makeup in white, gray, and black
Eyeshadow in red and black
Black eyeliner
Lipsticks in black and red
False eyelashes
Eyelash glue
Fangs with adhesive
Fake blood
Makeup sponges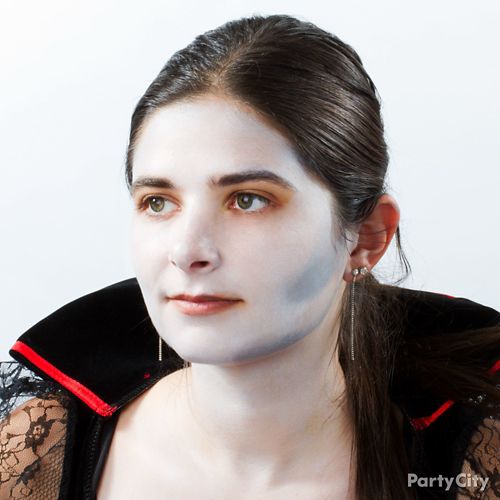 1) Make Your Skin Pale
Vampires are always pale since they avoid the sunlight. Start by using a stipple sponge or makeup sponge to apply a thin layer of white makeup from the Classic Vampire Makeup Kit over your entire face, neck and ears.

2) Contour Your Face with Gray Makeup
Follow up with grey makeup in the hollows of your cheeks, under your chin and along your neck to add contour.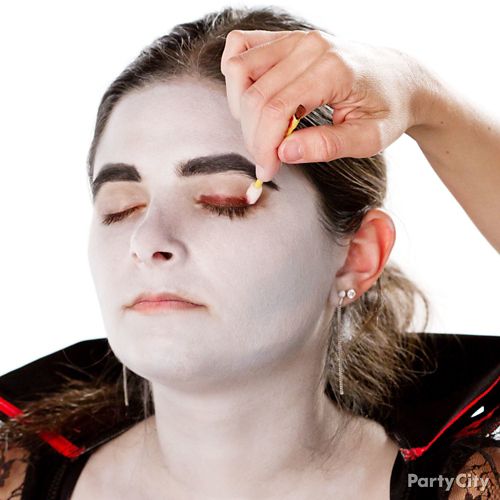 3) Add Dramatic Eyebrows
Now draw on dramatic arched eyebrows with black makeup.
4) Create Striking Vampire Eyes
Making your eyes look sultry is key for a striking vampire look. Mix red and black eye shadow to make a deep red color, then apply it to your eyelids and under your eyes.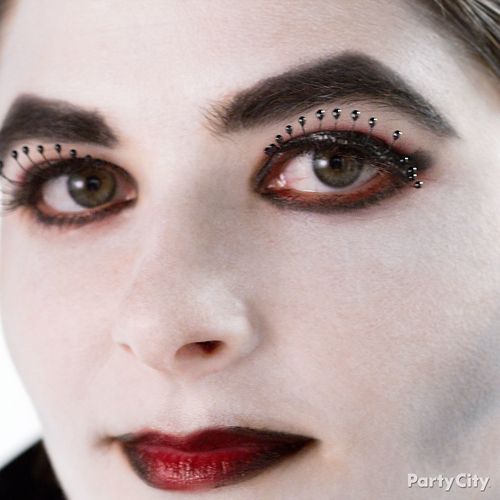 5) Line Your Eyes in Black
Outline your eyes with a black makeup. Use an eyeshadow applicator to extend the black eyeliner on your top lid out past the edge of your eye.

6) Line Your Lips in Black, Then Fill with Red Lipstick
Line the edges of your lips with black lipstick, then fill the center with bright red.

7) Add Luxurious Lashes
Make your eyes extra-alluring by adding false eyelashes. Apply eyelash glue to the bottom of the false eyelash line, blow on it to make it sticky, then gently press the lashes onto your top lashes.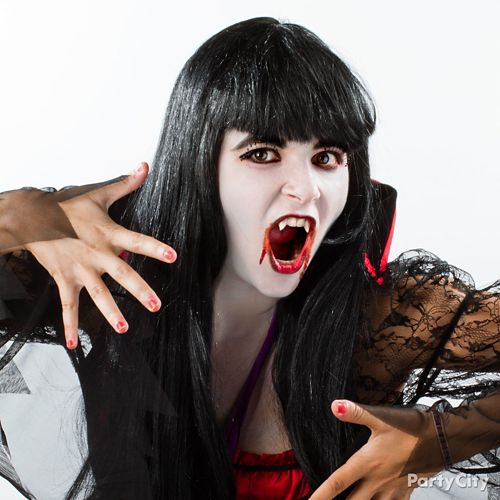 8) Add Vampire Fangs and Blood
Now add some gleaming fangs like the Sexy Bites Fangs so you look like a real vampire. Squeeze some adhesive into the openings on the fangs then press the fangs onto your eye teeth. Next add a trail of blood down your chin, like a vampire who's just fed.

9) Accessorize with a Wig and Necklace
Finish your vampiress look with jet black locks like the Vampiress Wig; just style the bangs as you like. Hang the Deluxe Vampire Medallion around your neck and you're ready to run the town.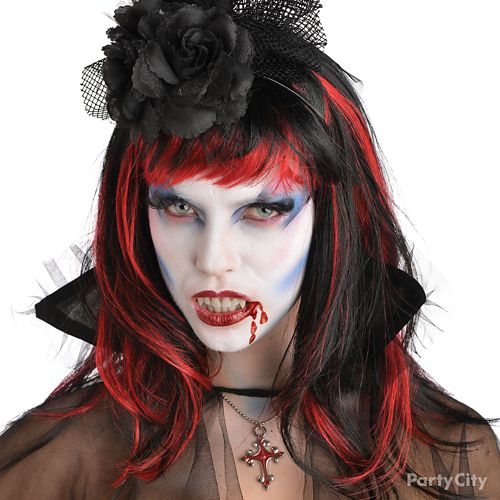 Supplies:
White grease makeup
Makeup sticks in blue, black, and pink
Red lipstick
Fake blood
Setting powder
Makeup sponges
Fangs with adhesive
1) Apply White Makeup
No one does pale and sultry like a vampire! Create this look on yourself by applying white grease makeup with a sponge, tapping to blend. Leave the area around the eyes clear of makeup for later steps.

2) Add Contour
Take blue makeup crayon and add contours around the hollows of the cheeks, jawline and eyes. Blend so the edges look hazy. Take the white and blue colors down to the neck and collarbone for a contour. Use white first as a highlight and then add blue as the darker contour color for a little undead-chic!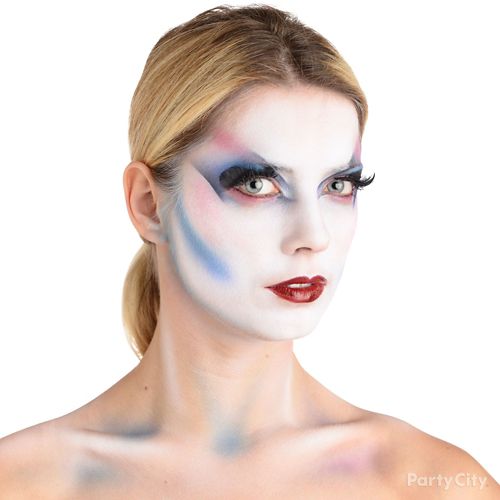 3) Detail the Eyes
Using a sharp makeup crayon, edge the blue with black lines to add definition. Layer on white lines outside the black to create dimension. Add pink above the eyebrow and under the eyes to get that "up all night" glassy vampire gaze.
4) Add Fake Lashes for Drama!
To accentuate this dressed-to-kill look, add black false lashes, eyeliner and red lipstick. Use fake blood as lipgloss and add a few drops off the corner of your lips — you'll look like a vampire that's recently indulged!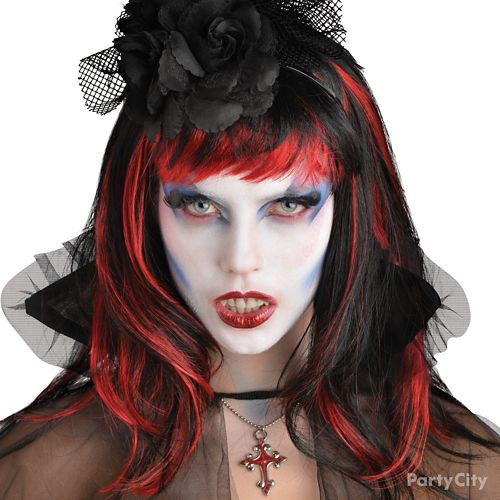 5) Seal the Makeup
Dust your face all over with setting powder so the grease makeup lasts throughout the vampire masquerade!
6) Add Fangs!
Polish the fang-tastic look! Add the wig, the costume and, last but not least, bloody fangs. You'll be the most sultry vampire around!
Shop Vampire Accessories & Makeup