Create a room full of heart for a kids Valentine's Day party at home! Set pretty place settings with polka-dot and heart-printed tableware, then surround it with cute decor like hanging swirls, fluffy decorations and a fun party game that doubles as a poster. Keep reading for even more kids Valentine's ideas your lil' cupids will l♥ve.
Idea 1: Create cute decor with fans and furry friends!
Make a display of eye candy above the treats table! It's easy to make this wall decoration with paper fans in pretty hues and a large Valentine's Day cutout. Arrange the different sizes of fans to form a circle and tape in place, then add the large cutout of a sweet fox and his feathered friend – easy & adorable!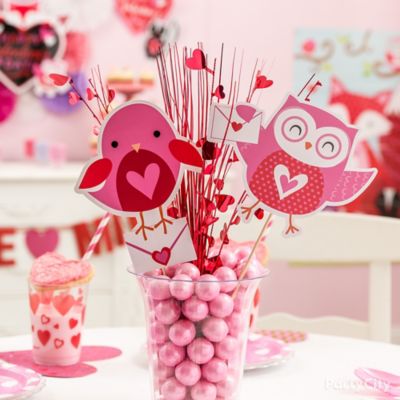 Idea 2: Kids will adore this sweet gumball centerpiece
Make them feel extra-special with an adorbs centerpiece just for them! Fill a clear candy container full of shimmery pink gumballs, then arrange a couple cutouts of feathered friends. A spray of red hearts nestled in between is the perfect finishing touch.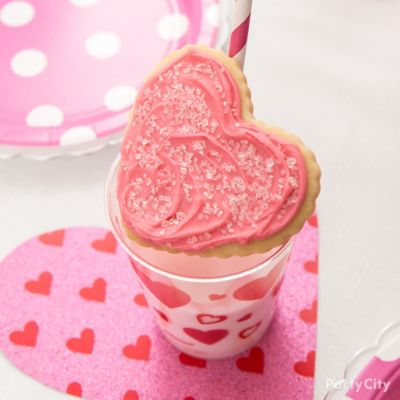 Idea 3: Spoil your sweeties with milk and cookies!
Set a pretty place setting with a special treat for the kiddos. Place a clear Valentine's Day tumbler on top of a cute Valentine's heart cutout, then fill with milk. Gently place a heart sugar cookie on top. To finish, a pretty pink-and-white striped straw is a cute addition and makes for fun sipping!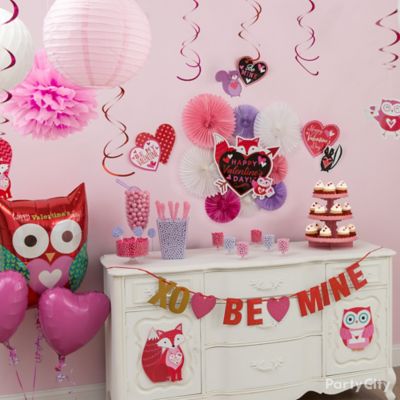 Idea 4: Decorate a candy buffet with hearts and woodland buddies!
Set their hearts aflutter with a candy buffet bursting with their favorite sweets! Arrange mouthwatering containers of candies like Sixlets®, rock candy sticks and gumballs in pink, purple and red. Make the treats table even more inviting with a flurry of decorations like Valentine's Day balloons, cutouts, hanging swirls and lanterns.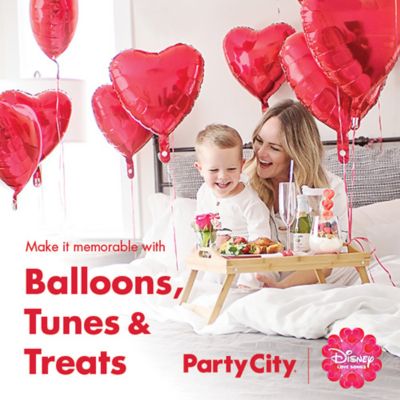 Idea 5: Turn your at-home celebration up a notch
Make Valentine's Day memorable for your little ones with balloons, tunes, and treats! Start by decorating your home with vibrant Valentine's balloons. Set the mood for your celebration with the Disney Love Songs playlist. You and your kids will have a ball singing along to love songs from your favorite Disney movies. Get the whole family involved in the Valentine's Day festivities by baking sweet treats like brownies, cookies, and cupcakes.
Click here to play the Disney Love Songs playlist!