Spoil your sweeties with a Valentine's Day class party! Get ideas for decorating, super-fun activities, teacher gift ideas, and yummy treats. Easy-peasy ways to get their hearts racing. Set little hearts aflutter with ideas for making your child's Valentine's Day class party a blast! Put together a classroom Valentine's party that everyone will love.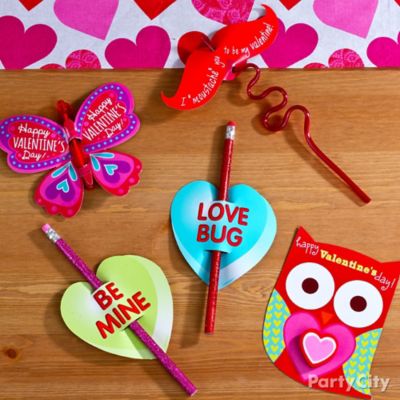 Idea 1: V-day cards with a li'l gift that's better than candy!
Give a candy-less Valentine card that's still super sweet! These exchange cards come with little presents like mini pens, straws and erasers. Got kids as crafty as you? Let them make their own DIY Valentine's Day exchange cards with candy-heart cutouts and glittery pencils.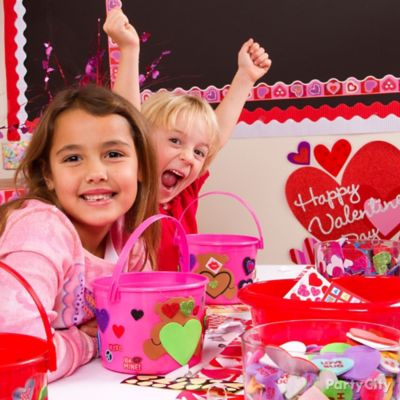 Idea 2: They'll be stuck on these valentine mailboxes!
The kids will love receiving cards and goodies in mailboxes they decorate themselves. Hand out red and pink buckets, and let their imaginations go wild with Valentine's stickers and foam hearts. Your little Cupids can take home their beloved mailbox buckets to remember all the fun!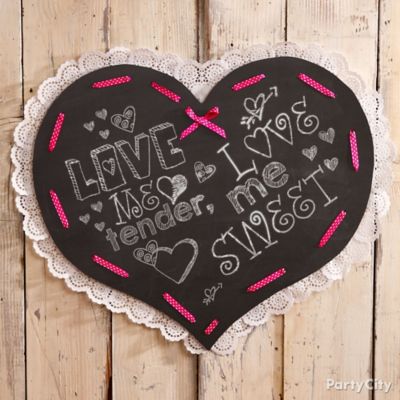 Idea 3: Make a sweet DIY chalkboard sign
Cut a heart from black poster board, add trim made from doily hearts and cut holes to weave pink polka-dot ribbon laced through the edges. Awww-some!
Idea 4: Make a heartfelt board for love notes!
Teachers will love this cute Valentine's Day message board! It's easy to make with poster board (available at Party City stores), crepe streamers, ribbon and place cards. Cut out a heart shape from poster board, then criss-cross red and pink streamers across it until every inch is covered. Give the kids place cards to decorate with a cute message and stickers, then hang on curling ribbon across the front of the decoration. The sweet notes are sure to melt any teacher's heart!
Idea 5: Show the teacher some love with a handmade gift
Roses are red, violets are blue, sugar is sweet and this gift is too! Her teacher will fall head over heels for this crafty bouquet made with foam heart "flowers," with sugar Pixie Stix® for stems. Tie on polka-dot green bows for the leaves and use a clear tumbler for the flower pot. If you like, substitute pencils for sugar sticks to make it just write for her desk!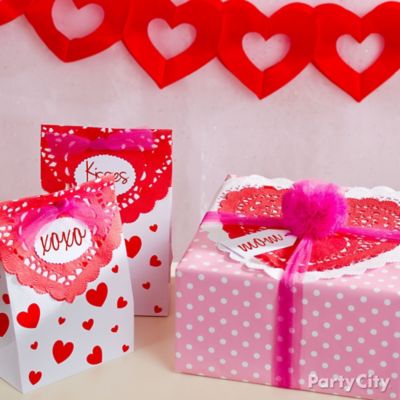 Idea 6: Love is in the air – and on your gift wrap!
Present your sweetie with a gift that's as wonderful on the outside as it is on the inside! Heart-printed favor bags look even more adorable with a red heart doily, tulle ribbon and favor label on top. Give pink polka-dot wrapping paper a special touch with heart-shaped doilies, tulle and a sweet gift tag. Signed, sealed, delivered – all yours!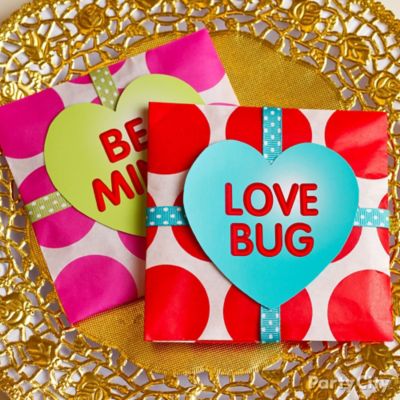 Idea 7: Make adorbs treat packets for your sweethearts!
If the way to their heart is through their tummies, then you've got it made! Use polka-dot wrapping paper and cut to the perfect size for cookies and other small treats. Slip a treat inside and fold in the sides for the perfect single serving of heartfelt deliciousness! Tie on some polka-dot ribbon and a conversation heart cutout then leave for your special someone(s)!
Idea 8: Clever DIY treat cups to indulge sweet tooths!
Set their hearts aflutter with adorbs popcorn and Hershey Kisses® valentines! Make a sweet flower message for the front of the popcorn box with a red lolly, gold mini baking cup "petals" and construction paper "leaves." Add a cute message to the leaves like, "You make my heart POP!" Send a cup of kisses their way by decorating pink cups with glittery lip stickers and filling with Hershey's Kisses before wrapping in a clear bag and ribbon – they're literally sealed with a kiss!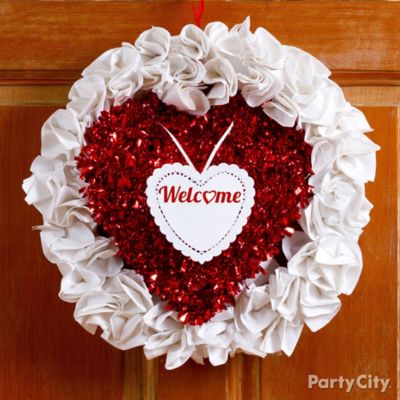 Idea 9: A DIY wreath Cupid would love!
Make a sparkly heart wreath to decorate your door! Just grab a foam wreath, a package of white beverage napkins, a tinsel heart decoration, heart-shaped doilies and some ribbon. Dangle the tinsel heart from the top of the wreath with a piece of ribbon and a dangling doily heart in front for your "Welc♥me" message. For the white "rose" trim, poke holes into the foam wreath with a pencil and stuff in rolled white napkins until you make a full bouquet.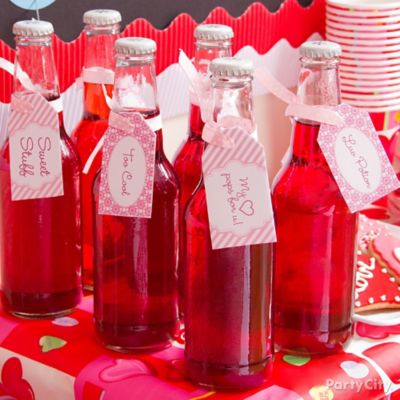 Idea 10: Turn juice into Valentine's potion
Uncap their imaginations! It's fun to transform bottles of juice into fantastic Cupid's juice with custom message tags like "sweet stuff," "too cool," and "my heart pops for u!" Print the tags on your home printer using downloadable templates or handwrite fun messages, then tie them on to each bottle with matching pink ribbon. The kids will feel like they're in a magical candy land!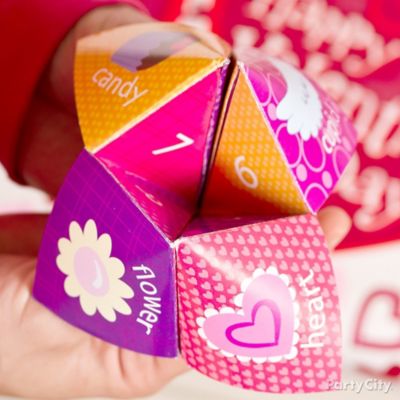 Idea 11: Valentine's Day exchange cards that turn into fun activities
Give out exchange cards that are fun to play with, like a foldable fortune teller with messages like "Have a cupcake!" and "Time to dance!" There are activity cards for everyone: Score a touchdown with foldable paper football cards, give out cards that come with pretty nail gems, or make their hearts soar with paper airplane cards. Happy Valentine's Day!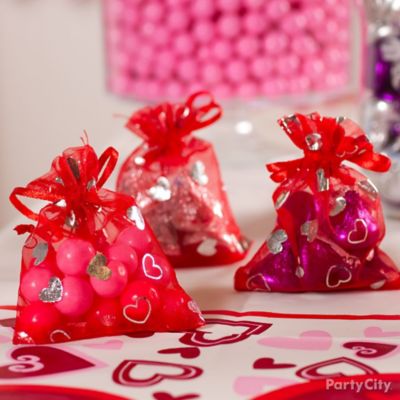 Idea 12: Filled with love
The candy in these pretty organza bags is even more tempting because the goodies inside show through! Fill them up with sweet mixes of gumballs, wrapped hard candies and chocolates. The kids who receive these for Valentine's Day will feel extra-special. Yum!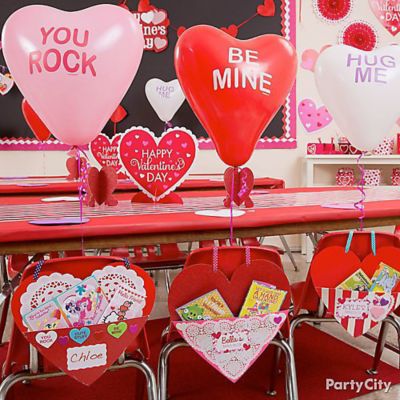 Idea 13: Here's a fun twist on the idea of Air Mail!
Teachers or parent helpers can make all the kids feel special with a balloon valentine attached to their seat. Just tie helium-inflated conversation-heart balloons to each child's chair or use a balloon weight.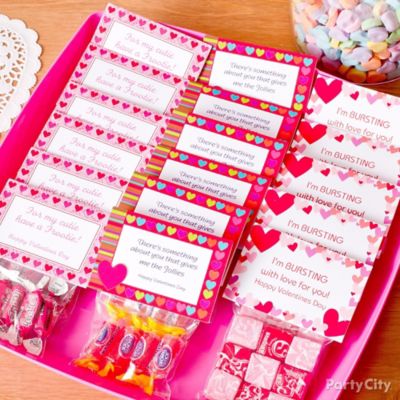 Idea 14: Tags with sweet talk make these candy favors extra-fun!
If you like to wear your heart on your sleeve, you'll love creating these clever custom valentines. The kids (and grown-ups too!) will enjoy reading the funny wording and they'll be bursting with love for your silly and sweet valentines. You can use the small bags shown (available at Party City stores), or use larger bags with more candy. Create custom note card tags online or in stores. Have fun with it!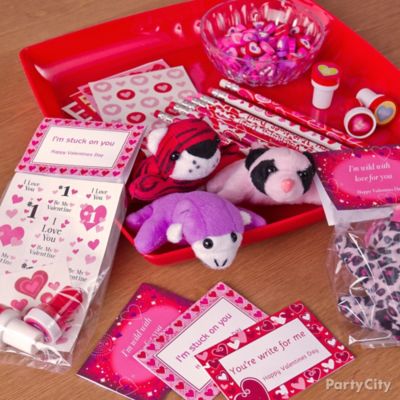 Idea 15: Aww! Little gift pouches for the cutie pies
These candyless valentines are unique, adorable and super-fun to make. Fill clear bags with little toys and favors, and staple on a loving Valentine's note. You can custom-print cards with clever messages that match the favors. For stickers, how about I'm stuck on you. The pencils can read You're write for me. And the animal beanies? I'm wild with love for you! Have your little Cupid sign each one with XOXO and their name for another sweet touch.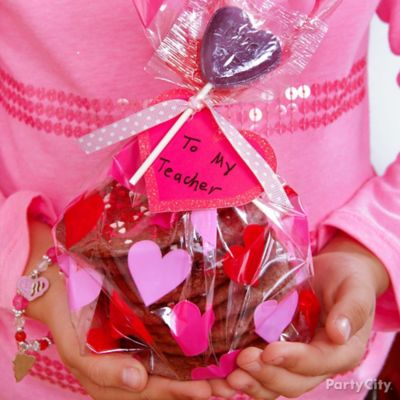 Idea 16: Baked with love and affection!
If your teacher has a sweet tooth, this scrumptious (and thoughtful) valentine idea will make the grade. Bake up your favorite sugar cookies and decorate them with heart-shaped sprinkles. Package up a generous stack of cookies in a pretty hearts treat bag, SWAK and a beribboned lollipop, and you'll get an A+ for effort!
Idea 17: Capture their hearts with a cupcake decorating activity – yum!
They'll be crazy in love with your cupcake decorating activity – the #1 favorite of all Valentine's Day class party ideas. Enlist a few moms to bring in frosted cupcakes and set up a station with pink, purple, red and heart-shaped sprinkles, cupcake picks and lollipops. Guaranteed to spread smiles!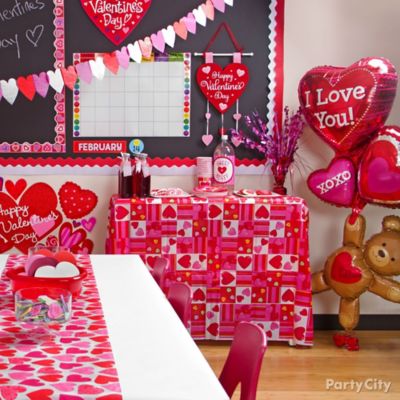 Idea 18: A few key decorations make kids feel like Valentine's VIPs!
A beary special balloon placed in a corner makes the party feel like a VIP event – and the kids can cuddle up to it for Instagram pics! Here's another easy tip: Create an instant beverage station by hanging a colorful table cover over a bookcase. Finish the look with bold wall hangings, fancy streamers, sparkly paper cutouts and a tinsely centerpiece with bling!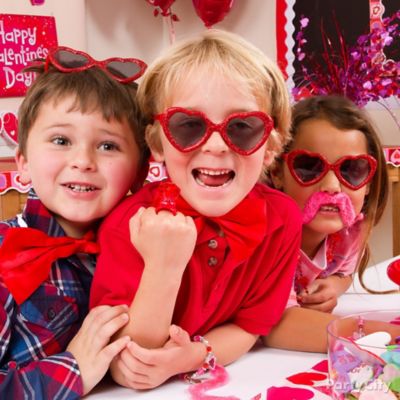 Idea 19: Lovely-looking little cherubs
No wings? Get a Cupid-cute look with red and pink accessories! When you set out buckets of necklaces and bracelets, stick-on moustaches, body stickers, temporary tattoos and hair accessories, the kiddos can dress themselves up for Valentine's Day. Be sure to have your camera ready — parents will love candid shots of their little cherubs!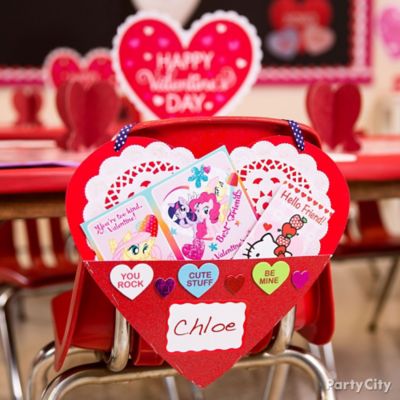 Idea 20: Pur your heart into a DIY card mailbox!
They'll ♥ catching love notes in mailboxes they made themselves! It's easy as 1-2-3 with a couple of large glittery hearts, a paper doily, and some stickers. Paste a heart-shaped doily to the inside of one of the hearts, then cut the other glitter heart in half and staple to the bottom of the full heart to make a pouch. Give the kids some stickers to decorate their mailboxes, and then tie the boxes onto chairs with a name sticker.
Idea 21: Who will your heart mate be? Play to find out!
Get your little Cupids playing (and learning!) with a sweet matching game. Write math equations on foam hearts and cut each one in half at different angles. Hand out the hearts and have everyone find their heart mates – it might be their bestie or even their crush! For younger lovebirds, draw simple shapes or match a letter with a picture – try "h is for ♥". Super cool!
Idea 22: Say cheese! It's a Valentine-tastic photo booth
Let your little cupcakes burn off some sugar by posing sweetly in front of a wall of heart balloons – then share the pics with the class parents or make a class poster. You'll need about a dozen balloons to create a nice background. The kids' silly poses will melt hearts, especially when you give everyone themed props to wear, like lovey-dovey sunglasses and too-cute necklaces!
Idea 23: Candy + clear gift box = sweet gift
Candy is extra-thrilling when it's on display in a transparent box with a pretty ribbon! Making these tempting valentine boxes for the whole class is a fun activity for you and your little cutie pie to do together. Doll them up by attaching crafty foam candy hearts like "be mine" and "cute stuff" – and spread some love!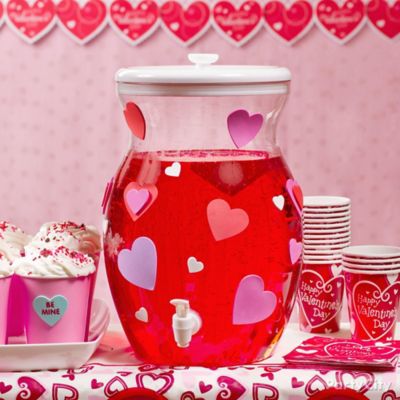 Idea 24: Quench their thirst with juice in a lovey-dovey dispenser
Choose a plain white beverage dispenser and add foam purple and red hearts for your Valentine's bash. You can use it again at the next event and style it with different themed stickers. Mix up a beverage to match your party colors and have plenty of heart-filled cups and beverage napkins. Love!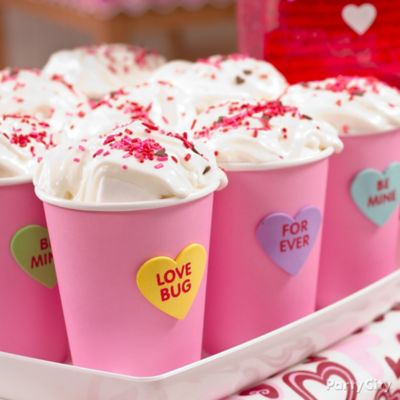 Idea 25: Cocoa confections for the class
Warm their hearts with hot chocolate served in pretty pink paper cups. Turn each drink into a cute creation by dressing them up with foam candy hearts that have sweet sayings like "love bug," "forever" and "be mine." Top with whipped cream and Valentine's Day sprinkles, and serve up on a beverage tray to spoil your sweeties!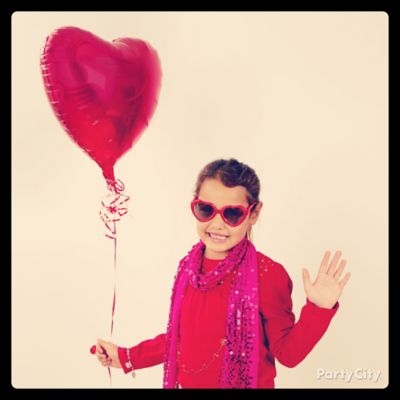 Idea 26: Instagram sweetie!
Your kids already have to show you how to use your phone apps, so they'll be ready to help when you take some adorable Instagram pics. Shower them with fun Valentine's Day accessories like sunglasses and bracelets, and get some cute props ready like a heart balloon on a ribbon. After you're done snapping pics, let the kiddos choose fun filters and frames. They'll create works of photo art with heart!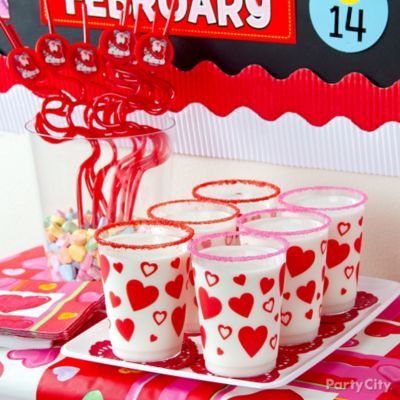 Idea 27: Milk and cookies? Sweet!
Munching on treats will make your sweethearts thirsty! Serve up some milk in heart-themed cups with sugar sprinkles on the rims, then set on a beverage tray with pretty red doilies underneath each cup. Hand out Valentine's Day crazy straws and colorful napkins to really win their hearts!