Give your Valentine's Day party some heart! Decorating with Valentine's balloons is a great way to keep your party on-trend. Balloon walls and heart balloons make for unique photo opportunity that you can use for Valentine's Day cards or do just for fun. From cute to romantic, these balloon ideas make it clear that love is in the air!
Idea 1: We ♥ heart backdrops!
Use foil red heart balloons to create a quick Valentine's Day balloon backdrop, perfect for a photo booth or as a focal decoration above a party table. No need for helium here—find the filling tab and use a hand pump, or insert a straw to blow through. We used 21 heart balloons (a mixture of plain red and printed "Happy Valentine's Day" hearts) for the heart outline backdrop, and 50 heart balloons for the fuller look.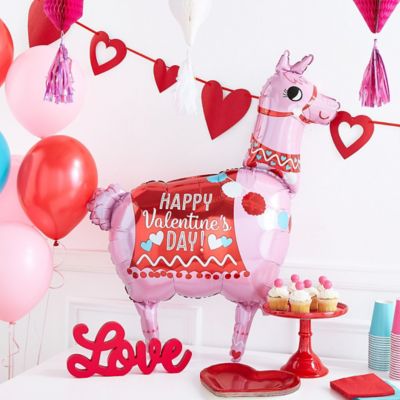 Idea 2: Decorate with shape balloons
To add a touch of trend to your party, use large foil balloons in fun shapes as decoration. Everyone will llove this llama balloon, so why not use it to decorate your sweets table? If inflating with air, thoroughly attach the balloon to the wall using Painter's Tape to keep it upright.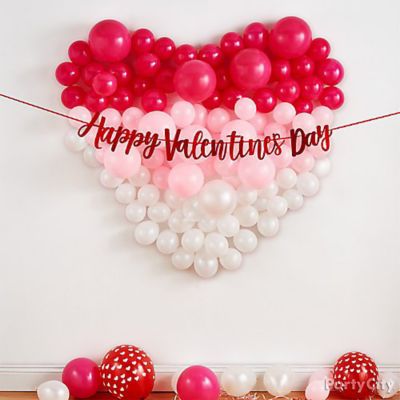 Idea 3: Get straight to the heart with this balloon wall idea
Instead of your sleeve, wear your heart on your wall. This ombre balloon decoration setup of three colors—white, light pink and dark pink—works as a trendy backdrop for a Valentine's Day party with friends or family. Attach various mini and medium-sized balloons to create visual interest. Top it off by draping a Happy Valentine's Day garland across the heart.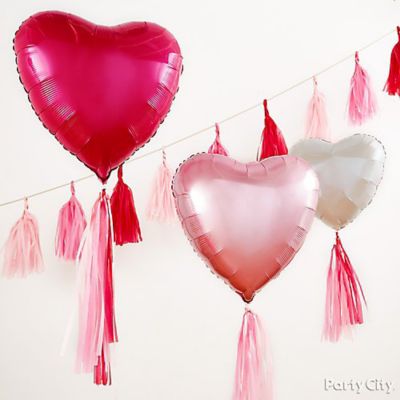 Idea 4: Simple and stylish, paper tassels give heart-shaped balloons some love
Sometimes it only takes one accent to take a display from simple to stylish. That's what paper tassels do best. Attach a couple of the tassels from the paper garland to heart-shaped balloons. Then string the rest of the paper garland along the wall. Now you have a setup that makes love look stylishly sweet!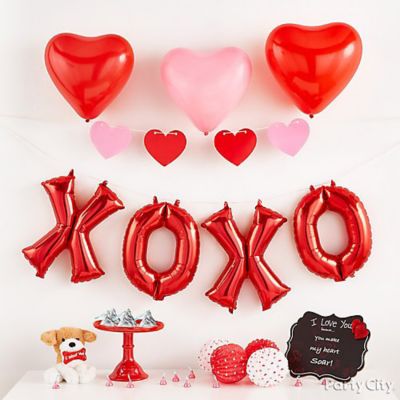 Idea 5: Make hearts soar with an "uplifting" take on Valentine's Day decor
Does your Valentine make your heart soar? Show that with over-the-table decor. For an "uplifting" take on a cutout garland, attach helium-filled heart-shaped balloons on a garland. Then put love notes in the balloons and invite your Valentine to pop them for a sweet surprise!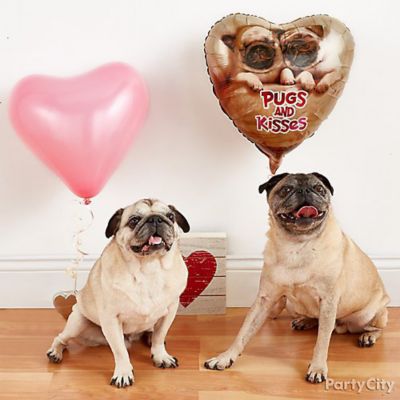 Idea 6: You—and your pet—won't be able to keep your paws off this cute pet setup
Valentine's Day is for the dogs—or cats, or whatever pet has your heart. A couple of balloons make for an easy pet portrait idea. Just set it and snap it to make a "pawsome" Valentine's Day card!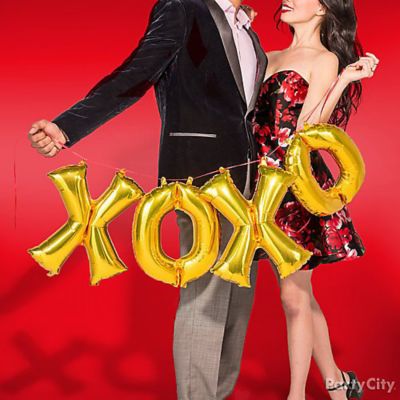 Idea 7: Make your actions and words match up on Valentine's Day with letter balloons as a photo prop
Spell out what's in your heart with letter balloons! String together XOXO balloons, and hold them with your Valentine for an instant Insta-worthy photo. This public display of affection—or photo display of affection—has love written all over it!