Hello Ugly! Embrace your perfectly imperfect party planning mojo with an UglyDolls birthday party. Showing up as you are and not being afraid to be yourself is what UglyDolls are about, so don't sweat trying something new. Party in your pajamas, create deliciously ugly treats, play some games—and remember to snap pics for your Instagram as you get your ugly on!
What's the best part of an UglyDolls party? If the outcome doesn't match the vision you planned, there are no worries. In Uglyville, they know beauty is more than simply meets the eye. Why try to fit in when you can be unique, silly, and the best thing of all…yourself? Read on—and let's get ugly!
Deliciously Ugly Crispy Rice Pops
These are a busy mom's dream party snack! The crispy rice treats and candy coating can both be made in minutes with a microwave. Never made them before? Prep and cook time is only about 10 minutes! An additional 45 minutes to let treats harden and you have a tasty pop your little dolls will love. If you rather not make them at home, store-bought works just as well.
1. Start with your favorite recipe for crispy rice treats.

2. Once the crispy rice bars have cooled completely, cut into rectangles of various sizes. Create variation by making some skinny and some wide. Keep in mind they need to be long enough to dip the top halves.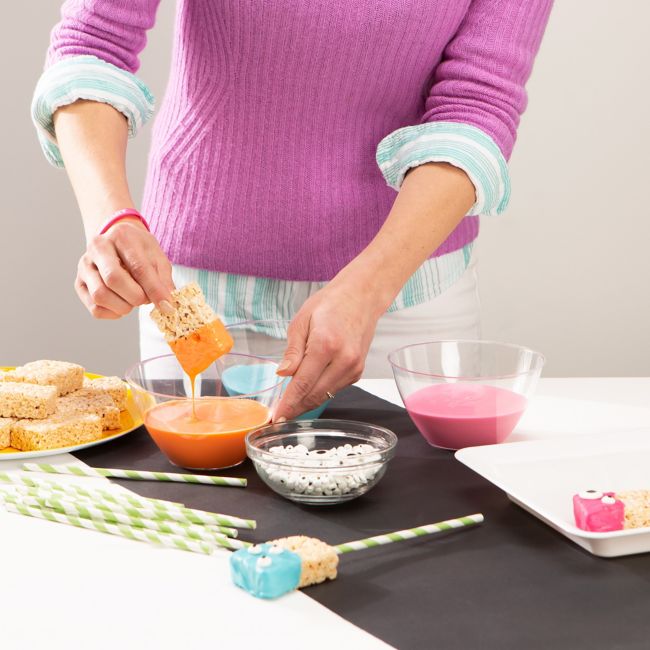 For the candy coating
1. Choose Candy Melts in UglyDolls colors: pink, blue, orange and green. Melt about 1 cup of candy melt in a small bowl in the microwave at 50% power for 1 minute. Stir and then continue microwaving at 50% power for 30 seconds at a time until completely melted. Repeat for each color.
2. Add approximately ½ teaspoon to 2 teaspoons of cooking oil (the more you add, the smoother the finish) to the melted Candy Melts and stir.
3. Pull apart each crispy rice bar. Dip the crispy rice treats in the Candy Melts and set on parchment paper.
Add the candy eyes and cookie sticks
1. Before the candy hardens, gently press the candy eyeballs into the Candy Melts. Use both dome-shaped and flat candy eyeballs to give the faces more variety. Use different patterns and numbers of eyeballs to create unique looks for your treat pops.
2. Next, insert a candy bar stick or cookie stick in the bottom of the crispy treat to transform it into a pop!
3. Wait for melts to harden, then serve!
Create your Crispy Rice Pops
What better way to switch the focus from outer appearances to being comfortable in your own skin than with a pajama party? This is a win for you, too: the relaxed atmosphere puts your little guests at ease and that makes your job as party host easier. Movies and games are essential entertainment for partying in your pj's. Try an UglyDolls themed game to get the party rolling.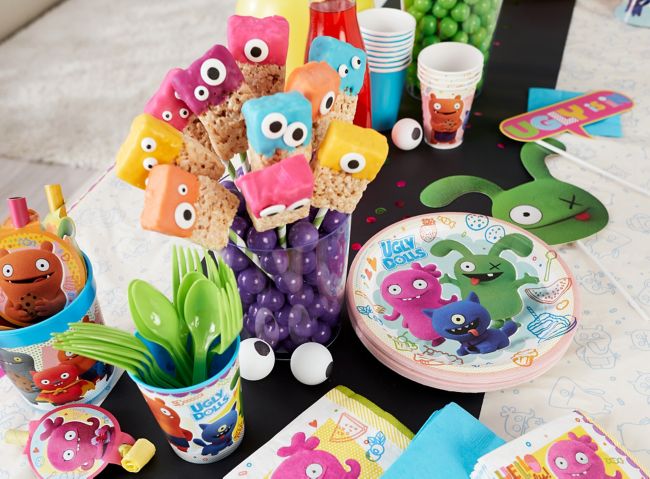 Decoration eye-deas!
Ugly is in! Create your fun and fabulous UglyDolls party table in six simple steps.
Use gumballs in plastic containers as vases for your themed Crispy Rice Pops and as a treat filled stand for your birthday cake.
Fill themed containers with favors and cutlery so they double as party table decorations.
Draw an eyeball with a black permanent marker on a white ping pong ball to create an eye-catching table decoration.
Cake toppers, confetti, and themed tableware put the finishing touches on your table decor.
Blankets, character costumes and UglyDolls plush pillows make decorations that are reusable for wear and play.
A themed birthday banner, swirl decorations, and honeycomb balls create instant wall decor.
An UglyDolls party kit includes everything you need and makes decorating effortless.
Put your eye for decorating to good use!
Perfectly ugly pictures!
Your UglyDolls party is the time to let your ugly shine! Strike a pose with photo booth props, balloons and favors to make the most of your shareable memories.
Be ugly and proud with props!
A simple prop gives your photos a big boost of birthday spirit. They highlight your theme and give your birthday guest of honor more ideas for picture poses. A simple prop gives your photos a big boost of birthday spirit. They highlight your theme and give your birthday guest of honor more ideas for picture poses.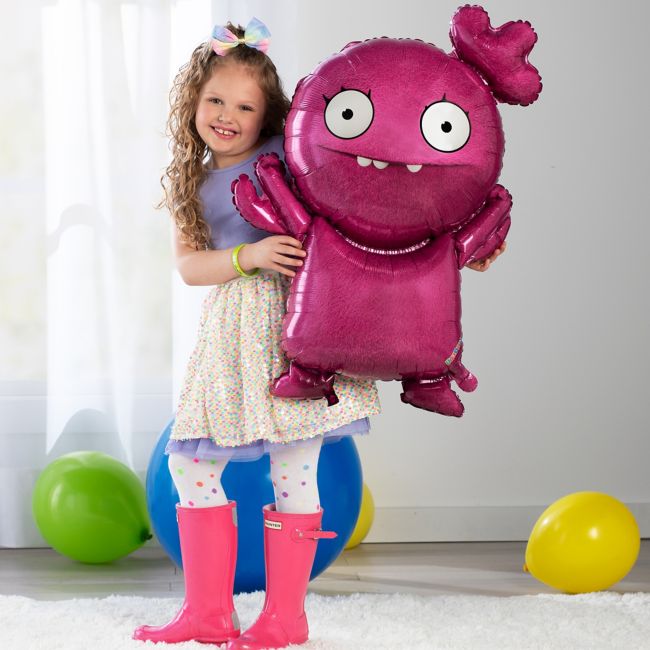 Balloons set the backdrop!
One big foil character balloon or several latex balloons in UglyDolls party colors give your photos a party background with a professional look. No helium needed—it's a breeze to set your perfectly ugly scene!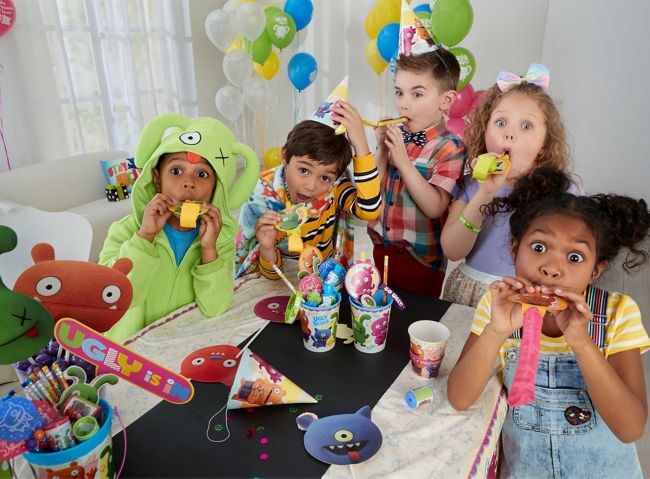 Fun with favors!
Party guests go crazy for favors. Make a little ugly go a long way by having favors multitask as photo props! Snap a few shareable memories of their bliss for your Instagram.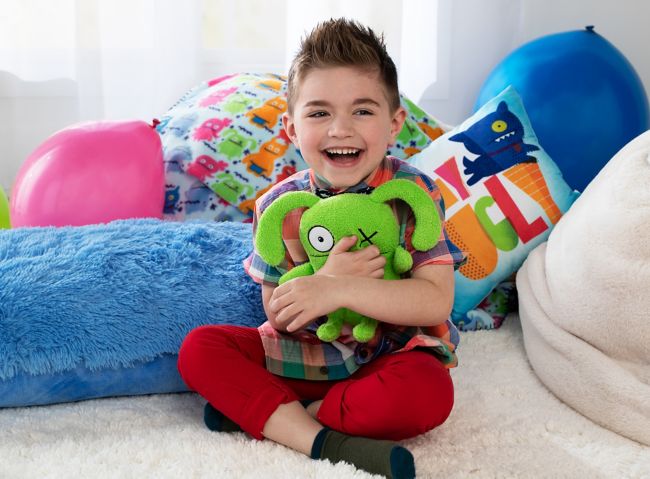 Hug your Ugly!
A birthday is the ideal time to celebrate what makes your little one unique. In a world where everyone is struggling to fit it in, embrace what makes them stand out! Let loose and try something different. And most of all, have fun!