Trick out your ride for trunk-or-treat, an activity that puts a spin on the Halloween tradition of trick-or-treating. An organized event usually held in school or church parking lots, trunk-or-treat involves vehicles decorated in creative themes as kids go trick-or-treating from car to car. Cruise through our gallery of decorating ideas—from classic Halloween themes to new takes on popular characters—for inspiration that will get your trunk-or-treat car hoppin'!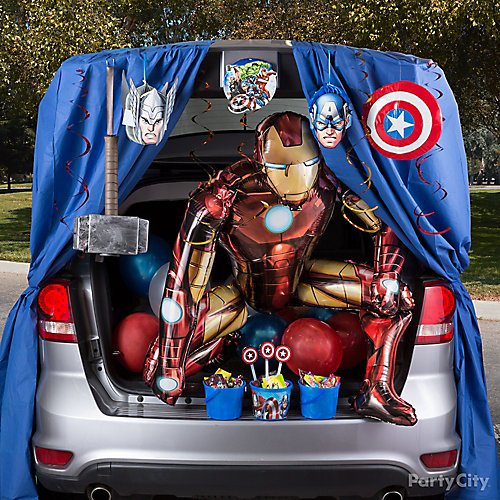 Idea 1: Add character to your trunk-or-treat
It may be Halloween, but every type of decoration is fair game as a trunk-or-treat theme. Consider uniting with the Avengers to create a setup that's action-packed! You'll need an Ironman gliding balloon and accessories from the other Avengers, like Thor's hammer and Captain America's shield, and a couple of hanging swirls taped to a blue plastic table cover. Give trick-or-treaters a hero's sendoff with Captain America glow wands and super tasty treats.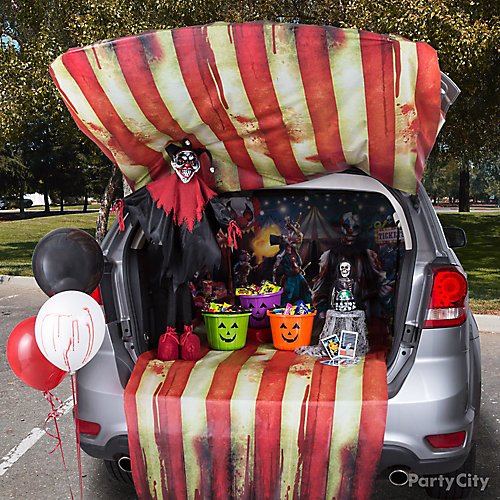 Idea 2: Clowning around is what this trunk-or-treat theme does best
Invite little trick-or-treaters to enter if they dare into a creepy carnival trunk-or-treat theme. Turn your trunk into a big-top tent by draping carnival-themed room roll over the hatch and trunk bed. The devil is in the details, so add more touches of "carn-evil" with a cardboard-mounted creepy carnival scene setter and blood splatter on a white balloon. Don't forget the smiling clown—either a Halloween prop or you dressed up in costume—to greet the little trick-or-treaters when they step right up.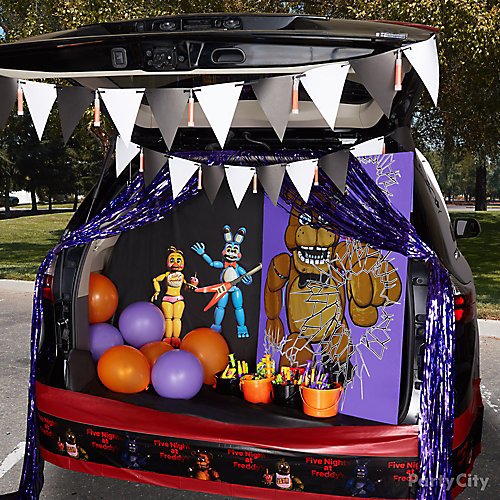 Idea 3: Turn your trunk into a stage fit for fear-inspiring characters
For a creative trunk-or-treat idea, try a theme that's already terror-filled—like surviving a night with killer animatronics, the basis of the Five Nights at Freddy's video game. Turning your trunk into a stage for Freddy Fazbear and his fear-inspiring friends, Chica the Chicken and Bonnie the Rabbit, involves a handful of DIY tricks: mount a Freddy window poster and purple table cover on a poster board, then tape cutouts of Chica and Bonnie on a black backdrop. Trick-or-treaters won't want to escape the clutches of this killer setup!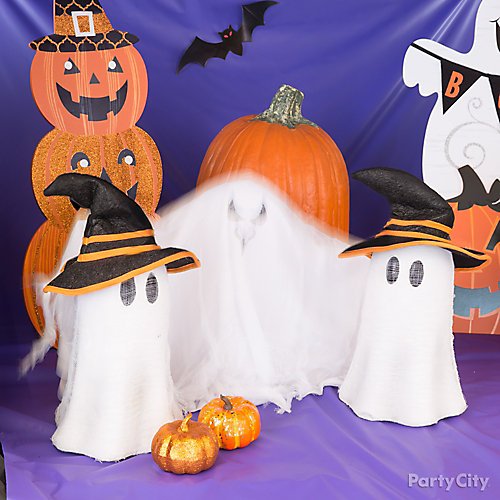 Idea 4: Set up a boo crew of friendly ghosts!
Add life to classic Halloween decorating with this easy trick! Small animatronics, like rising or spinning ghosts, make your trunk-or-treat theme the liveliest setup in the parking lot! Simply let the animatronics loose in your trunk—they'll move, bump and haunt their way around as little trick-or-treaters snatch a snack from candy-filled bowls. With this trunk-or-treat tip, the "boos" you get from little ones will be a ghoulish delight!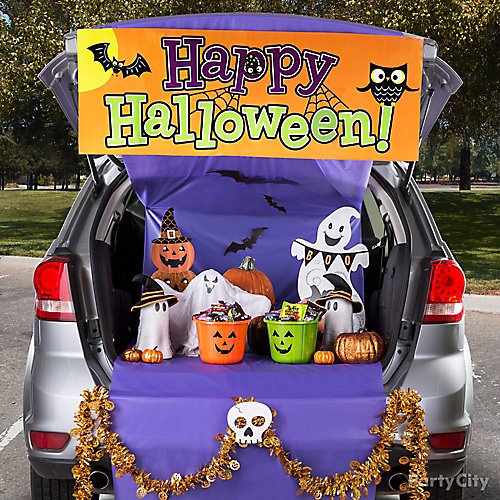 Idea 5: Turn your trunk into a ghost playground
It's time to gather the ghouls and take them for a spin in the parking lot! This trunk-or-treat idea repurposes Halloween yard decorations and small animatronics to make a lively scene. Place the ghoulish decor against a backdrop of purple plastic table cover and hang a scene setter banner on the trunk hatch. Add shimmery pumpkins, candy-filled buckets and bat cutouts—now you have a ghost story that's frightfully fun!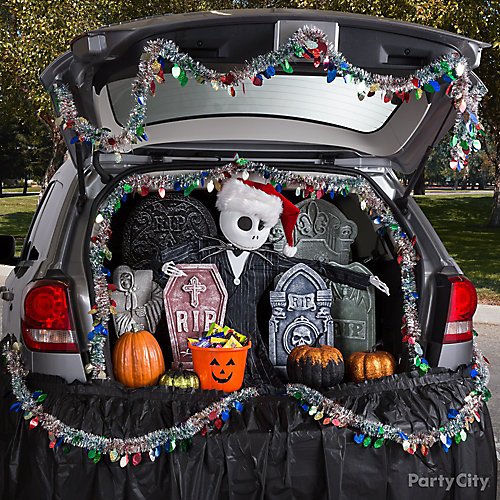 Idea 6: Take your ride through Halloween Town
Draw inspiration for a creative trunk-or-treat theme from classic Halloween stories—like the movie The Nightmare Before Christmas! Simplicity is what makes this "nightmare" idea a dream theme for trunk-or-treat: build a setup of tombstones, holiday tinsel and pumpkins around a hanging decoration of Jack Skellington. Add a Santa hat on Jack, and then he's ready to welcome trick-or-treaters to Halloween Town!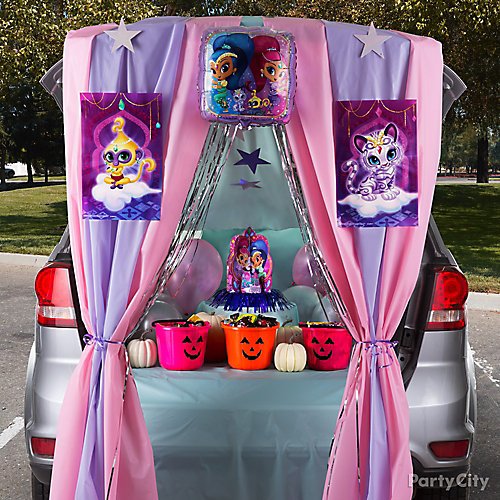 Idea 7: Unlock the secret to these gorgeous curtains
Wish you could summon genie magic to come up with a trunk-or-treat theme? Wish granted when you decorate with pastel-colored plastic table covers—using them to create curtain draping and a canopy swag makes your display look like a desert tent. The shimmer and shine comes from the two genie sisters that do it best—Shimmer and Shine—in the form of a centerpiece, scene setter decor and a Mylar balloon. All that's left is granting the "sweet" wishes of trick-or-treaters!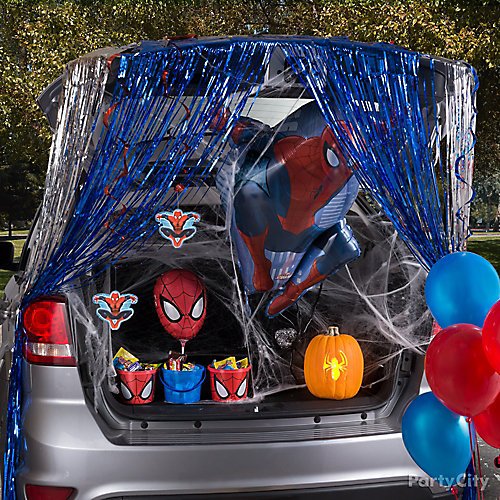 Idea 8: Weave a super spidey web!
Decorating with spider webbing is a Halloween must-do, but for a trunk-or-treat, dress it up spidey style. It only takes a handful of decorations like hanging door fringe, hanging swirls and spider webs to make the theme look amazing! Carve a pumpkin with Spider-Man's logo for a bit of Halloween fun. Then have the friendly neighborhood crusader make an appearance—either as a balloon or your little trick-or-treater dressed in costume!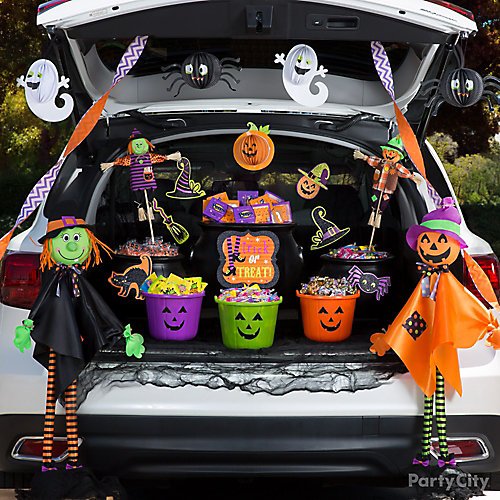 Idea 9: Witch trunk has yummy treats?
Decorate the car for a kid-friendly, trick-or-treatin' good time! Welcome kids to grab some goodies with sweet smiling witches and happy pumpkins. Fill colorful buckets with treats and display them in easy reach. Add a few streamers and some hanging paper critters to greet little ghouls and goblins!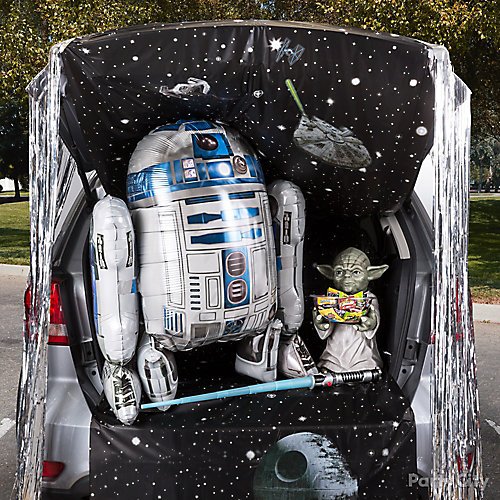 Idea 10: Take your car for a cruise—in a galaxy far, far away!
No need to be a Jedi Master to create this this trunk-or-treat setup. This Star Wars-inspired idea gets help from R2D2 gliding balloon and a Yoda candy bowl holder. Place them against a backdrop of a starry night room roll adorned with decals. It's no moon, but hanging silver door fringe on the side makes your "space station" ready for the fleet of trick-or-treaters.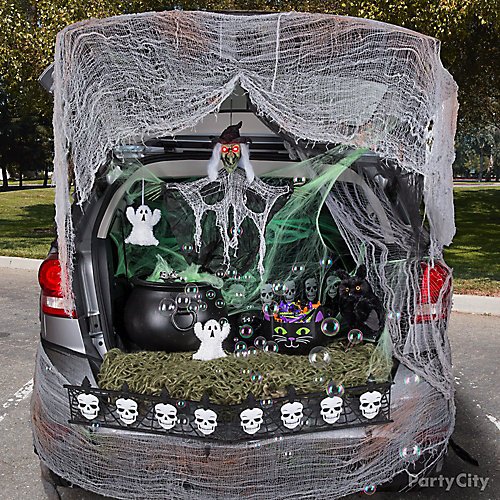 Idea 11: Brew up a new take on the classic Halloween witch
A spooky witch is a classic Halloween decoration, but when using it for a trunk-or-treat theme, try brewing up a new spell. She'll still need her large cauldron and assistants like ghosts and a winged familiar, but for a bit of fun Halloween trouble, surround her with spooky spider webbing that glows under blacklight. Then conjure up "bubble, bubble" with the help from a battery-powered bubble machine!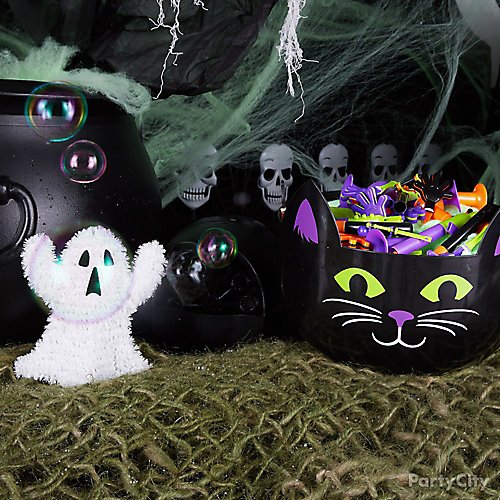 Idea 12: Add the element of surprise with battery-powered gadgets
For a witch-themed trunk-or-treat, bring all the "bubble bubble" without the toil or trouble. A battery-powered bubble machine is a simple and delightful surprise that makes your trunk-or-treat display unique and interactive. If your trunk-or-treat event is at nighttime, add a couple of battery-powered black lights to cast an eerie glow.