Transform your son's birthday party into an ultimate Autobot themed party! Games, treats, decorations and more all inspired by your birthday boy's favorites like Optimus Prime and Bumble Bee!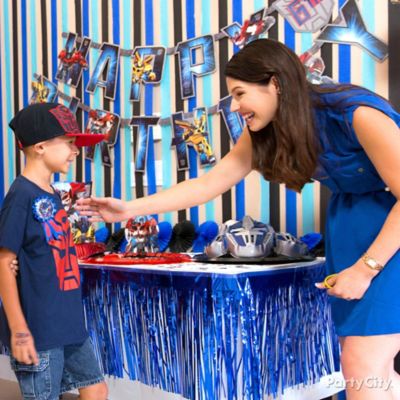 Idea 1: Give your Optimus Prime maxed-out party gear!
Help your birthday bot feel as powerful as Optimus in a hat and shirt sporting Prime's face, and, once he and his friends derail the Decepticons' plans, pin on the award ribbon for being your number-one hero!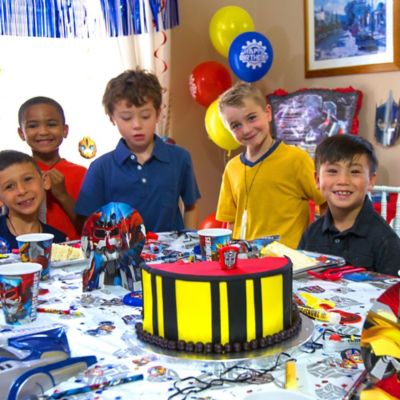 Idea 2: Take a group shot before they dig in!
Who wouldn't want a pic of that awesome birthday cake? Before the birthday boy blows out the candles, gather the Autobot team around for a group photo. (Send the photos out with the thank you notes for a thoughtful touch.) Everybody say, "Bumblebee!"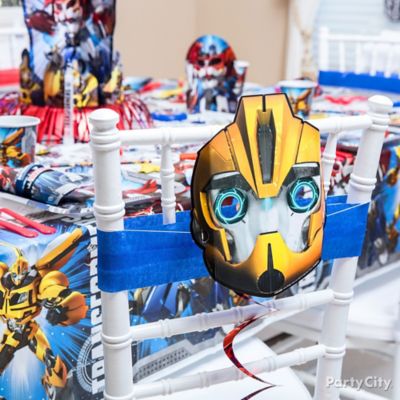 Idea 3: Turbocharge the chairs with a DIY creation
To make these supersonic do-it-yourself chair decorations, all you need is blue streamer, Transformers masks and Transformers swirl decorations. Upgrade your chairs with these colorful characters and they'll defend your Autobots while they refuel on cake!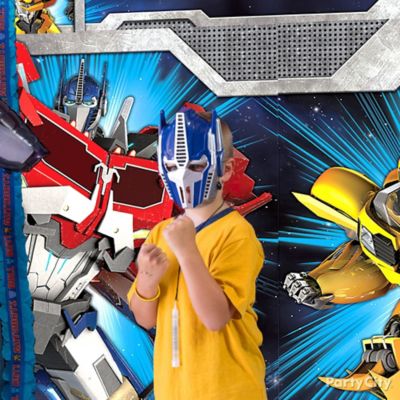 Idea 4: Mask + bot buddies = cool photo op!
Optimus Prime might be the fearless leader, but he needs energized friends like Bumblebee by his side. Set out Prime and Bumblebee Masks and hand out "laser beam" glowsticks. Robot impersonations are bound to follow!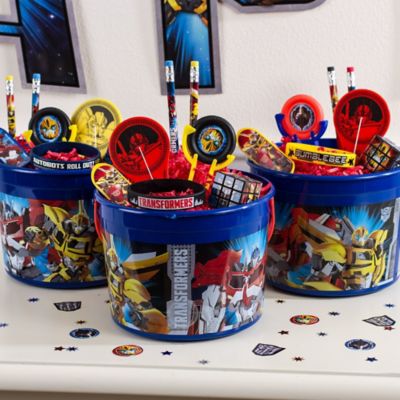 Idea 5: Put together bucket favors for the crew
Load up Transformers Favor Buckets with colorful paper shred and add a disc shooter, a paddleball, pencils, stickers and a skateboard keychain and your Transformers fans will leave the party happy.
Idea 6: Wow your bots with favor cups
The Autobots will go the distance to help a friend, so go just as far with your favors, too. To make rad Transformers Party Cups, toss in yellow crinkle paper shred and Transformers wristbands, paddleballs, game cubes and pencils. It's a cool way to thank them for coming!
Idea 7: Assemble favor bags with supersonic speed!
These quick and easy loot bags are guaranteed to please humans and robots alike. With our Transformers Favor Pack, you'll be prepared with enough take-home toys for eight guests. Just slip the loot into Transformers favor bags and set them by the door for guests to grab as they head out!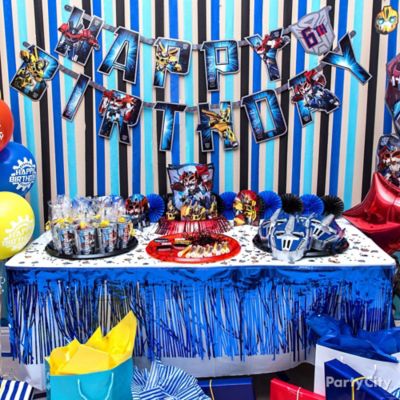 Idea 8: Make the favor table as sleek as Bumblebee!
Giving away relics from Cybertron is a great way to have your guests leave with a well-oiled smile. Deck out the table with a Transformers centerpiece and party favors like Transformers Masks and Wristbands on platters. A Transformers birthday banner and balloons make it a festive fortress.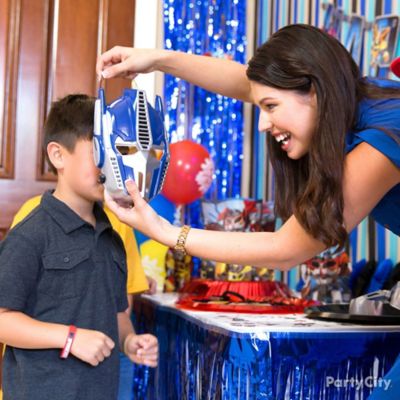 Idea 9: Gear up like Optimus Prime and Bumblebee!
Decepticons don't stand a chance against your team when they're decked out like the Autobots! Make sure every party guest gets an Optimus Prime or Bumblebee face mask to wear throughout the party. They'll be ready to roll out for any activity that comes their way!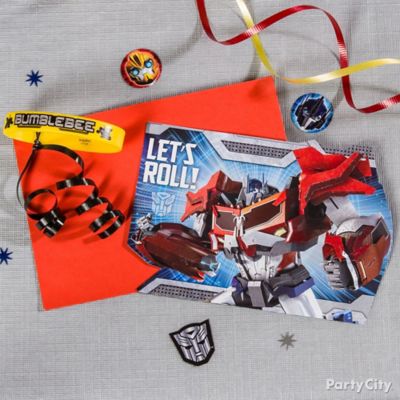 Idea 10: Tie a wristband on an invite
Want to go a megamile? Include Transformers Wristbands in your invites! Tie them on with curling ribbon and sprinkle in confetti and they'll be ready to boot the Decepticons into the turbo charger!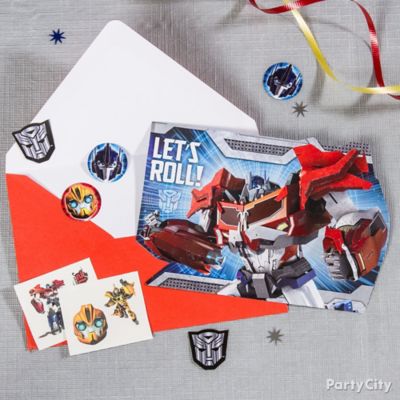 Idea 11: Enclose secret passes with the invites
Include Transformers Tattoos and Confetti to get your guests super-pumped for the party. They'll need to wear their tattoos as secret party passes in order to tell them apart from the Decepticons!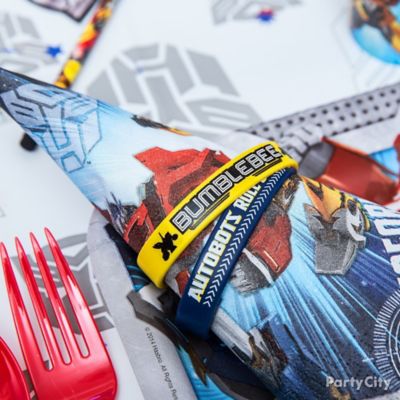 Idea 12: Slip wristbands on napkins for a fun touch!
Wristbands are a cool favor and they look awesome as napkin holders. Call them victory awards and wrap up the Decepticons' defeat!
Idea 13: Turn any table into Autobot HQ!
Transforming an ordinary table is fast and easy! Once you've laid out a Transformers table cover, display the matching centerpiece kit. Scatter handfuls of confetti and small party favors about — guests will love it!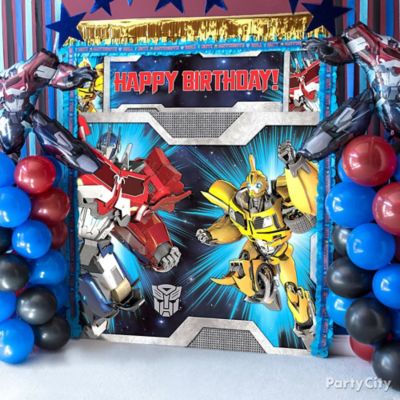 Idea 14: A scene setter and balloon towers are a prime backdrop!
Autobots do everything big so keep to the theme with a Transformers Scene Setter and trim with streamers and stars, one for each of Optimus Prime's victories, and include balloon towers to fortify the photogenic powers!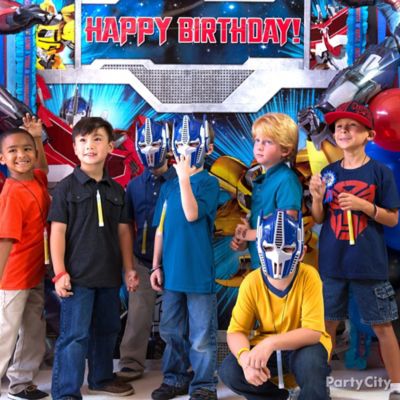 Idea 15: Capture the fun with pictures
The Decepticons are close and the heroes must shift into overdrive. Hand out "laser beams" (they're glowsticks!) and Optimus Prime and Bumblebee masks to take a pic of the bots in their best power poses!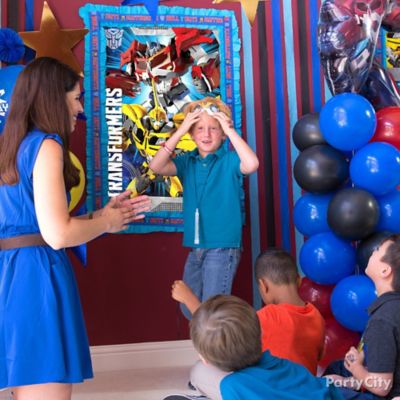 Idea 16: Help repair Optimus's armor
With this Transformers Party Game the little bots can use stickers to help Optimus transform. Once the leader is repaired, the final battle can begin! Give the game a cool DIY look by adding paper decorations and streamer around the edges.
Idea 17: Treat them to an Optimus pinata
Have your Autobots take turns looking for the right ribbon to release the "energon" treats from their official Transformers pinata. Hurry and snatch up all the goodies before the enemy does!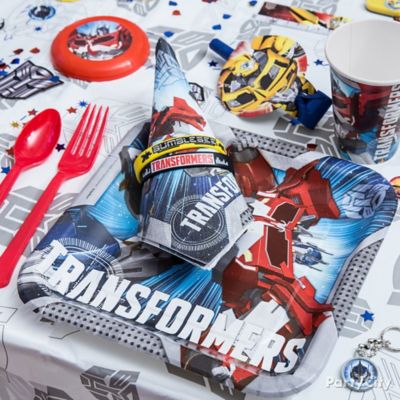 Idea 18: Transform your table into a recharging station!
When it's time to refuel with cake they'll be energized by your amazing Transformers party table. Pump up Transformers tableware with red utensils and scatter confetti, blow outs and discs on the table to keep the fun going.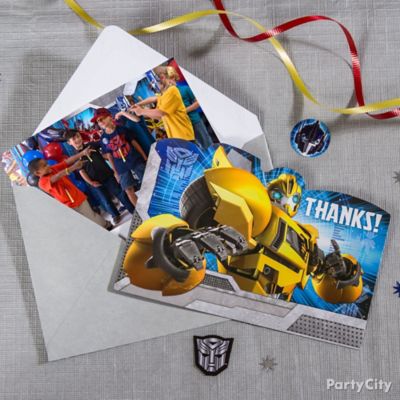 Idea 19: Say "thanks" with a photo of all the fun
Send out Transformers Thank You Notes to all the heroes for being there to save the planet. Include an action-packed picture of all the kids to remember the fun. Thanks to them, the party was a blast!