Fly in the Bumblebee cake
This cool fondant-n-gumballs cake will transform your guests into Autobot allies! Cruise on over to our Transformers Fondant Cake How-To for the details on decorating it. Some yummy black gumballs and Transformers Birthday Candles featuring the robot team top off this awesome Bumblebee cake.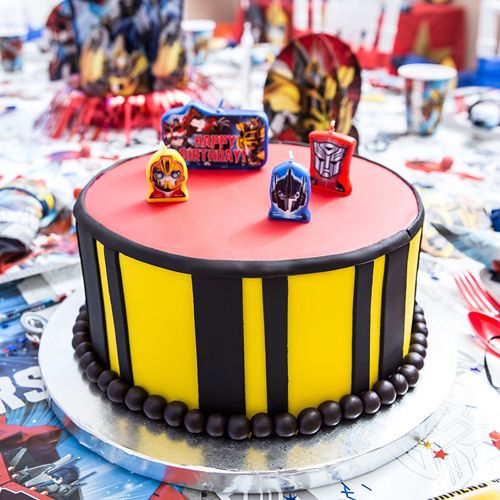 How-To
Ingredients:
2 - 10 in. cake rounds
Buttercream icing mix
Pre-rolled white fondant
Yellow icing color
Pre-rolled red fondant (in set)
Pre-rolled black fondant
Black gumballs (about 40)
Supplies:
Fondant roller
Fondant smoother
Pizza cutter or paring knife
Toothpicks
16 in. round platter
Transformers candles
1) Time to roll out!
To prepare your cake to be covered with fondant, ice it with a layer of buttercream icing. Save icing for step 6.
2) Prepare yellow fondant
To tint the white fondant yellow, use one box of pre-rolled fondant, make a ball of fondant and knead until soft. Use a toothpick to dot yellow icing color onto the fondant and knead until color is evenly distributed.
3) Cover cake with fondant
Roll out the yellow fondant. Place over the cake and smooth using a fondant smoother and trim off the excess using a pizza cutter or paring knife.
4) Place red fondant
Roll out the red fondant and cut a 10 in. diameter circle using a pizza cutter or paring knife. Place over cake, smooth and trim excess.
5) Cut black fondant strips
To make the black detailing, roll out the black fondant and use a pizza cutter or paring knife to cut strips of fondant. Attach the fondant by dabbing with water. It's looking rad!
6) Attach gumballs
Place the cake on a cool silver platter and decorate the bottom with black gumballs, attached with dots of buttercream icing.
7) Top with candles
Transform the cake with the finishing touch: candles! The kids will have fun identifying them as Optimus Prime, Bumblebee, Bulkhead and Ratchet!