Open the toy box and let out the fun with a Toy Story birthday party! With Disney and Pixar's Toy Story 4 coming to theaters this June, a new generation of kids are falling in love with Woody, Jessie, Buzz Lightyear and the rest of the Toy Story gang. Your guest of honor can experience all the joy of being a toy with our ideas for Toy Story birthday decorations, party games, craft ideas and more. Gather up our Toy Story Party Supplies and get ready, because this is the instruction manual for assembling a Toy Story birthday party they'll never forget!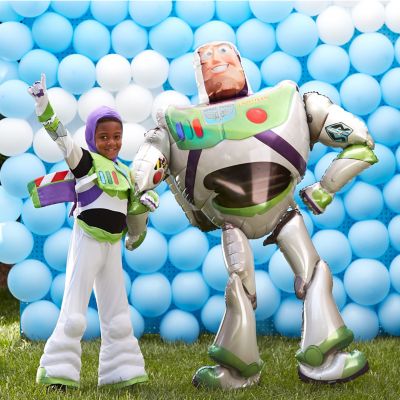 Happy birthday Space Ranger: fluffy cloud Toy Story backdrop
Everyone will want to pose for a photo-op when Buzz Lightyear reports in to Star Command amidst an amazing balloon backdrop! Your guests will have a blast pretending they're flying with their favorite space ranger when you create a sky backdrop out of balloons.
Spray paint a large pegboard the same color as your balloons. For our sky display, we spray painted our pegboard Caribbean blue. Once we air-inflated our balloons (you're going to want a balloon pump for this—we inflated about 100 blue and 20 white for the fluffy clouds), we carefully pulled the knotted ends through the holes in the pegboard.
A more convenient option is our balloon backdrop kit, which includes a flexible clear plastic backdrop in place of a pegboard. When the backdrop is ready, invite Buzz to join the fun: he'll make this a Toy Story photo booth you won't want to miss.
Balloon backdrop supplies:
Launch lunch with Toy Story tableware!
Whether you're serving up slices from Pizza Planet, Hamm-style pigs in a blanket, or Slinky hot dogs, set a table that's as energized as kids with a new toy. Mix and match Toy Story plates and napkins with polka dot and chevron patterns in bright colors for an eye-catching Toy Story themed party table. Scatter green army men and other goodies from the Toy Story 4 Favor Pack to make sure playtime never ends!

Set the table with these:
Bring the movie to life with Toy Story costumes!
Get your party guests into character with Toy Story 4 costumes! Your fearless cast of toys will have a blast acting out scenes from Disney and Pixar's Toy Story 4, so make sure to include Bo and Forky alongside familiar outfits for Buzz Lightyear, Woody and Jessie. With a little imagination and special Toy Story costumes like these, your party guests will be ready to conquer everything from the Evil Emperor Zurg to birthday cake!

Toy Story party food: Hamm's Sweet Treats
These treats are inspired by our favorite wise-cracking piggy bank, Hamm! Two small scoops of strawberry ice cream create the head and body, with halved pink wafer cookies for his arms and legs. For the snout, cut a marshmallow in half, cover with pink sugar sprinkles and finish with two brown chocolate drops. Add candy eyes and mini marshmallows dipped in pink sprinkles for ears, and this treat is ready to help beat the heat!

Have fun in the sun with Toy Story party games!
If you're hosting a spring or summertime Toy Story birthday party, outdoor toys and games will make it a day of play. Sack races and hula hoops are just the beginning. Break out the water balloons, start a game of toss across or set up bases for kickball.

There are plenty of indoor activities that will keep the party guests busy, too! Give everyone a bottle of bubbles, play ring toss with an inflatable ring toss game or set up a limbo stick. Let the games begin!
Toy Story party activity ideas
If the first half of your party was filled with high-energy party games, the toys might be feeling a little low on battery! Let them recharge with a craft and activity table. Set out a Toy Story 4 Craft Kit (each kit makes 4 Forkys, so make sure you supply enough for all the guests at your party!) so party guests can make their very own Forky figure, just like Bonnie!

If your kids have Mr. Potato Head toys, leave them out with a box of parts - or create homemade potato men using real potatoes, glue and craft supplies! Inspire extra bursts of creativity with miniature Woody cowboy hats, glitter glue, pom poms, feathers and stickers.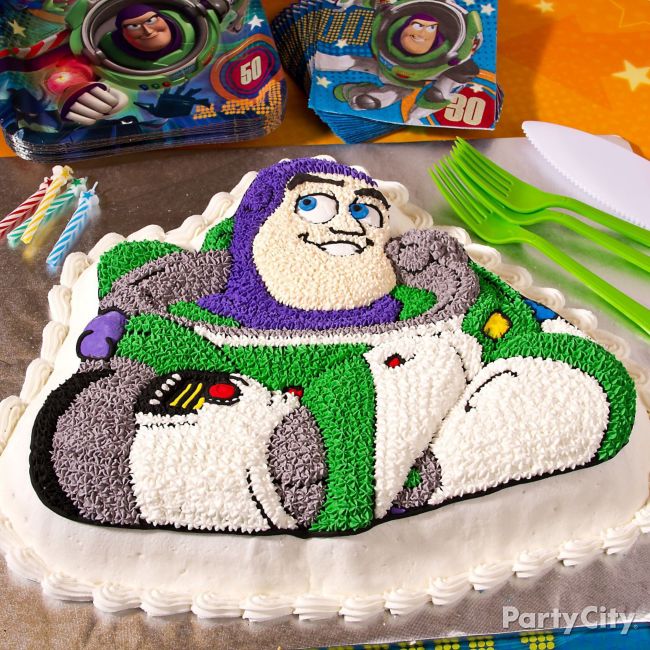 Buzz Lightyear Cake Ideas
Welcome everyone's favorite space ranger to the party in the form of a frosted character cake! Read our Buzz Lightyear Cake How To for all the steps to make this adorable (and surprisingly easy) Buzz Lightyear cake. If you need Toy Story cake decorations in a flash, bake the birthday guest's favorite flavor of birthday cake or cupcakes using a box mix. Frost all in white if you're in a hurry, or frost in blue and pipe on fluffy clouds. Top off your Toy Story birthday cake with a set of Toy Story candles and you're all set!
Fun ideas for Toy Story favors
Favors are a wonderful way for the birthday guest to thank their friends for a day full of fun, but after so much party planning it can be an easy detail to forget. Never fear! It doesn't have to take a lightyear to put together your party favors. Favors can be as simple as a treat bucket full of buttery popcorn or a Toy Story goodie bag stuffed with pencils, sheriff badges and other Toy Story party supplies.

Our fave Toy Story favors: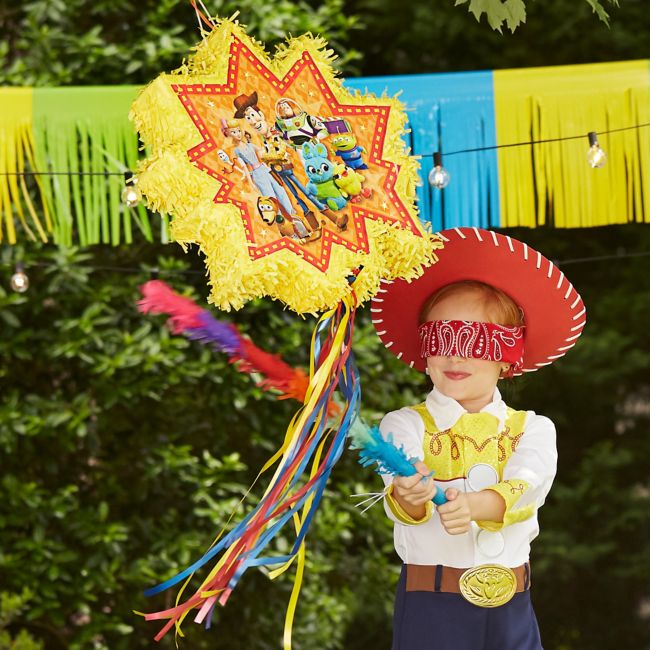 It's Toy Story pinata time!
Some classic party games are must-haves for a reason. If you're hosting an outdoor birthday party, hang the Toy Story pinata from a tree, blindfold the guest of honor and let them try to hit the pinata using a pinata stick. For a more indoor-friendly solution, let each child take turns pulling a ribbon at the bottom of the pinata. One secret ribbon will release the candy trapped inside. Pass out favor buckets so everyone can pack up their loot!
Carnival-inspired snack table
Since Toy Story 4 brings our favorite toy friends to the carnival, it felt right to infuse our party with carnival-inspired touches. Your guests will feel like they're under the big top! Decorate a long table with a red and white striped table skirt and turn a pitcher of green punch into an alien face using construction paper. Did you notice the little green army men making their way to the ground? Tie them together using clear fishing line and attach to the side of the table. Shop all carnival party supplies.