Start the fun with a Toy Story boys' birthday party theme! Whether he wants to be Buzz Lightyear the Space Ranger or Sheriff Woody, all it takes is a few costumes, decorations and party favors to make an out-of-this world party.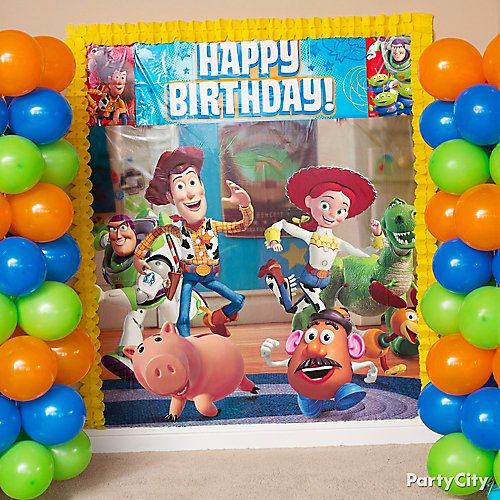 Idea 1: Set the scene for photos with balloon towers!
To create a party backdrop with Woody and friends, start with a Toy Story scene setter and add a yellow paper garland as a border. For both sides of the scene, make these amazing balloon towers by tying together layers of 4 balloons, alternating between your party colors. Be sure to weigh down the towers with a Toy Story balloon weight before they fly off into space!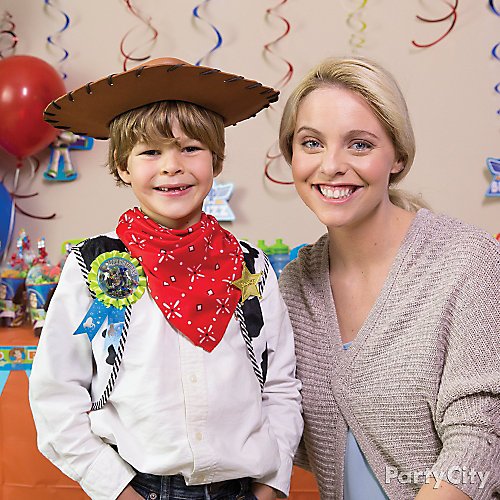 Idea 2: Wear a getup just like Sheriff Woody's!
Help your birthday boy be the Sheriff of his party! With a cowboy hat, bandana, vest and star badge, he'll be ready to conquer everything from the wild west to birthday cake. Don't forget to pin on his birthday honors with a Toy Story award ribbon opposite of his star to show that he's the Star Sheriff!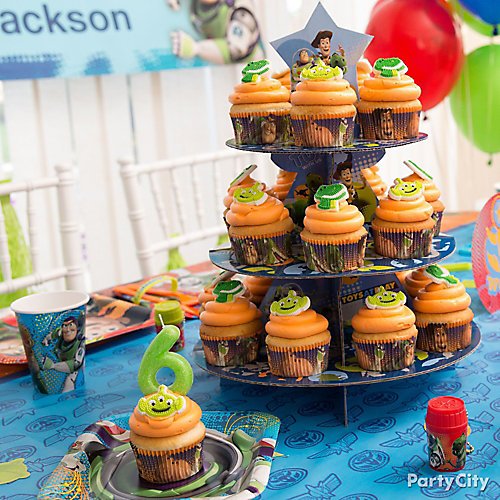 Idea 3: Switch on smiles with delicious desserts!
Alien cupcakes? Yes please! Set up a tower of birthday cupcakes for an easy-to-serve treat. To make, bake your birthday cowboy's favorite cupcakes in Toy Story baking cups, and then tint white decorating icing with orange icing color. Use a decorating bag to make these spacey swirls, and place Toy Story alien icing decorations on top. For the final touch, arrange them all on a cupcake tower with a birthday candle on top.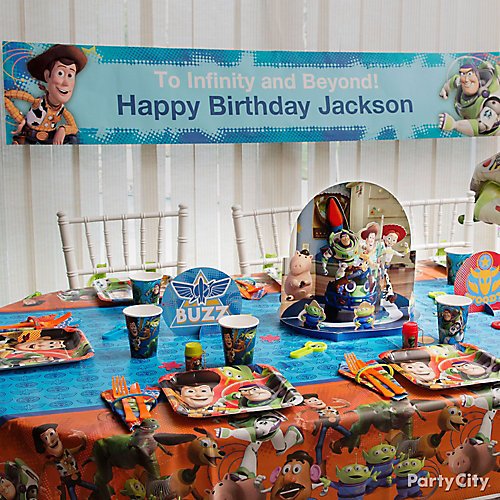 Idea 4: Make the party decor all about the birthday boy!
You can customize a birthday banner in a flash. All it takes are a few clicks in our online tool — your banner will be shipped to you within 5 business days. The birthday boy will really feel like a star!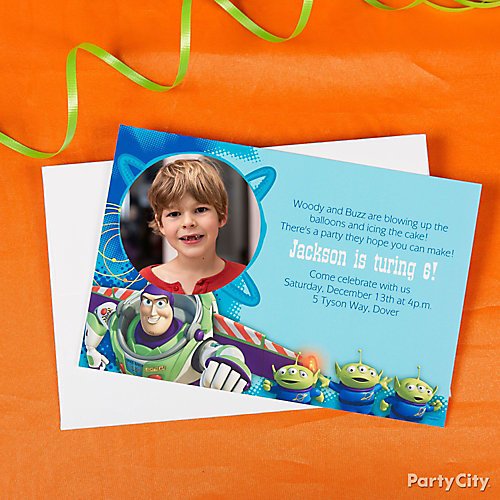 Idea 5: Customize your invites for a space-age feature!
Snap a picture of your space ranger so he can share space with Buzz Lightyear in Toy Story custom photo invitations. Not only can you easily add your own photo, you can also include other date/time/rsvp info too. Just order the cards and they'll be ready to ship in five business days. Seal the backs of the envelopes with stickers for a toy-fficial feel.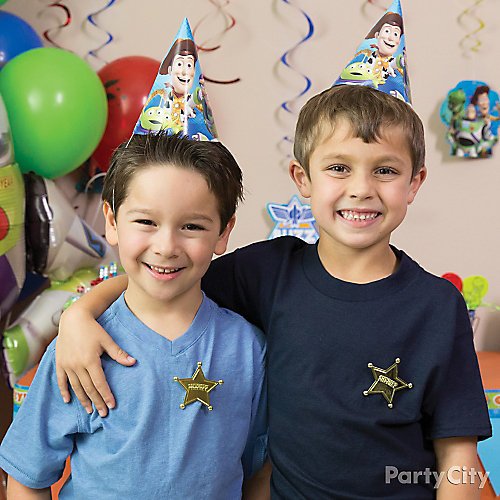 Idea 6: Space-age hats? Check! Star badges? Check!
Woody isn't the only law in town! Give all the party guests a warm welcome withToy Story party hats, wristbands and star badges. Since there's no better way to get into a party mood than wearing Toy Story accessories, have an assortment of hats and badges at the door so that everytoy can jump into the fun.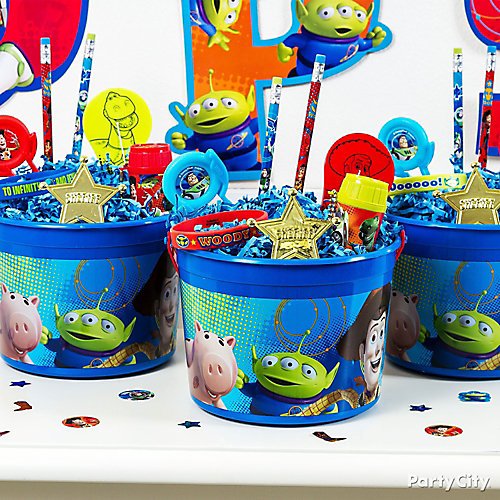 Idea 7: Create fun-filled favor buckets for friends!
Instead of monkeys in a barrel, hand out toys in a bucket! Fill the Toy Story favor bucket with blue paper shred and lay a toy treasure trove on top. From disc shooters to pencils, there's a little something for everytoy.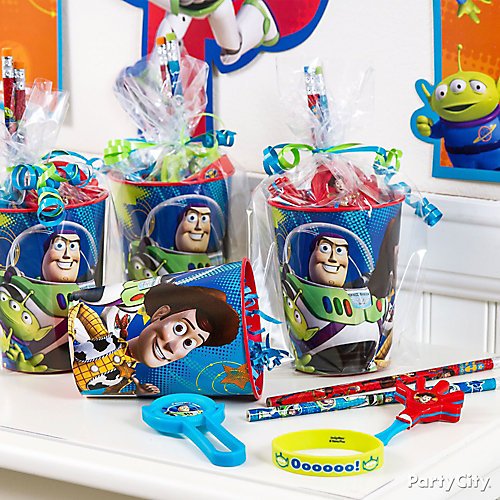 Idea 8: Stuff reusable cups with awesome space loot!
Have your little toy-lovers blast off to adventure with a reusable Toy Story favor cup filled with paper shred, pencils, disc shooters, wristbands and clapper toys, then slip the whole caboodle into a clear favor bag. Tie it off with curling ribbon and – POOF! – they're the best favors outside of the gamma quadrant!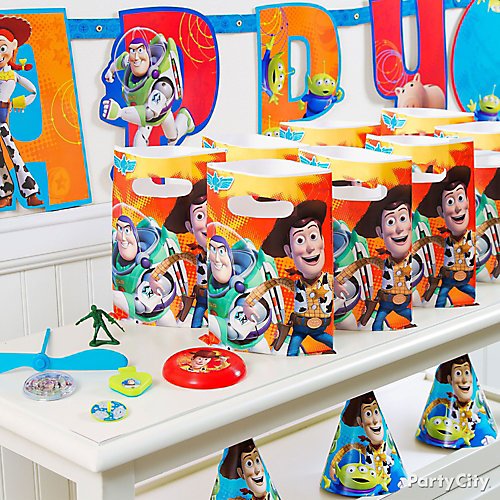 Idea 9: Put together favor bags faster than light!
If you have less than a lightyear to put together favors, just grab favor bags and aToy Story favor pack. There will be plenty of favors to fill every toy-lover's bag, and you'll feel like a star commander when the little space rangers zoom away with these in tow!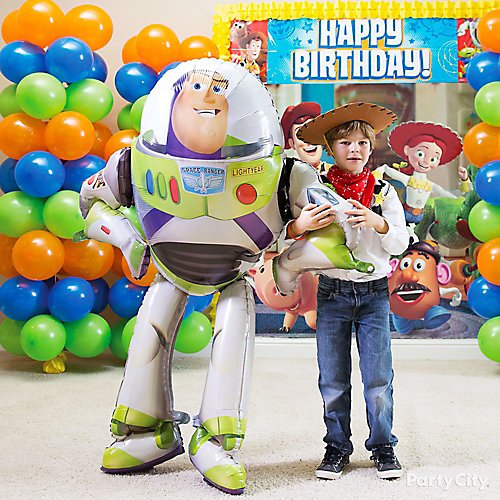 Idea 10: Grab a photo with Buzz Lightyear!
Buzz Lightyear, reporting in to Star Command! Invite Buzz to join the fun – space ranger style – as a giant gliding Buzz Lightyear balloon. Not only will he teach the toys to fall with style, he'll also make for a great photo-op you won't want to pass up! To inflatable and beyond!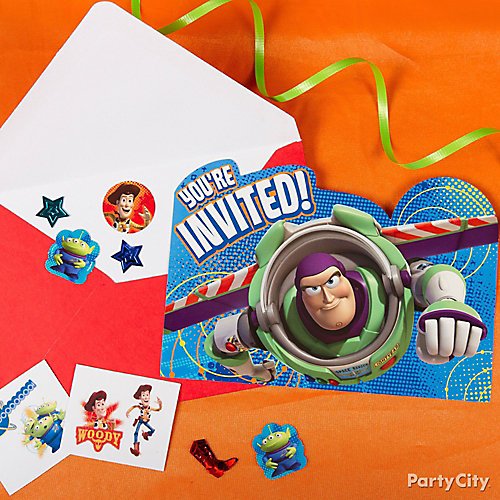 Idea 11: Leave your mark with tattoos!
Add some instant fun to the party invitations with a couple Toy Story tattoos! Instruct everyone to wear one on the day of the party as a secret party pass, marking them as a real toy-friend and not a member of Emperor Zurg's army.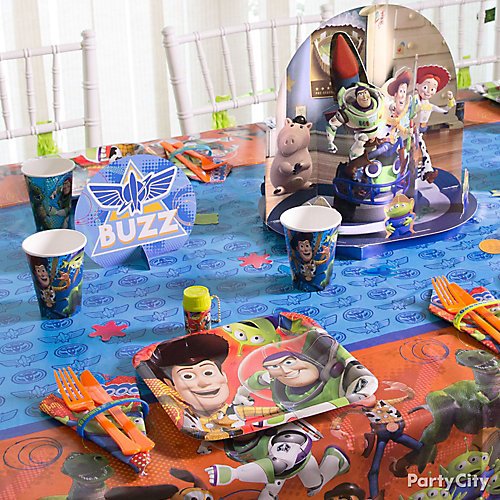 Idea 12: Set a table that's out of this world!
Whether you're serving up slices from Pizza Planet, Hamm-style pigs in a blanket, or Slinky hot dogs, set a table that's as energized as a pair of fresh batteries! Use a Toy Story centerpiece kit and sprinkle goodies from the Toy Story favor pack to make an interactive table. Everytoy will love recharging here after partying and playing together!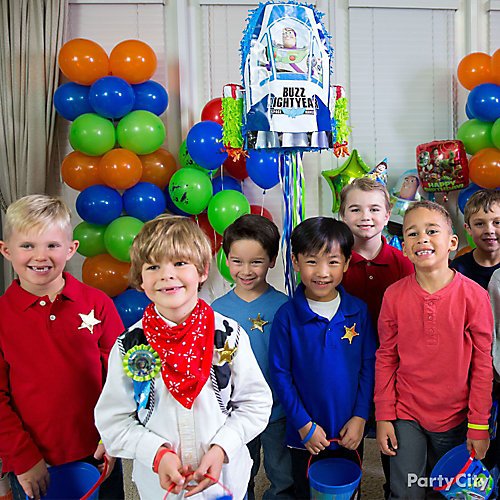 Idea 13: Free the toys (and candy)!
What Toy Story party is complete without a Buzz Lightyear pinata? Fill up Buzz and his spaceship with toys and candy, and let each child take turns pulling a ribbon. One super-secret ribbon will release the candy trapped inside so your space rangers can scoop them up with a favor bucket.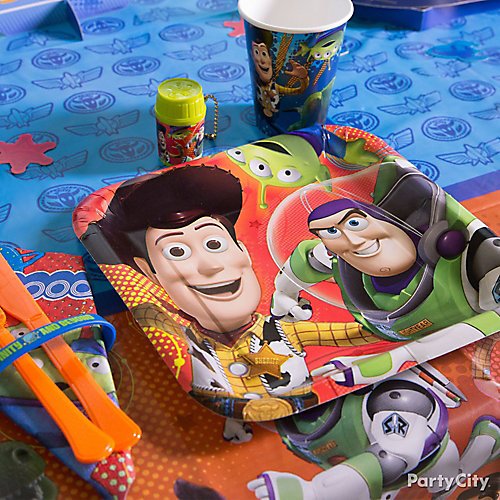 Idea 14: Get ready to launch lunch!
Serve the birthday star and friends a Star Command-certified lunch featuring Toy Story tableware. Wrap the napkins and utensils with a wristband for a fun surprise, and scatter confetti and toys around the place-settings for a space-age dining experience.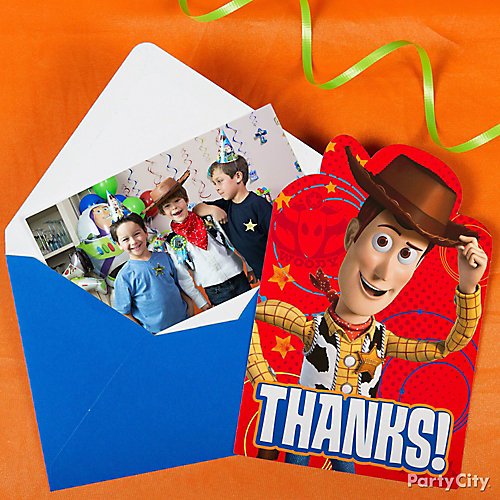 Idea 15: You've got a friend inside this thank you!
Include a photo surprise in your Toy Story thank-you notes! Pick a favorite photo of the group, or of each child with the birthday star, and send it with your thank you to preserve the memories in mint condition.