Top 10 girl's costume ideas for a unique look! Who are you gonna be?! Get inspired by our custom mix-and-match Halloween costume ideas for Alice in Wonderland, My Little Pony and '50s Sock Hop cutie. Keep browsing for more inspiration! Teenage Mutant Ninja Turtles, Batgirl, American Dream, Day of the Dead, Mad Hatter, police officer and Little Mermaid — the gang's all here!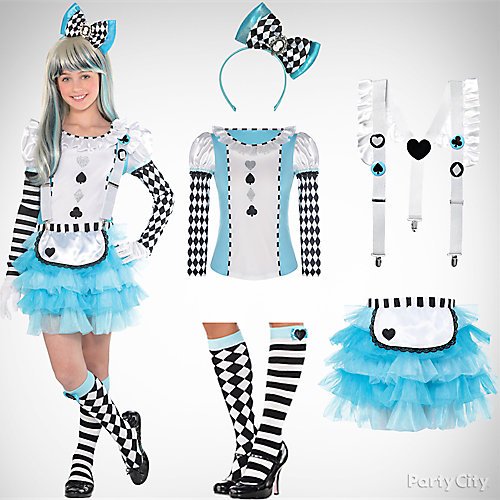 Idea 1: Adventurous Alice!
Fall through the rabbit hole and emerge as a head-to-toe Alice in Wonderland. Begin your storybook look with a tutu and top and make it you-nique with accessories like suspenders and bow headband. A dreamy blue tinged wig is the perfect finishing touch for an amazing Alice ensemble. You'll be ready for Halloween parties and unbirthdays!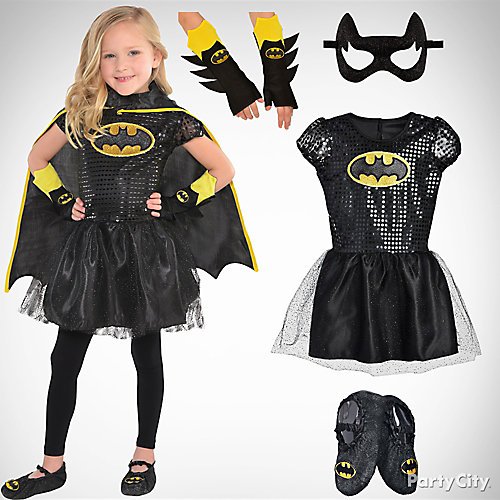 Idea 2: Never fear — Batgirl is here!
She'll be the hero Halloween needs! Your little caped crusader can make her own crime-fighting costume from Batgirl accessories like sequin dresses, eye masks, arm warmers and bat-tastic ballet slippers. Now she's ready for a night of action-packed fun - BAM! POW! BOOM!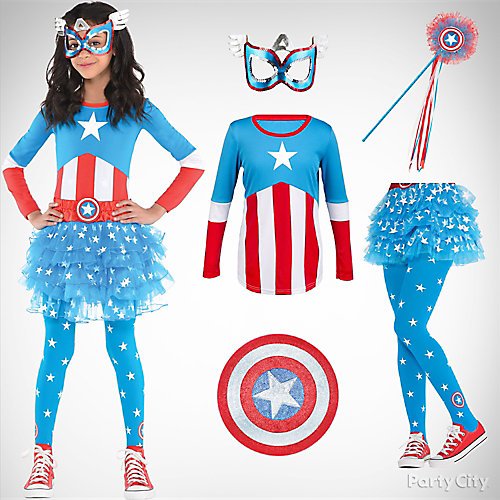 Idea 3: Super sweet American Dream!
Superheroes know that having the perfect costume is half the battle! Dress up your super-heroine as her favorite super-stylish character – she can pick coordinating accessories for a customized crime-fighting look. Let your li'l American Dream choose from mix-and-match accessories like a tutu, mask, wand and glittery shield for an all-her-own costume – what a dream!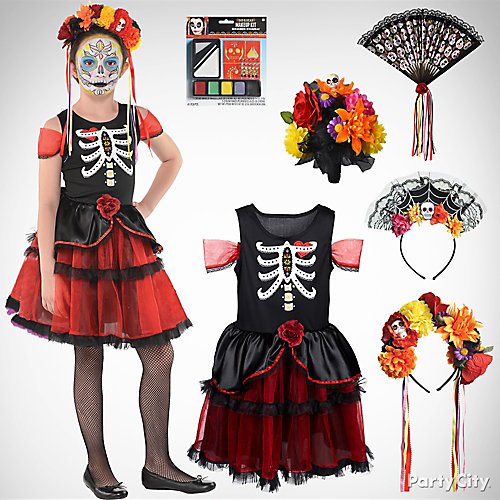 Idea 4: Wicked cool Day of the Dead!
A spooky and stylish Day of the Dead costume idea she can create herself! Your little fashionista can brew up her own Day of the Dead disguise from skeletal and floral accessories, starting with a costume dress. To make it her own she can add a lacy headband, Spanish fan, flower bouquet and makeup. The spirits will approve!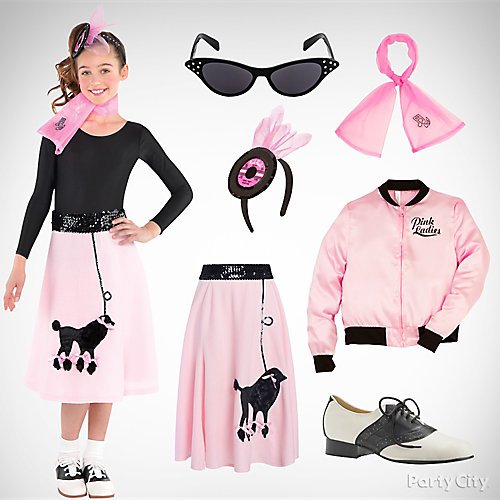 Idea 5: Snazzy sock hop sweetie!
She'll dance through school on Halloween in this look she created herself from mix and match accessories like a record headband, Pink Ladies jacket, neck scarf, sunglasses, black leotard, poodle skirt and saddle shoes. Fabulous and fun!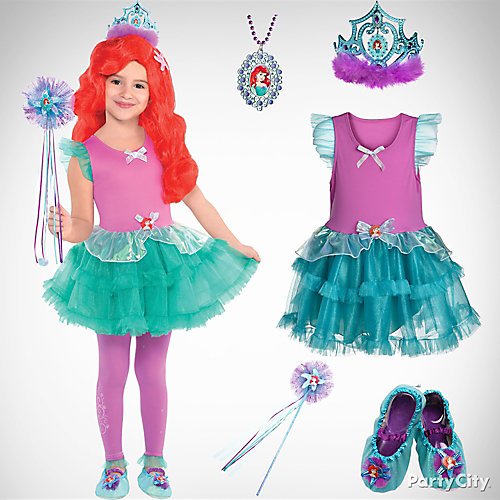 Idea 6: Little Mermaid, her way!
Let your little girl create her own under-the-sea style as Ariel. She'll soak up the fun in a Halloween look she created herself from Little Mermaid accessories like a red wig, tutu dress and leggings with extras like a necklace, tiara, ballet slippers and a wand.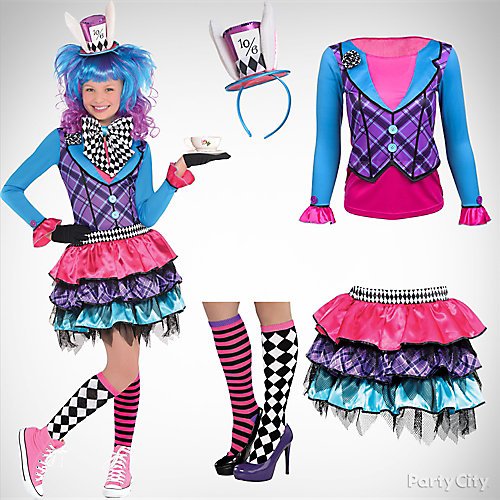 Idea 7: Crazy cute Mad Hatter!
Let go of the ordinary and be wacky! You'll be mad cute in your mix and match costume look with a layered tutu and t-shirt top. Make it yours with a selection of Mad Hatter accessories like knee socks, gloves and a bow tie. Time for tea!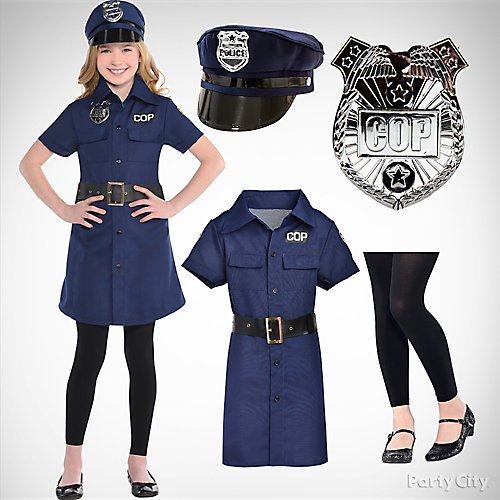 Idea 8: Save the city as a cute cop!
She'll be ready to save the city in this spunky girl's police officer costume. By putting together her official dress with a belt, shiny badge, police hat and black tights, she'll create a sassy look that's tough stuff!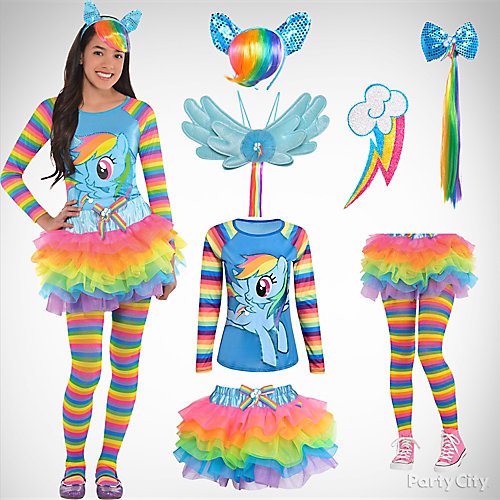 Idea 9: Magical My Little Pony!
Trot out in a mane-ificient outfit as bright as Rainbow Dash! A look right out of Equestria with My Little Pony accessories like a Rainbow Dash tutu dress, arm and leg warmers, slippers, and a headband with sequin ears and rainbow bangs. Add clip-in rainbow hair and a sequin bow – everypony will ♥ it!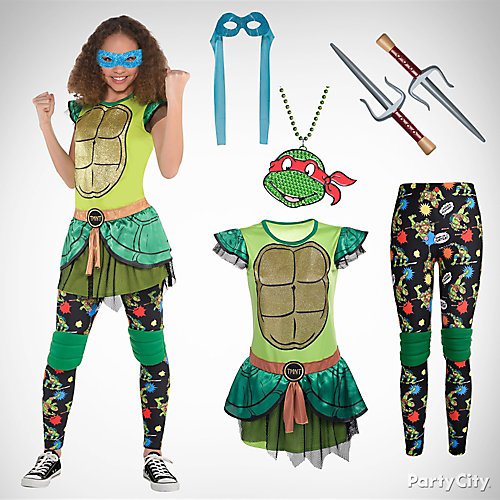 Idea 10: Shell-ebrate TMNT!
Knock their shells off with a Teenage Mutant Ninja Turtles costume! Be a ninja-in-training in your own ninja disguise from turtle-rific TMNT accessories starting with a t-shirt dress. Add even more turtle 'tude with a shell-tacular glitter eye mask, necklace, leggings and "sai" weapons. Turtle power!