Top 16 girl's costume ideas are here! Who will you be this Halloween? Find new costumes from your favorite movies, like Aladdin, Toy Story, Frozen and Descendants 3. Marvel and DC costumes? Got them!
Get inspired by our custom mix-and-match Halloween costume ideas for Alice in Wonderland, My Little Pony and '50s Sock Hop cutie. Check out Teenage Mutant Ninja Turtles, American Dream, Day of the Dead, Mad Hatter, police officer and Little Mermaid, or shop all Girls' Halloween Costumes!
Hottest Costumes of 2019!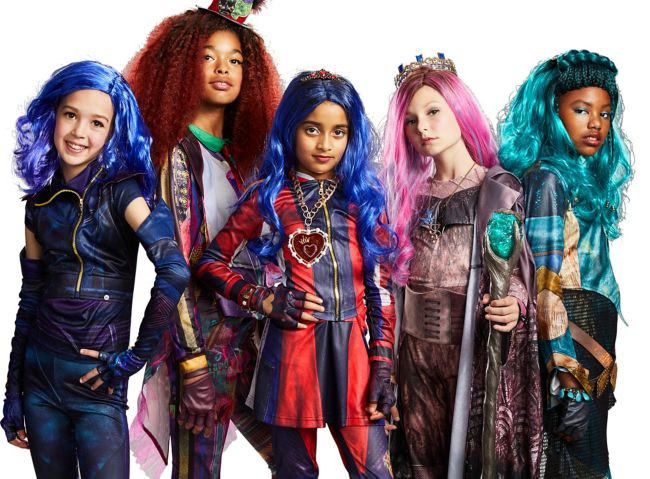 Idea 1: Descendants 3 Squad
Look wickedly good this Halloween as part of the squad that proves good times are to be had while being bad! Mal, Audrey, Celia, Evie, and Uma represent the new generation of Disney villains in cool outfits, colorful wigs, and extravagant style! Check out the Descendants costumes that make being bad look so good!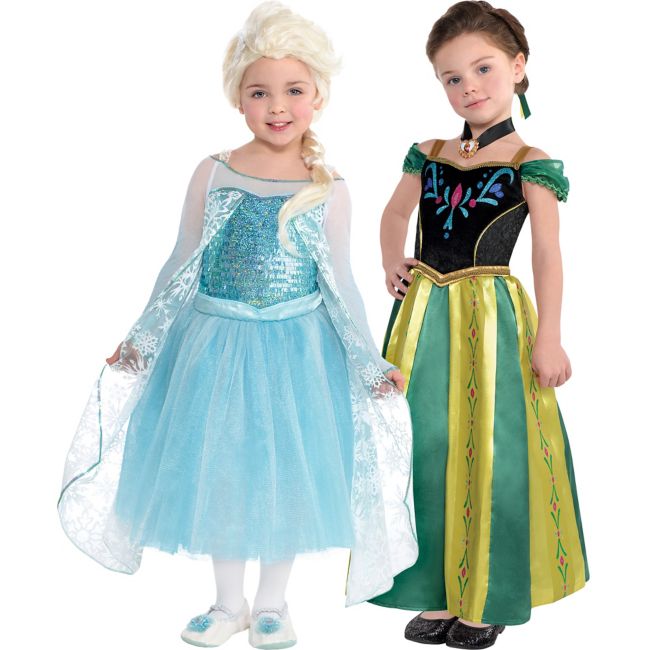 Idea 2: Frozen is Hot!
Give trick or treaters a chill when they see your little princesses dressed as Frozen's famous ice sisters, Elsa and Anna. Fans of Frozen will never go cold on their Halloween memories as these either of these two iconic, yet modern, Disney princesses. Choose from different styles of costumes, including Elsa, Tutu Dress Elsa, Premium Elsa or Elsa Supreme and Anna, Tutu Dress Anna or Coronation Anna costumes. Finish your chilling look with a cape, wig, shrug, leg warmers, gloves, tights, ballet slippers or one of many other accessories!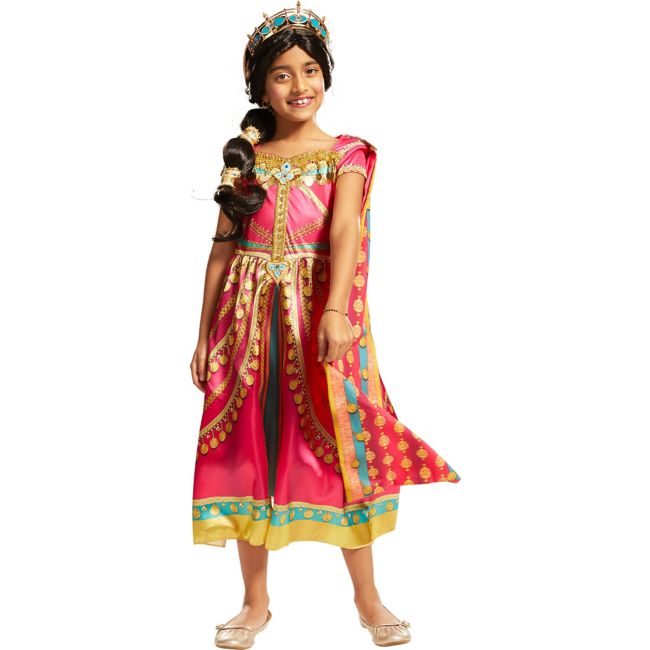 Idea 3: Princess Jasmine Returns
Fly high this Halloween with enchanted Princess Jasmine costumes inspired by Disney's live action Aladdin movie! Pink Jasmine or Whole New World Jasmine costumes shine with vibrant colors in rich hues and opulent gold with design details reminiscent of a royal Arabian kingdom!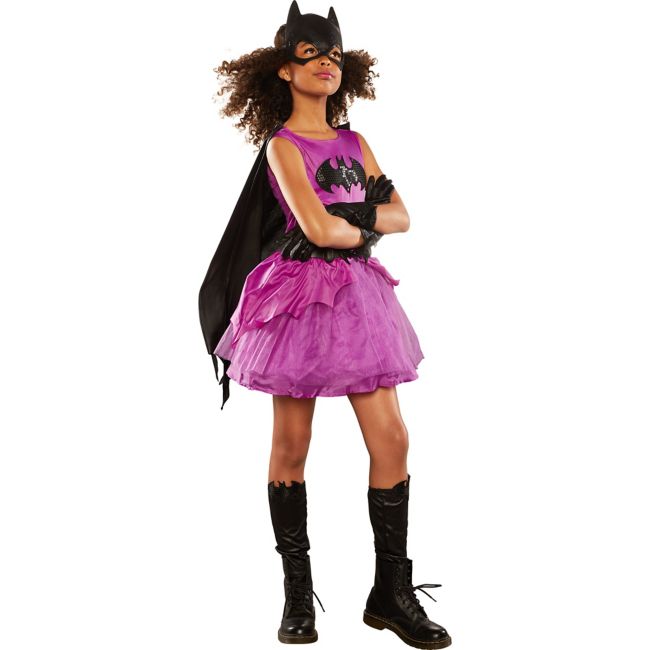 Idea 4: Never fear Batgirl is here!
She'll be the hero Halloween needs! Your little caped crusader can transform into a crime-fighting costume with a stylish purple dress, cape, leg warmers and bat-tastic gloves. Now she's ready for a night of action-packed fun - BAM! POW! BOOM!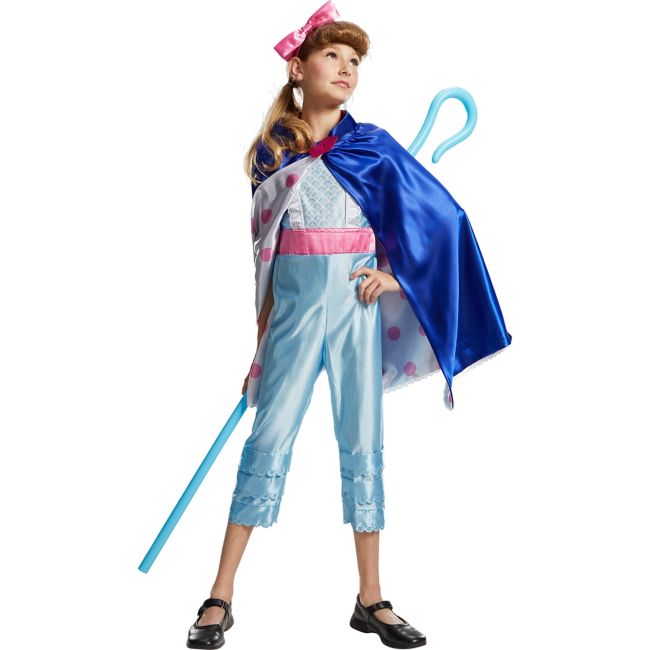 Idea 5: Bring Bo Peep to Life!
Bring your Toy Story fan's joy to life with this Toy Story 4 Bo Peep costume. Just like in the movie, your little Halloween candy collector will look like an adorable doll transformed into a real-life girl! You can even complete the outfit with the matching staff for the ultimate transformation.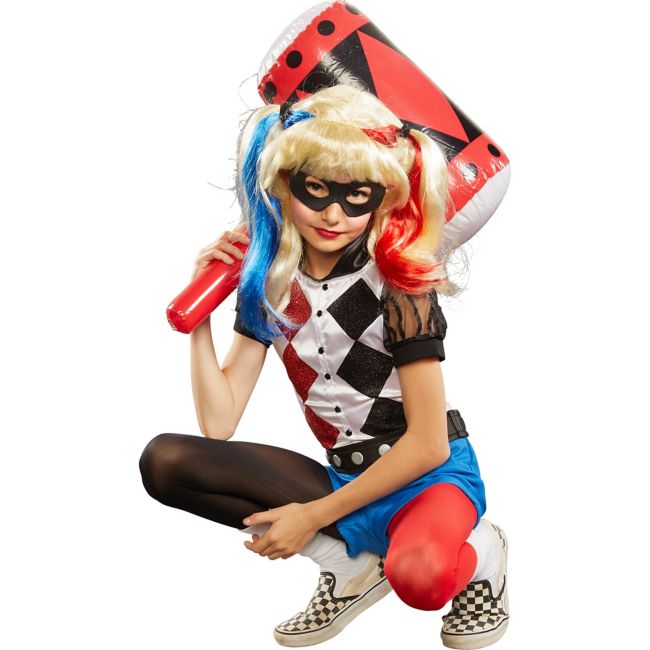 Idea 6: Harley Quinn for the Win!
Take a walk on the wild side this Halloween with the outrageous DC superhero, Harley Quinn fun and fabulous costume! With leg warmers, tights, belt, mask and romper all included, your trickster is ready to embody the quick-witted and quirky spirit of Harley Quinn. Want to go all out? Add a prop like the Harley Quinn bat or inflatable hammer to finish the style.
Fun and Fabulous DIY Cosutmes!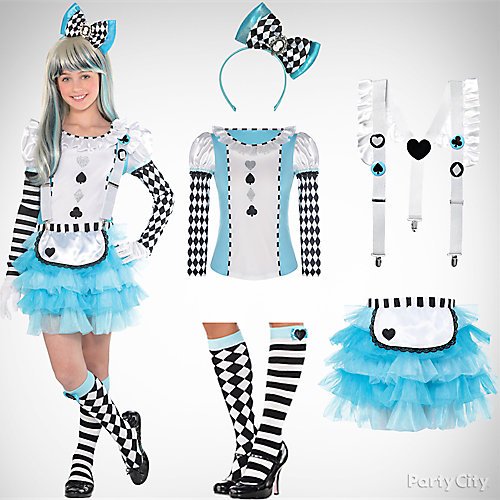 Idea 7: Adventurous Alice in Wonderland Costume
Begin your adventures as Alice in Wonderland! Get a storybook look with a tutu and top and make it you-nique with accessories like suspenders and bow headband. A dreamy blue tinged wig is the perfect finishing touch for an amazing Alice ensemble. If this isn't your look, tumble down the rabbit hole of Alice in Wonderland Costumes. You'll be ready for Halloween parties and unbirthdays!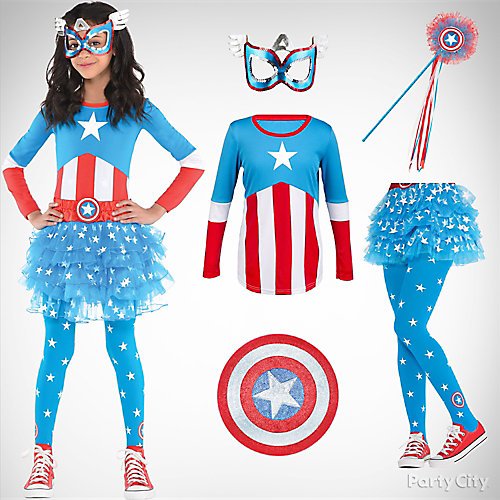 Idea 8: Super sweet American Dream costume!
Superheroes know that having the perfect costume is half the battle! Dress up your super-heroine as her favorite super-stylish character – she can pick coordinating accessories for a customized crime-fighting look. Let your li'l American Dream choose from mix-and-match accessories like a tutu, mask, wand and glittery shield for an all-her-own costume – what a dream!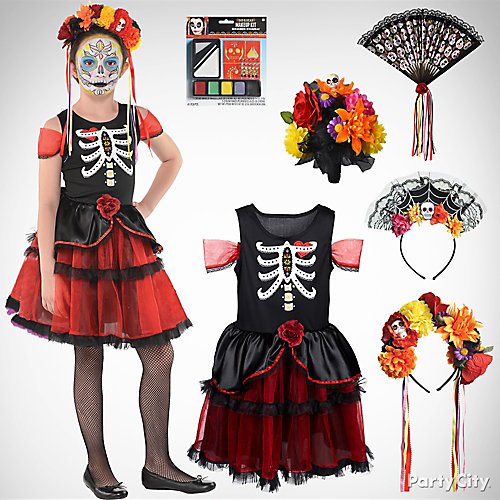 Idea 9: Wicked cool Day of the Dead costume
A spooky and stylish Day of the Dead costume idea she can create herself! Your little fashionista can brew up her own Day of the Dead disguise from skeletal and floral accessories, starting with a costume dress. To make it her own she can add a lacy headband, Spanish fan, flower bouquet and makeup. The spirits will approve!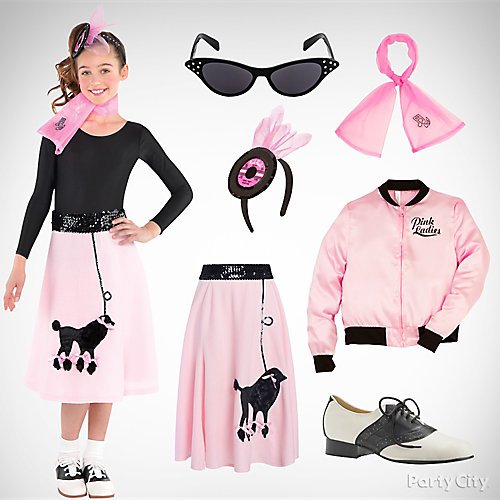 Idea 10: Snazzy sock hop sweetie!
She'll dance through school on Halloween in this look she created herself from mix and match accessories like a record headband, Pink Ladies jacket, neck scarf, sunglasses, black leotard, poodle skirt and saddle shoes. You can travel back in time with all of our 1950s Costumes. Fabulous and fun!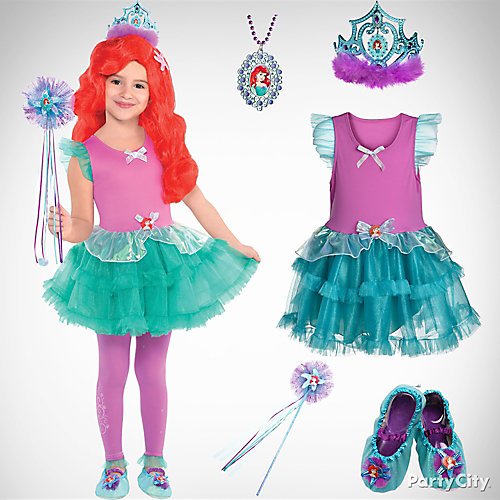 Idea 11: Little Mermaid Costume
Let your little girl create her own under-the-sea style as Ariel. She'll soak up the fun in a Halloween look she created herself from Little Mermaid accessories like a red wig, tutu dress and leggings with extras like a necklace, tiara, ballet slippers and a wand. See all Ariel Costumes.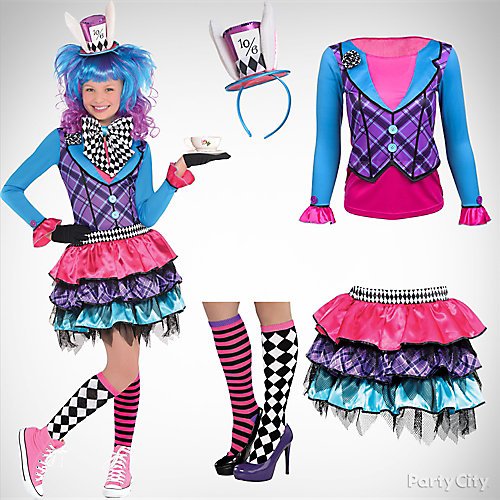 Idea 12: Crazy cute Mad Hatter costume!
Let go of the ordinary and be wacky! You'll be mad cute in your mix and match costume look with a layered tutu and t-shirt top. Make it yours with a selection of Mad Hatter accessories like knee socks, gloves and a bow tie. Time for tea!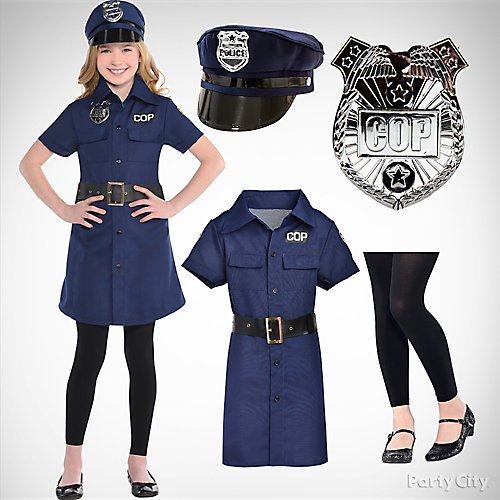 Idea 13: Save the city in a cute cop costume!
She'll be ready to save the city in this spunky girl's police officer costume. By putting together her official dress with a belt, shiny badge, police hat and black tights, she'll create a sassy look that's tough stuff!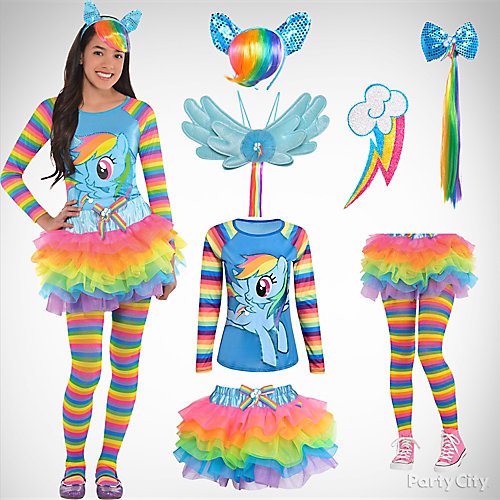 Idea 14: Magical My Little Pony costume!
Trot out in a mane-ificient outfit as bright as Rainbow Dash! A look right out of Equestria with My Little Pony accessories like a Rainbow Dash tutu dress, arm and leg warmers, slippers, and a headband with sequin ears and rainbow bangs. Add clip-in rainbow hair and a sequin bow – everypony will ♥ it!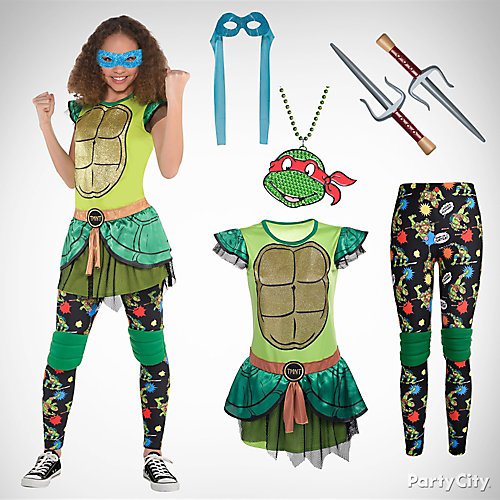 Idea 15: Shell-ebrate Halloween in a TMNT costume!
Knock their shells off with a Teenage Mutant Ninja Turtles costume! Be a ninja-in-training in your own ninja disguise from turtle-rific TMNT accessories starting with a t-shirt dress. Add even more turtle 'tude with a shell-tacular glitter eye mask, necklace, leggings and "sai" weapons. Turtle power!