Your child's birthday celebration will go full steam ahead with fun Thomas party ideas! Thomas and his friends will come to life through themed games as well as decorating and favor ideas.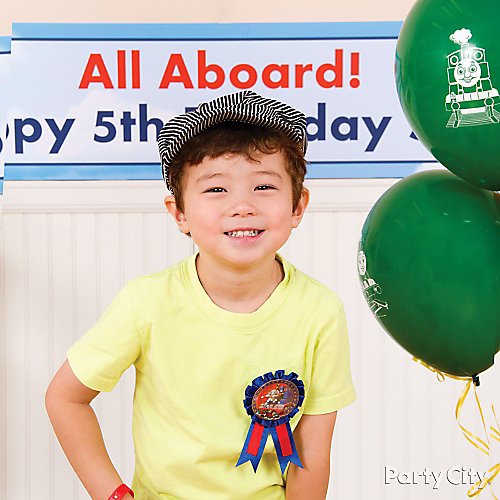 Idea 1: Make the birthday boy lead engineer with accessories!
It doesn't take much to suit up for an action-filled railway adventure. A few accessories like a Thomas the Tank Engine ribbon and wristband can pull their weight for an easy transformation!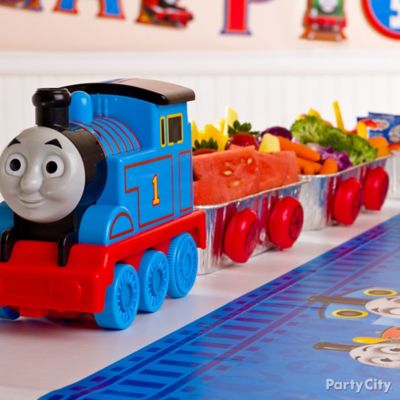 Idea 2: Serve snacks in railroad cars!
Create a clever display of steam train snacks with container cars. Use a toy Thomas the Tank Engine as your lead car, then add aluminum containers with waxed mini cheeses for wheels. Fill them with fruits and veggies and serve with Thomas the Tank Engine plates and napkins.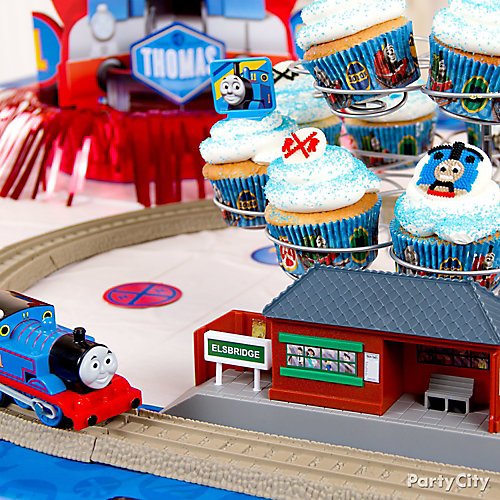 Idea 3: Make sure the cargo includes cupcakes!
You're on the fast track to any kid's heart with cupcakes! Bake up a few batches, then ice and top them with Thomas the Tank Engine cupcake decorations.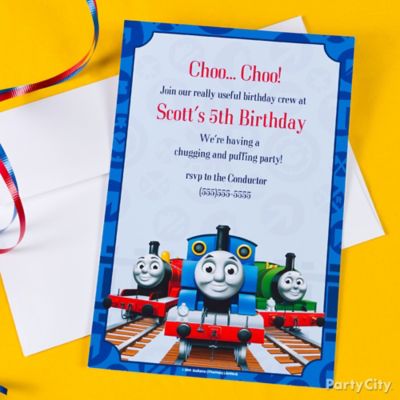 Idea 4: Customize your Thomas invitations!
Invite your guests with "All aboard! Come join Thomas for a rootin'-tootin' party!" We'll print your customized message on your Thomas the Tank Engine invites and they'll be ready to ship within five days.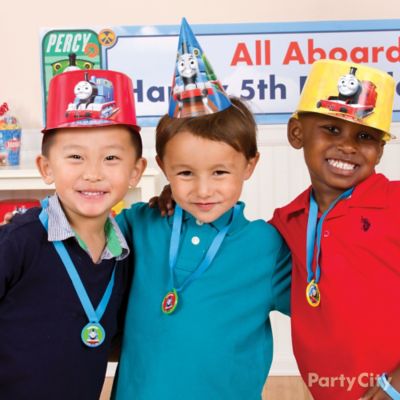 Idea 5: All aboard!
Thomas wouldn't leave any of his friends behind. Get everybody in on the fun by passing out Thomas the Tank Engine party hats and award medals as soon as they arrive.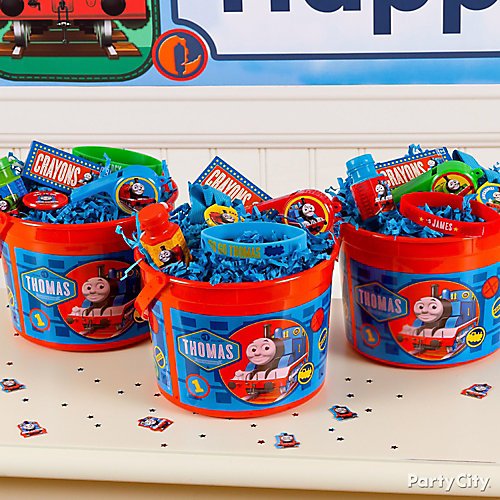 Idea 6: Give party favors your guests will blow their horns about!
Don't forget the party favors when your guests depart from the depot! Start with a Thomas the Tank Engine favor container, then add in themed favors that will have the kids choo-chooing long after the party's over!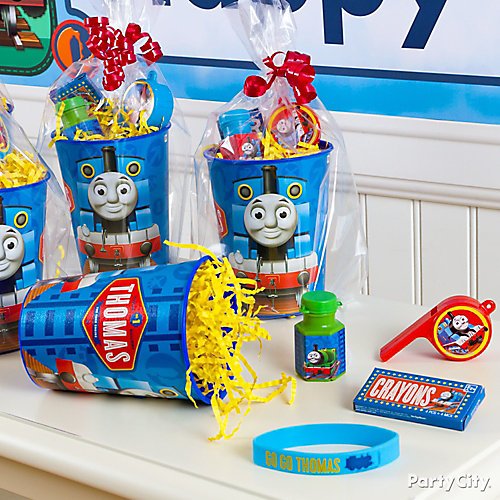 Idea 7: Load them up with favors for the trip home!
Follow Thomas's lead and give the kids favors full of fun cargo! Fill up reusable Thomas the Tank Engine party cups with paper shred, crayons, bubbles, whistles and wristbands, then add extra bells and whistles by tying them up with wrap and ribbon!
Idea 8: Make favor bags in record speed with a value pack
Take the express train! It's an easier ride to Favorville when you use a Thomas the Tank Engine favor value pack to create your party favors. Because they already contain enough goodies for eight guests, they give you a head start.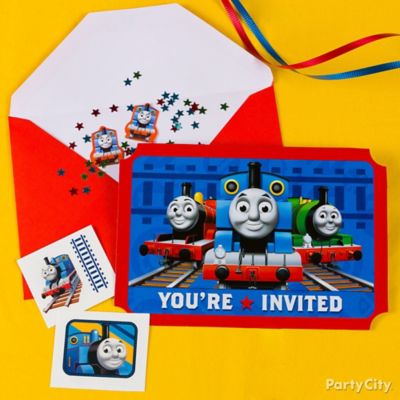 Idea 9: Add a secret party ticket to your invites!
The conductor is checking tickets – do you have yours for Farquhar? Include a Thomas the Tank Engine tattoo with your invites and explain that guests should wear it as their "ticket" to get into the party. All aboard!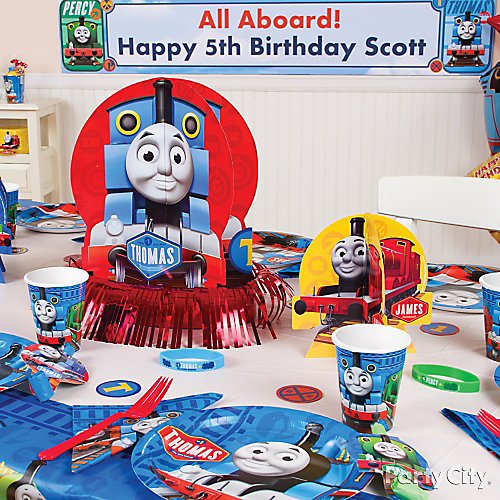 Idea 10: Turn a room into a train depot with Thomas and friends!
With Thomas the Tank Engine decorations like a custom Thomas & Friends banner, balloons and centerpiece, you'll create an exciting railroad station for the kids to play all day in! Thomas, Percy and James can't wait!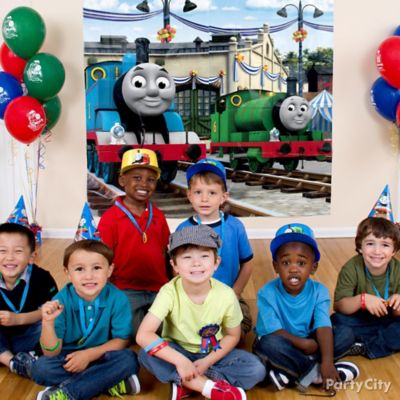 Idea 11: Get them fired up for pictures!
Take photos and video when the kids turn into conductors in front of this larger-than-life Thomas the Tank Engine scene setter. It's a colorful wall decoration that doubles as a photo booth activity!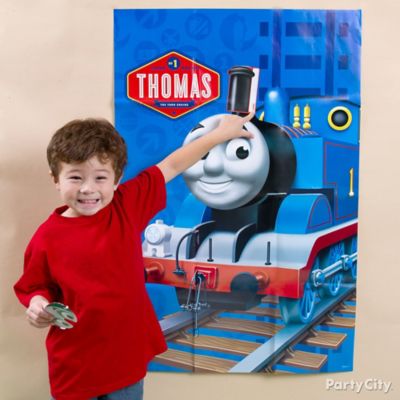 Idea 12: Play "pin" the smokestack on Thomas!
All aboard to help Thomas with his smokestack! The kids will be fired up to play this Thomas the Tank Engine party game that updates the classic Pin the Tail on the Donkey game into an action-filled activity that matches your theme – and adds to the decor!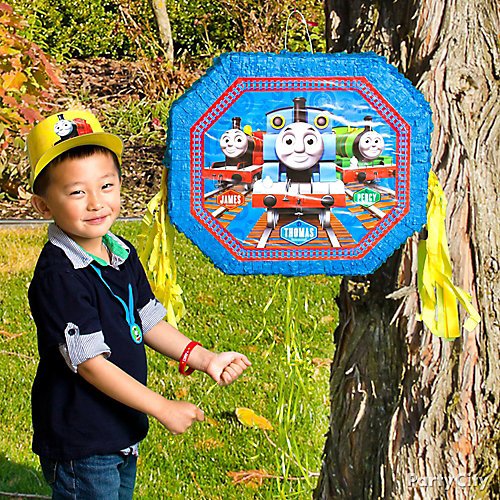 Idea 13: Load up a pinata with candy and Thomas-approved favors!
Nobody works as hard as your crew when there's a pinata involved! This Thomas the Tank Engine pinata will have them swinging and laughing until the cargo of candy and favors spill out! Smaller kids can pull the strings to get in on the action.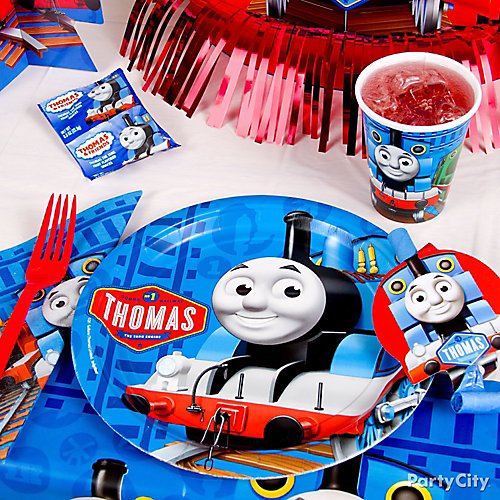 Idea 14: Set a table with all the bells and whistles!
Welcome the kids to the table with Thomas's smiling face. Everybody's favorite train can meet the kids there with Thomas the Tank Engine tableware. Scatter themed favors like blowouts and stickers to keep the fun chugging along while they wait for cake.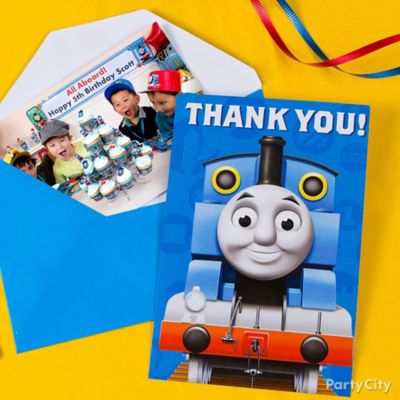 Idea 15: Send a photo keepsake with your thank you note!
Remind your birthday guests of the fun they had at your party with a photo keepsake! Slip a photo of the birthday boy and his train-loving friends wearing their party hats in a Thomas the Tank Engine thank you card – your guests will be pleasantly surprised when they open the card and see their personalized memento.