Pull up to the station with this cute cake!
Your little party guests will want to hop on a one-way train to this Thomas and Friends cake! Jump aboard our Thomas Cake How-To for the details on decorating. Top it off with a too-cute Thomas birthday candle and serve on matching plates – choo choo!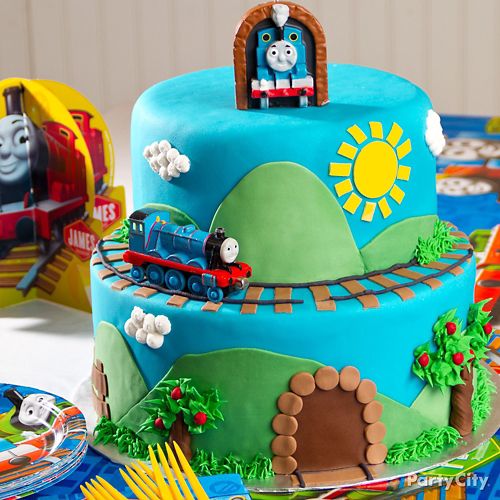 How-To
Ingredients:
2 frosted cakes of different sizes
White Fondant
Blue Icing Color
Green Icing Color
Yellow Icing Color
Brown Icing Color
White Icing Tube
Green Icing Tube
Red Icing Tube
Supplies:
Fondant Roller
X-Acto knife
Toothpick
Tip Coupler
Decorating Tip #352
Decorating Tip #3, 4 or 5
Decorating Tip #12
Decorating tip 233
Thomas toy
1) Cover cakes with fondant
Tint white fondant blue using sky blue icing color. Knead until color is evenly distributed. Roll out and smooth your blue fondant over both cakes and trim off excess with an X-Acto knife.
2) Create hills
Tint one ball of fondant fondant green using green icing color and a second ball yellow using yellow icing color. Knead until color is evenly distributed. Roll out your green and yellow fondant. Using an X-Acto knife, cut out shapes for hills from the green fondant and a sun from the yellow fondant.
3) Prepare fondant
Take a small ball of white fondant and knead it until it's soft. Divide the ball into two and use a toothpick to dot brown icing color onto one of them. Knead until the color is evenly distributed and the ball is light brown. Repeat with another ball of fondant, this time increasing the brown icing color for a deeper brown. Roll out both balls of fondant.
4) Create tracks, tunnel and trees
Take the light brown fondant and use an X-Acto knife to cut out rectangular strips (for the tracks) and rounds (for the tunnel entrance). Take the darker brown fondant and cut out shapes for the tunnel and tree trunks.
5) Attach fondant decorations
Dab all of your fondant cutouts with water and attach to cake.
6) Pipe leaves and grass
Fit the tube of green icing with the tip coupler and tip 352 and pipe leaves onto the trees. Switch the tip to 233 and pipe grass around the base of the cake.
7) Pipe apples
Fit the tube of red icing with the tip coupler and tip 3, 4, or 5 and pipe apples onto the trees.
8) Pipe clouds
Fit the tube of white icing with the tip coupler and tip 12 and pipe on clouds.