Make your dining room shine with ideas for an elegant harvest soiree. Create a twinkling tablescape with sparkling pumpkins, elegant acorns and gleaming leaves. After a chilly fall day, invite guests into a warm, sophisticated space with these gold metallic tablescape ideas. By playing with colors and lighting, transform your space into an intimate, elegant dining hall perfect for any fall party or an on-trend Thanksgiving gathering.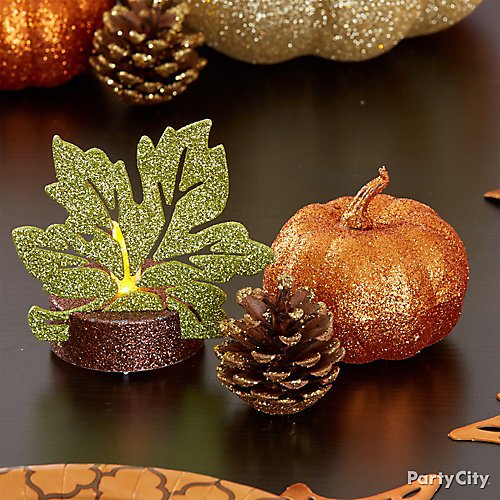 Idea 1: Keep decorations glimmering with flameless candles
Here's a bright idea: use themed flameless candles for a safe way to make your table feel extra cozy. Match the glow with other shimmery accents like glittery pinecones and metallic mini pumpkins. Try using the rule of three: grouping small decorations in triads will make them immediately more appealing!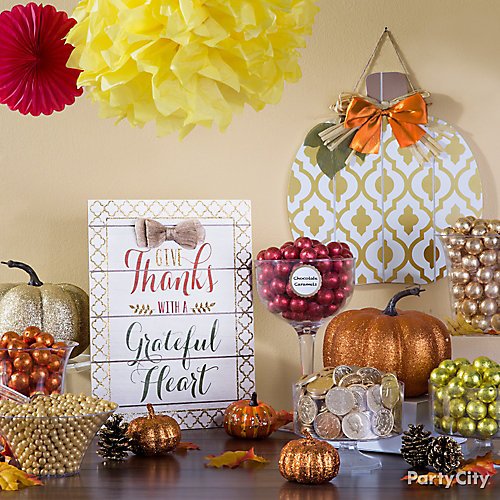 Idea 2: A bountiful harvest of sweets!
Fill differently sized clear containers with your favorite metallic wrapped candies. Create a focal point with a metal sign, and make sure to use accents in metallic shades for your other decorations to pull everything together. A few well-placed pumpkins and acorns help reinforce a fall theme.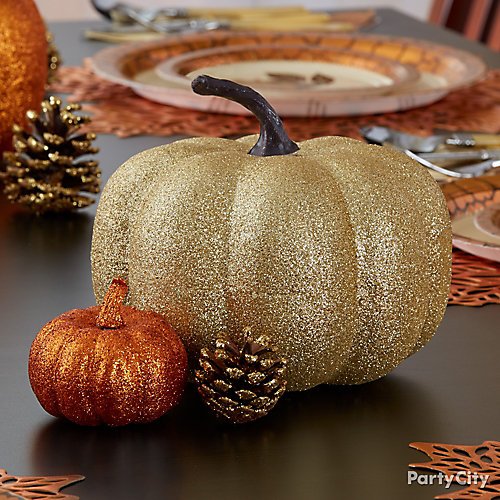 Idea 3: Bring harvest to the heart of your table!
Use a glitter pumpkin as a focal piece for your shimmery table. Try grouping together smaller glittery decorations in coordinating colors to amplify your pumpkin's shine.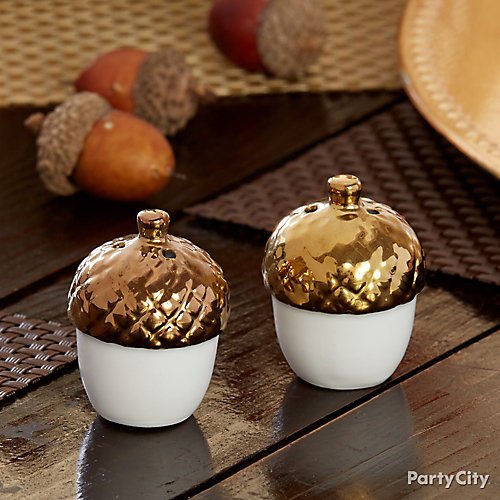 Idea 4: "Pass the salt" just got a whole lot cuter
Integrating fine details shows a level of precision your most meticulous guests will appreciate. The reflective tops of these acorn salt and pepper shakers blend seamlessly into a shimmery table theme. Some may not notice until they ask you to pass the salt!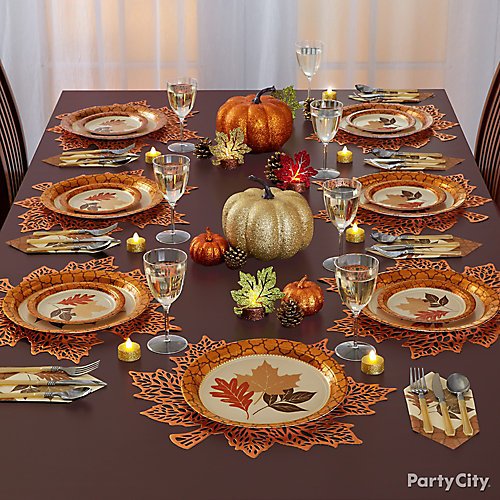 Idea 5: Combine fall colors with glittery centerpieces
Make your table an iridescent inspiration! Glittery pumpkins, leaves, and pinecones add sparkle while glimmering flameless tea lights set the mood for a sophisticated evening. Stick to dark fall colors to keep that chic edge: think metallic shades of orange, gold, and copper with occasional hints of green.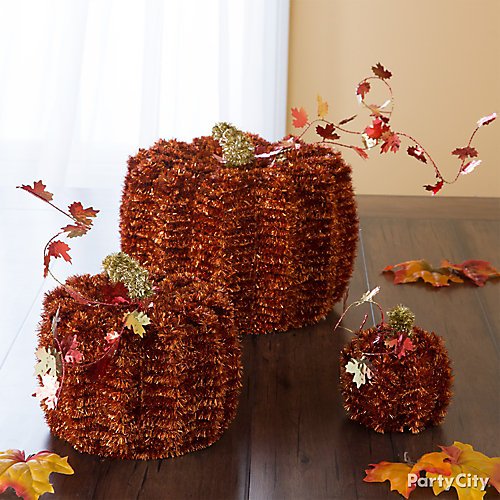 Idea 6: Keep it simple with tinsel pumpkins and fabric leaves
Group together differently sized tinsel pumpkins to create a display reminiscent of days at the pumpkin patch, or display them individually with other fall decor!