Give your Thanksgiving table a touch of country with leaves, pumpkins and more! Bring the outdoors in! You spent all day cooking, so relax with our easy table decorating ideas to suit a rustic theme. With Party City's Thanksgiving decorations, making your dining room effortlessly charming and inviting is a cinch. With faux pumpkins, pine cones and acorns, plus a little DIY for a crafty touch, your table will be the vision of down home comfort. Check out our ideas below!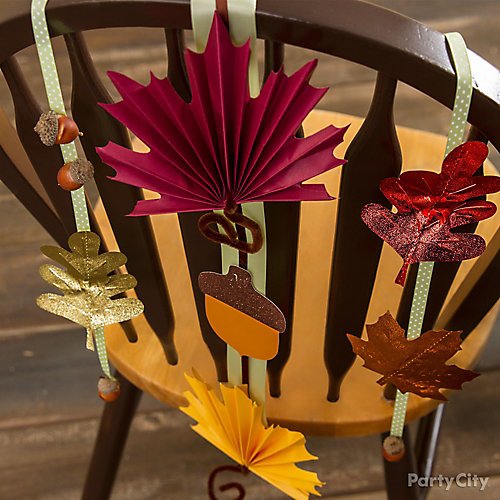 Idea 1: Decorate your chairs with a fall garland!
Turn over a new decor leaf! If your chairs have an open back, then it's easy to tie on ribbon and hang the leaves. Mix and match strands of different garland decorations and accent them with acorns. Your guests will fall in love with it!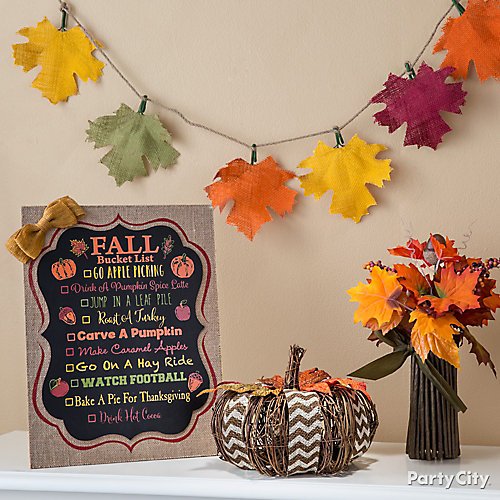 Idea 2: Burlap and bright colors create a warm, balanced look
Display this cute sign listing fall "bucket list" activities to remind you what makes this season so special. Use small details, such as burlap ribbon, to create connections between decorations and the fiberboard sign. For a twist on the traditional, make a bouquet out of fall leaves rather than flowers to celebrate beautiful fall colors!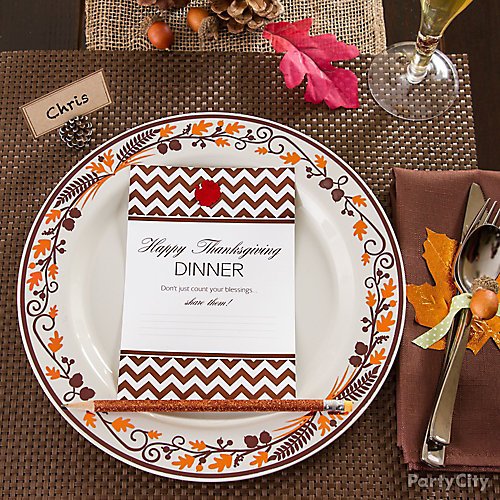 Idea 3: Say thanks before dinner with a gratitude card!
Customize an invitation as a "Give Thanks" card instead. Write "Don't count your blessings, share them!" and add lines below to invite your guests to share what they're thankful for before eating. After all, a feast tastes yummier when everyone is stuffed with gratitude!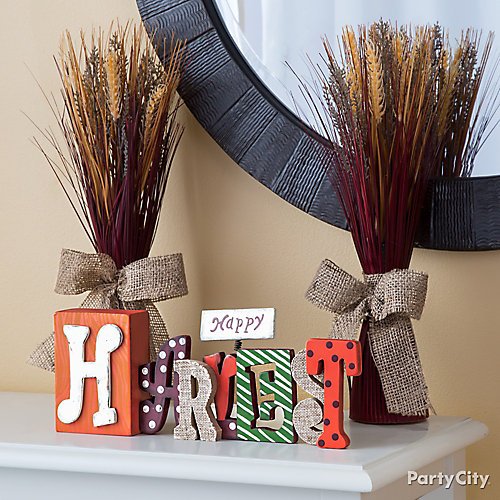 Idea 4: Burlap and wheat are a natural combination
Burlap bows pair perfectly with trendy faux wheat stalk bundles. The colors of the wheat are best appreciated when not overwhelmed by other decorations, so keep things simple. Use a fun, colorful sign to counterbalance the natural harvest colors.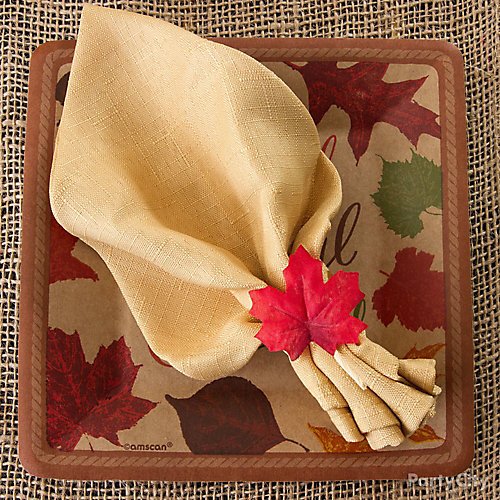 Idea 5: Do simple napkin art with leaf accents!
Construct cute napkin rings out of a leaf wire garland! Clip leaves off of the garland, leaving a small amount of wire, and use the wire to wrap around a rustic gold napkin. It's simple and on-theme napkin art.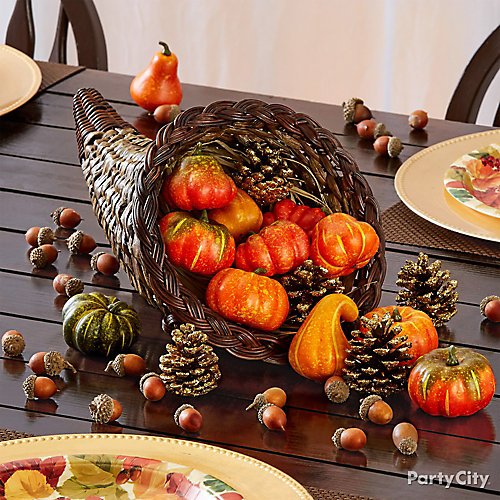 Idea 6: Create a bountiful centerpiece!
A brimming cornucopia signifies abundance, the perfect symbol of a bountiful harvest. This wicker cornucopia basket serves as a beautiful centerpiece and fits perfectly with other rustic decorations. Fill it with fresh vegetables, flowers, and leaves or opt for reusable faux gourds, pine cones and acorns. Just make sure you fill it to overflowing!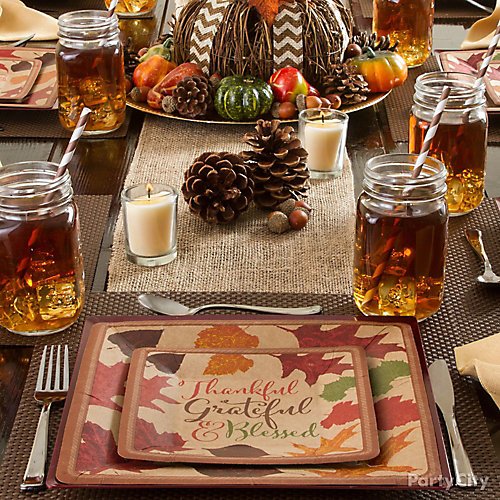 Idea 7: Bring the outdoors inside with a rustic-chic place setting
Don't "leaf" out this simply-chic place setting! The matching autumn patterned plates are guaranteed to warm up your table aplenty. Surround the place settings with pretty candles and outdoor touches that will give guests lots to be thankful for.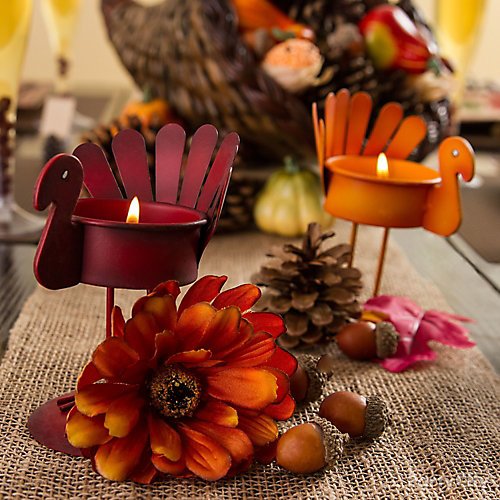 Idea 8: Scatter turkey tea lights around the table!
Make the table even cozier with turkey candles! Light little tea candles inside turkey candle holders and arrange them with acorns, pine cones and leaves. Put a cluster of candles on either side of the main centerpiece for a symmetrically decorated table. Now you can gobble food in rustic candlelight!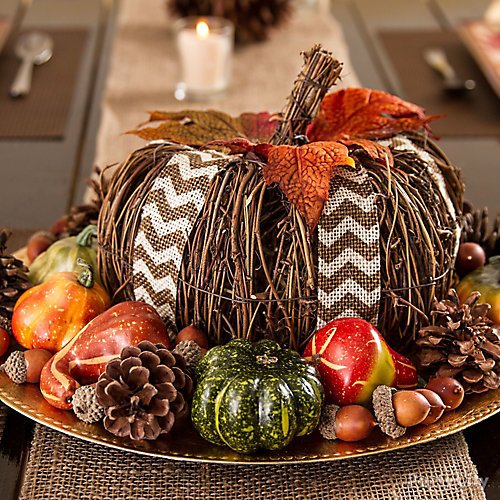 Idea 9: This twig pumpkin centerpiece is bound to impress!
Tie your decor together with a gourd-geous centerpiece! To create this arrangement, pile acorns, scented pine cones and small gourds around a twig pumpkin on a faux gold charger. Pair it with tea lights and a burlap table runner for your feast table. This pumpkin may make your guests start hoping for pumpkin pie!