Make the kids' table memorable with these playful Thanksgiving decorating ideas! Make everyone wish they could sit at the kids' table with these whimsical ideas! A lively night at the kids' table starts with bright, colorful decorations that get your guests ready to gobble up the feast. Keep things fun and festive with these table ideas.
Idea 1: Get crafty with kraft paper
Encourage Thanksgiving masterpieces! Use a roll of kraft paper instead of a table cloth or runner so the kids can draw while they wait for food. Include markers or colored pencils alongside their utensils, which you should definitely tuck into these adorable turkey cutlery packs.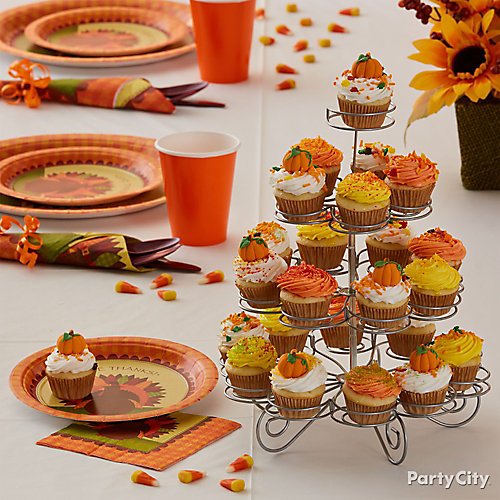 Idea 2: Decorate with dessert
Dessert does double duty when you make it part of your table setting! Presenting mini cupcakes on a display creates wow-factor before sweets are served. Coordinate frosting colors with your table, using yellow, orange, and white to match autumn sunflowers and candy corn, and top each one with themed sprinkles. Add pumpkin icing decorations to a few, making sure to add one to the cupcake at the very top.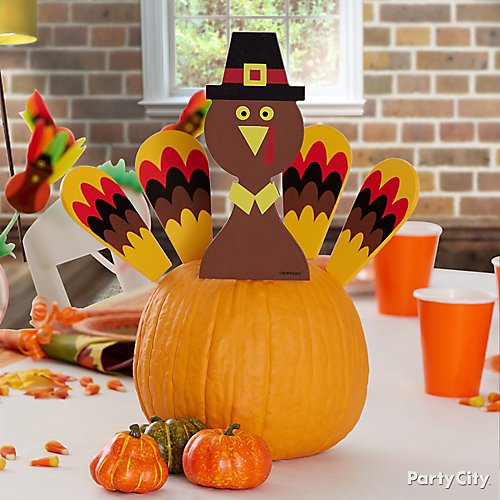 Idea 3: A turkey-pilgrim-pumpkin centerpiece!
This goofy turkey centerpiece aims to delight the littlest chicks. Find a pumpkin with a flat bottom and use our simple DIY centerpiece kit. Transform your gourd by adding a wooden turkey head and feathers, with stakes for easy attachment.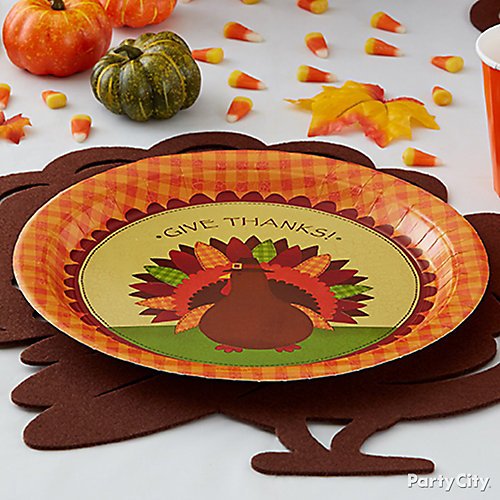 Idea 4: Themed plates add a touch of cheer
Traditional dishware? Not today. For the kids, themed paper plates are another exciting piece of the celebration. Save the boring — and breakable — white dishes for the adults' table, and opt for a playful paper plate for extra charm and color. Don't forget to sprinkle some candy corn around in place of confetti.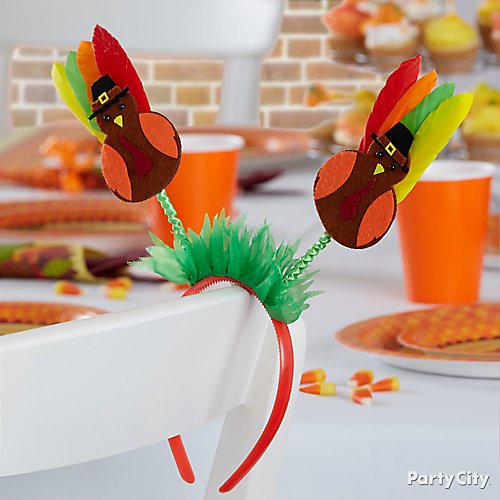 Idea 5: Funny headbands bring giggles with gobbles
Placing silly headbands on each chair offers a little entertainment for impatient little pilgrims. They also make for some pretty funny family photos!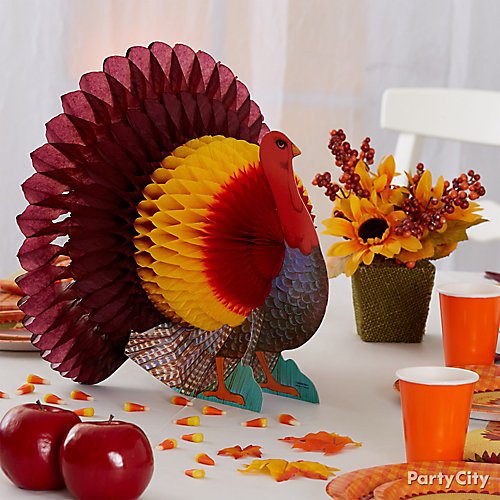 Idea 6: Add color with bright centerpieces
What better than a turkey to inspire your guests to gobble up a Thanksgiving feast? Kids are sure to smile at the sight of this boisterously colorful bird perched atop their table.