A cornucopia of Thanksgiving crafts and treats for little pilgrims. Let's talk turkey! Your little pilgrims will gobble up our classful of fun Thanksgiving crafts and treats! They'll love getting silly in turkey hats and building DIY paper chains of their thankful thoughts. Click around to get more festive DIY decoration and dress-up ideas for a Thanksgiving class party everyone will be thankful for!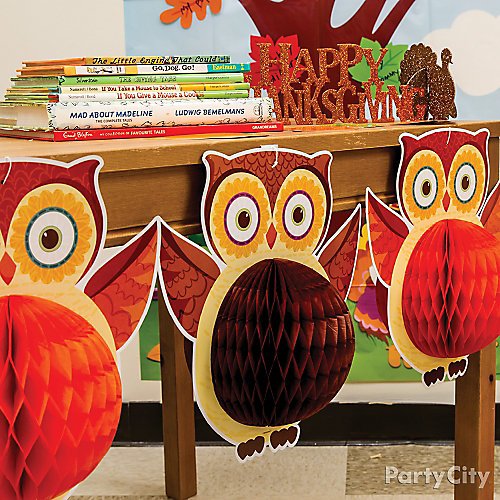 Idea 1: These Thanksgiving pals are a hoot!
Fall decorations like these owls easily transition into Thanksgiving. Hang these honeycomb owls around the room, or wing-to-wing along a table as a garland. A sparkly glitter Happy Thanksgiving sign helps the classroom transformation, too!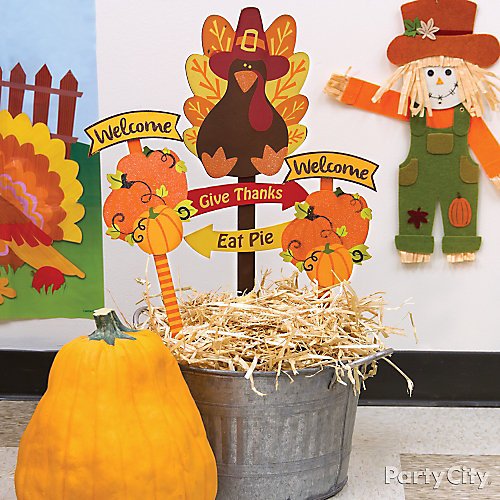 Idea 2: Plant a welcome pot of Thanksgiving signs!
For this easy decorating idea, fill a bucket or planter with hay or paper shred and arrange some friendly posts inside, like these Tom Turkey and welcoming pumpkin signs. A poseable scarecrow on the wall behind the pot helps point the way to bushels of fall fun.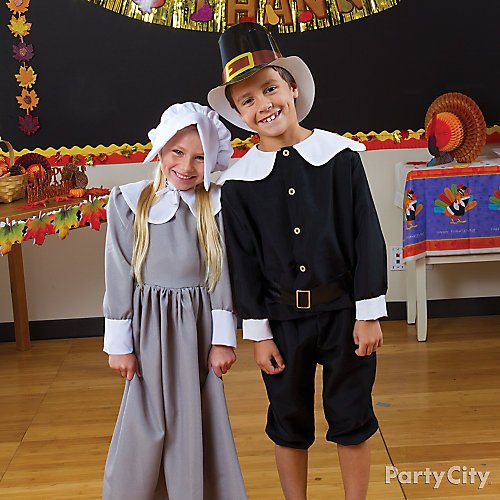 Idea 3: Walk in the shoes of a pilgrim
Kids will feel like they just stepped off the Mayflower in these colonial costumes. They'll love learning about the first Thanksgiving feast while dressed in bonnets and buckled shirts.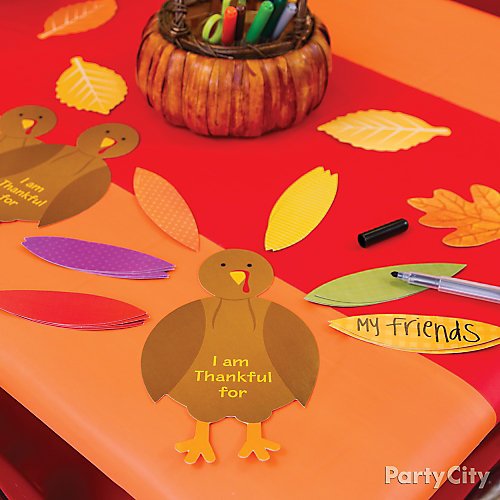 Idea 4: Join their thankful thoughts together
Gather up crayons and "feathers" of construction paper. Each child can grab a handful of paper feathers to write down the people and things that make them thankful. Gather together all of their happy thoughts and add them into one turkey tail to decorate the classroom with.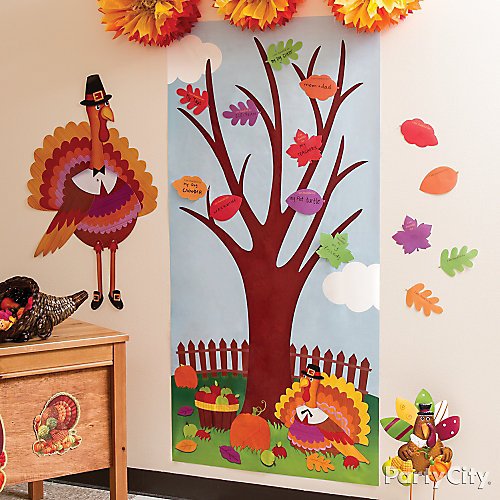 Idea 5: Deck out the wall in fall decor!
This Thanksgiving Tree Activity Kit comes with a large tree poster and leaf cutouts on which kids can write what they're thankful for before sticking them on the poster. Add paper decorations above in harvest hues and a turkey to one side to make the wall really stand out. Welcome, fall!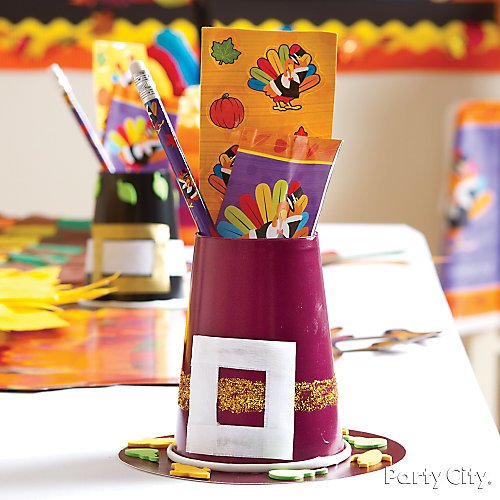 Idea 6: Tip your hat to this adorable favor idea!
All you need are paper cups, dessert plates, streamers, stickers and glitter glue to make these easy-peasy pilgrim hats. Cut the bottom out of a paper cup, then glue the cup upside down onto a dessert plate. Trim the edges to make the hat "brim" and have kids decorate with foam stickers. Draw a gold glitter stripe around the cup and attach a crepe streamer "buckle" to the front. Bring the cups pre-made brimming with favors or let the kids have some DIY fun. They'll love getting involved, especially filling the cups with cute turkey trinkets.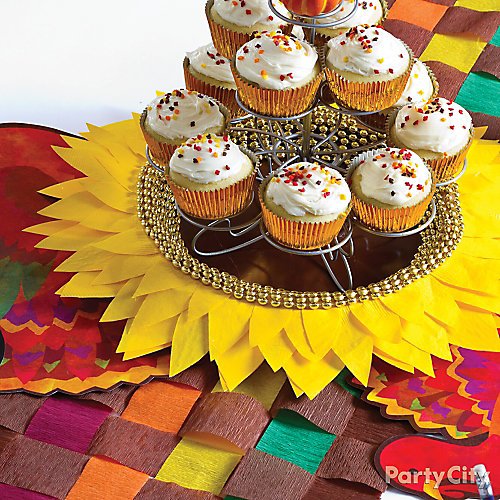 Idea 7: Weave together a too-cute table runner!
For this crafty idea. all you need are streamers or strips of paper table covers in fall colors of brown, red, orange, yellow and green. Lay out three yards of streamers vertically on the table (more or less depending on the size of the table) with colorful streamers in the middle and brown on both sides. Weave brown strips horizontally over and under the vertical streamers, trim off the excess and tape ends underneath the runner. It'll be the pilgrim's pride of the table!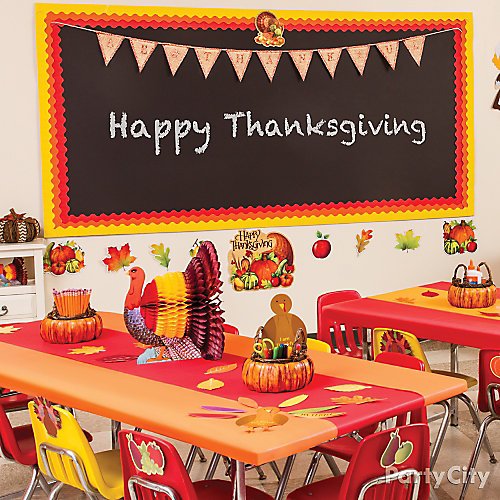 Idea 8: Give the classroom a colonial makeover
The friendly decorations of pumpkins and pilgrims on the wall are jointed for easy posing, and matching cutouts on the chairs will get everyone excited to learn. And a reenactment of the first-feast isn't the same without turkeys — decorate with lanterns, centerpieces and signs featuring everyone's favorite feathered friend.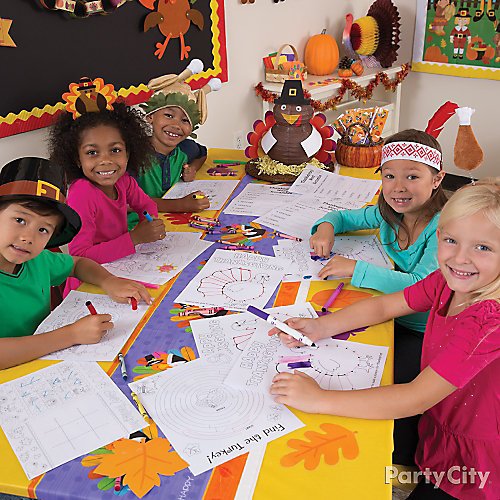 Idea 9: Be thankful for silly hats!
Whether they feel like being silly or traditional, we've got a hat (or headband) for that. Drumsticks, feathers and pilgrim hats will make them feel festive while they color in turkeys.