It's time for tea!
The Mad Hatter would be delighted by this unique tea idea! Check out the how-to below for two versions of a magical iced tea. For a touch of Wonderland whimsy, use these charming chalkboard signs to proclaim that one tea makes you TALLER and the other makes you SMALLER!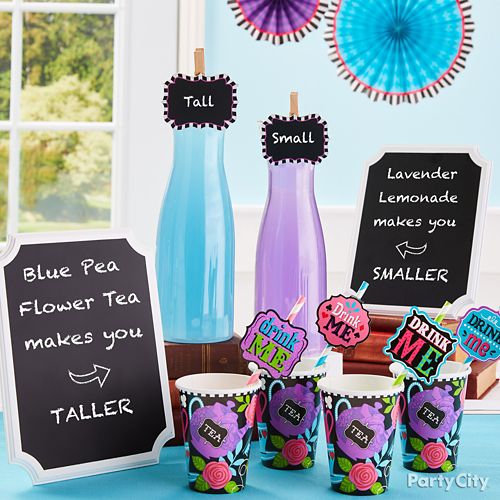 How-To
Ingredients:
Butterfly Pea Flower tea
Lemon
Honey
Lavender syrup or tea
Blueberry tea (optional)
1) Make blue tea
Brew enough Butterfly Pea Flower tea to fill your carafe or pitcher. This tea brews a deep blue color; remove tea bags when it reaches a shade of blue you like. Add ice or chill in the fridge, then add creamer if you want the opaque look above. Add sugar to your liking for a mild-tasting iced tea, or brew another flavor, such as blueberry, and combine.
2) Make purple tea
Follow instructions to create iced Butterfly Pea Flower Tea. The purple color comes from adding lemon to the tea, and it's really fun to watch! Again, we added creamer for the pretty opaque look. This tea is traditionally served with honey and lemon, but we like adding lavender syrup and sugar to the iced tea to create a Lavender Lemonade.