Even Bowser will devour this treat!
Get them powered up with cake! This yummy treat is full of all the whimsical scenery and characters straight from Super Mario world! We decorated ours with bouncing Super Stars, Piranha Plants and puffy clouds topped with candles featuring Mario, Luigi, and all their friends. Cake time's never been this fun!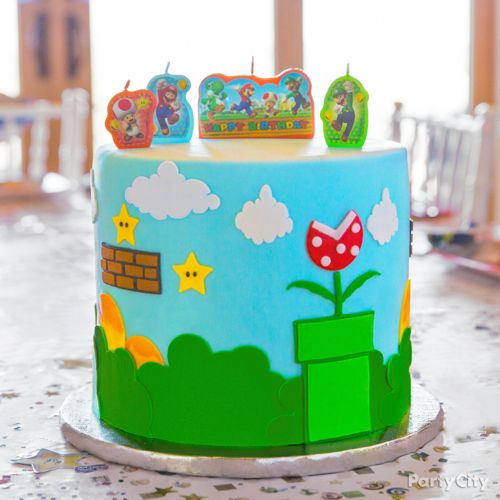 How-To
Ingredients:
Cake
1 box Buttercream Icing Mix
1 box Blue Rolled Fondant
1 box Multicolor Rolled Fondant
Supplies:
1 package Super Mario Candles
1) Bake Cake
Using a round cake pan, bake your favorite cake. Use multiple layers for extra height.
2) Apply Icing and Fondant
Cover the entire cake the buttercream icing, then cover with blue fondant.
3) Create the Scene
Cut out shapes of Mushroom Kingdom characters and scenery using the multicolor fondant.
4) Add Candles
Finish off the cake by topping it with Super Mario candles.