People love to get together outdoors. Backyard barbecues, pool parties, group picnics at the park or by the lake, and block parties get people pumped. Adding unique flair to your summer party is the key to delivering on the hype. Try these 9 do's and don'ts to make your summer bash a smash!
DON'T settle for the usual eats—cold sandwiches, chips and potato salad.
DO serve a hot dip bar to make your party buffet a crowd-pleasing hit!
The menu for summer parties, aside from what comes hot off the grill, is generally the same tired fare. Ditch the usual and wow your guests with piping hot dips to devour! Some of our favorites to try: Buffalo Chicken Dip (Use store-bought rotisserie chicken to make this one a snap), Pepperoni Pizza Dip (kids love this one), Queso Fundido con Chorizo, Warm French Onion Dip, Hot Crab Dip, Spinach and Artichoke Dip, Beef Enchilada Dip, Baked Brie (or Baked Goat Cheese) Dip, and Philly Cheesesteak Dip.
These dips are so hearty you can swap any of these out for an entree. Not grilling at your outdoor event? No problem. Serve a selection of hot dips and add a salad and dessert for a party buffet that will satisfy guests of all ages.
For dipping, ditch the ordinary bag of potato or tortilla chips and serve: pita chips, sourdough rounds, baby carrots and sliced cucumbers. As a bonus, you cut down on cutlery!
DON'T let your hot dips go cold.
DO use chafing dishes to set up a mouth-watering feast of melty deliciousness.
After you finalize your hot dip lineup, ensure your dips stay warm and gooey until the last spoonful. Chafing dishes are the go-to for caterers and party planning pros. Whether your gathering is big or small—softball team potluck or swanky fundraiser—the convenience of chafing dishes is unbeatable.
Simply arrange the chafing dishes and ignite the fuel can to keep your entrees warm for two to six hours without any further fuss! With the chafing dishes handling the heat, you are free to flutter about the party (like the social butterfly you are) as guests serve themselves at their leisure.
Chafing Dish Basics
A chafing buffet is effortless party food presentation indoors or outdoors. The concept is simple: portable fuel (an aluminum can with a wick) heats a large, deep pan of water which then heats a pan of food above it. Chafing dishes heat food and keep it warm—but they are not a method to cook food. Be sure to cook your food thoroughly before placing it in the chafing dish for display and warming.
Choose a chafing dish buffet set in your party colors to get everything you need to serve six piping hot entrees in one kit: pans, racks, fuel and serving utensils. Lids come separately, so be sure to add a few to your order!
Just place the empty water pan in the rack stand, pour hot water into the water pan, add the pan filled with food, and light the ethanol gel in the holder below. For more than six dishes, additional steam pans, lids, racks and gels are available in a variety of styles. Portable fuel cans come in two-hour, six-hour and ecofriendly options to fit your party needs.
Chafing Dish Safety 101
When fire, fuel and hot water are involved, there's potential for dangerous mishaps. Here's what you need to know to safely set up your chafing dish buffet.
Place the base where you want it first. You want to avoid having to move it once you've added hot water or lit the fuel.
Place the chafing fuel can inside the holder and then remove the can lid; attach the dampening lid to the holder and place on the stand.
Place the empty water pan in the wire stand and fill with about one inch of hot water.
Light the fuel with a stick lighter (also called a candle lighter) so you can keep your hands (and sleeves) away from the flame.
Place the hot food pan on top of the water pan and close the lid. Note: When opening the lid, open it away from you. The steam will be really hot (especially the first time you open it).
Chafing Dish Pro Tips
Your chafing dish game is almost expert level. Just a few more things to keep in mind and you'll be ready to cater like the pros!
Avoid transferring the chafing dish while the water is still hot; let it cool before dumping.
Allow fuel cans to cool completely before removing from their holders.
Be sure to use a blunt object, such as a spoon, to pry off the fuel can lid. Whatever you do, never use a sharp knife!
Don't forget to wash fuel residue off your hands (especially important before touching food).
Be sure to use a fuel cap, snuffer paddle, regulator or saucer to safely extinguish the flame.
Never use a lit can to light another can, carry a lit can or carry a chafing dish with a lit can attached.
Keep napkins, tablecloths, and all other objects away from the flame.
Choose your matching chafing dish set
Party Buffet Pro Tips
Setup is done! Tantalizing smells make your stomach growl and mouth water. What else do you need to know?
Use the steam pans from your chafing dish set to transport, store or freeze any leftovers. You can even reheat them in the same pan the next day.
Speed up the buffet line by leaving enough room on either side so two lines can go through at once. Add two serving spoons per chafing dish to accommodate both sides of the line.
Make it easy to see what's being served by making labels for each dish or listing the dishes on a chalkboard sign.
DON'T be chained to the grill all day.
DO schedule "grilling hours."
A good host works the crowd, tending to tasks and details that keep the party running smoothly. You can't circulate if you are firing up the grill on demand for every newcomer. To avoid this, add a simple note saying something like: "Come get your grub from the grill from 5-7!" Display your message on a chalkboard sign in the center of the main party table. Make sure you display it in a high traffic area, so guests see it.

DON'T frustrate thirsty guests with repeated opening of heavy cooler lids.
DO make grabbing a cold can a breeze with an inflatable cooler.
There's high demand for cold drinks in warm weather. Ditch the hassle and mess of a traditional cooler. Inflatable summer coolers only take a minute to assemble, are lightweight, double as a party decoration and are reusable. Looking for a DIY version? Convert that blow-up kiddie pool you have lying around into a makeshift lidless cooler.

Chill out with summer coolers
DON'T leave your guests swatting pests off their arms, legs and plates.
DO use fans as an easy, all-natural mosquito and fly repellent.
Mosquitoes and flies can sour the outdoor experience for your party guests. Keep out uninvited pests with a simple trick: plug in some fans. Set up a few box fans around the perimeter where your guests are hanging out. If your party encompasses a large area, set them up near eating and sitting spaces.
Add a tabletop fan to the area where your food is being served to keep bugs off the bread, salads and desserts. Not to mention your guests will appreciate feeling and smelling fresh throughout your event!
DON'T leave your summer party to the whims of Mother Nature.
DO weatherproof your outdoor party.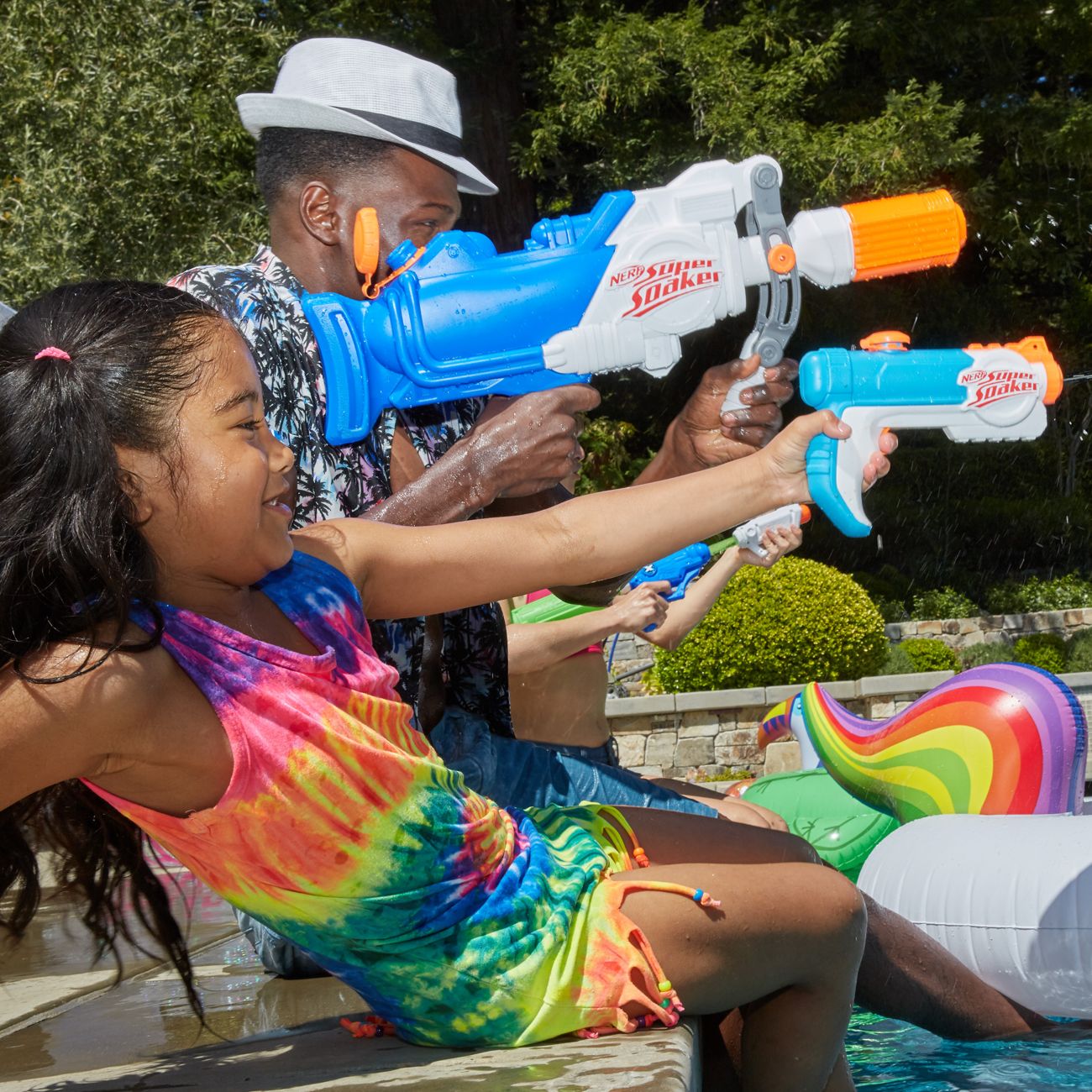 The three uninvited guests that sometimes crash your outdoor party: Wind, Rain and Humidity. Here's how to treat each of them.

Wind
A few items keep Wind from ruining the fun. Table cover clips are your first line of defense. These plastic clamps are a must-have to keep your table covering from flying away on a windy day. Napkins, plates, cutlery and other party essentials at risk of blowing away can easily be stored in a storage bin if Wind decides to drop in. Just have a storage bin handy in preparation.
Rain
A few sprinkles never hurt anyone…unless you count a damaged hairdo. Keep an eye on the weather report a few days in advance of your event, and if it looks like Rain may dampen your parade, set up a canopy. A tented area for the grill, buffet table and a few huddled picnic tables is the priority. With the food and some seating protected, you may only need to wait out a light shower under umbrellas until Rain moves on.
If this party crasher decides to come down in buckets and wash out your outdoor party plans, be prepared. Set up a rug and shoe rack so guests can wipe and store their muddy and wet shoes. Have a few towels laid out in case anyone needs to dry off.
If your menu includes grub from the grill, have a backup plan. If you've set up a chafing dish buffet, you already have a good Plan B! You can even make a couple of your favorite casseroles the night before the party. Put them in the freezer and bring them out if Rain brings the thunder, so to speak. If Rain goes away, your frozen dish will keep until you're ready to dig in. As a failsafe, you can keep a take-out restaurant menu ready should you need to order some pizzas and chicken wings or call for Chinese.
Humidity
A waterslide or sprinkler turns this unwanted guest into a reason to play. As a bonus, the chill mist will cool down the air for those guests that opt not to get wet and wild on the slide or run through the sprinkler. Water balloons, water blasters and other summer toys and games are another way to beat the heat while having fun.
Beat the heat (and wind and rain) 
DON'T leave your guests fumbling in the dark.
DO use lighting for function and fashion.
When daylight turns to dusk is often when the party really gets going! With outdoor patio lights and decor, a little light goes a long way. Mix string lighting with some well-placed lanterns to bathe your party area in a soft glow. String lights come in a variety of styles to enhance your party decor. You can string them overhead to create a ceiling of light, or hang them from trees, patio posts and balconies.
Decorative lanterns are one of the easiest and most appealing ways to light an outdoor space. Here your creativity comes into play: Cluster them on the dining table, set them around the border of your party area or arrange them in a decorative design. Real wax candles or outdoor LED lighted candles come in a wide array of styles to create the custom look you desire. Put the finishing touch on your masterpiece with a light-up sign in a design that ties your theme together!
Brighten the mood with outdoor lights!
DON'T throw something together without a plan.
DO plan smarter so you can party harder!
Partying without a plan is never a good idea. So where do you start? Reading this article was a smart first step! Next, you want to tackle three key things right off the bat. The rest of your planning will flow from these initial decisions.

1. How much tableware do you need?
Party Planner Pro Tip: Always buy a little more than you need. It's better to have extra than to run out! Also, expert hosts know extra tableware comes in handy when uninvited guests show up (thanks for the RSVP Cousin Rob…and did you have to bring all your soccer buddies along?). After the party, consider extra tableware as a reserve for your next event—or the next time friends or family drop in without notice. Extras let you be prepared for the unexpected!
2. What look do you envision for your summer theme party?
This includes factors like time of day and location, since they influence your decor decisions (such as whether you need lighting or how much electricity, if any, is available).
3. What's your entertainment lineup?
Activities get your party going—they break the ice and get people interacting. Some popular entertainment options include: music (a live band, DJ, or your favorite party playlist), a movie projected on an outdoor screen, board games and puzzles, ping pong, arts and crafts or volleyball. And don't forget the pool and beach toys! Think about how much space is available and the age and interests of your guests. Choose an activity (or three) to keep the energy high and your guests moving.
DON'T water down the fun.
DO make a splash with pool floats!
Summer is pool party prime time. Set the scene for peak party vibes with pool floats. A few floats go a long way creating a splashy party look, adding fun to your party photos and getting guests off the sidelines and in the water!
Armed with these 9 tips to summer party success, you are sure to impress! And best of all? These tips don't take an overwhelming investment of time or money. They are easy, affordable and fun. Let your creativity loose…it's time to party plan!