You got the chance to be their teacher (thankfully that's over!), now it's time to be their summer camp counselor. Grab your whistle and your clipboard; we have everything you need to create summertime fun at home.
Step 1: Create a Daily Schedule
The key to a well run summer camp is organization. If we want summer camp at home to be a success, the first step is to create a schedule for each day. With kids we know to always expect the unexpected, and you can adjust the schedule as needed, but starting with a plan will help keep things on track. A solid schedule means less stress for you and more joy for the kids!
Here are a few itineraries you can download to get started: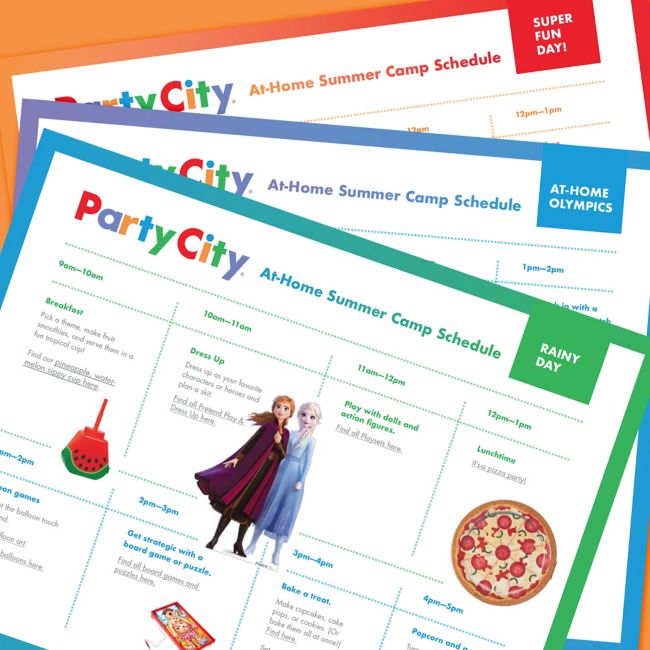 Step 2: Create your own Itinerary
Now it's your turn. Put together a list of activities you can schedule into your own itineraries. You can use the sample itineraries form Step 1 as a template.
Here's a few ideas to get the ball rolling:
1. Can't go wrong with outdoor fun with games like smash ball, water tug of war, pineapple bowling, and more. Discover it all here.
2. After the ultimate water balloon fight, the kids will definitely be alright. Gearup here.
3. Whether you have a pool in your backyard or not, bring on the bouncy beach balls and inflatable toys for a grand time.
4. If you do have a pool, cool off and look good doing it with these awesome floaties.
5. Lunchtime is the best time, whether it's a picnic day, pizza party, snack time, or a good old fashioned lunch, give it a special touch with our summer tableware. And don't forget, lemonade is a drink best served with style.
6. Let their creativity fly off the pages and onto the sidewalk with our diverse variety of sidewalk chalk.
7. For the downtime or rainy days, huddle around for a family movie and elevate the experience with our movie night supplies.
8. Have the kids wear the chef hat and bake some tasty treats (or get an early start on dinner 😉) by checking out our baking supplies.
Step 3: Get the Kids on Board
Once all activities are selected on a weekly basis, create a schedule to make sure all activities are evenly spread throughout the week.
Each day, be sure to let the kids know:
The appropriate attire based on the day activities planned
Time each activity will take place
What's on the lunch menu
The education and exercise focus of the day