Looking for simple ways to put together an elegant and stylish graduation party at home? We're obsessed with these elegant graduation decoration ideas, including this new Adventure Begins party in white, gold and black. Read up on thoughtful ideas for a lovely event, from trends like "drip" cake and metallic letter balloons to fun ways to spoil the graduates with candy leis, cookies, a gift table and light appetizers.
Once you're feeling inspired, you can shop all graduation party supplies!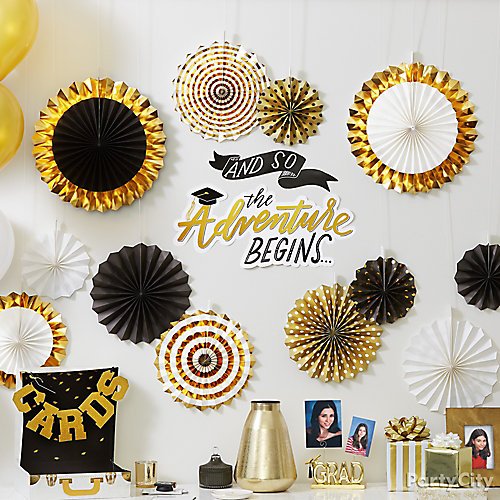 Idea 1: Party hack: how to hang fans
Take a page from our stylebook and decorate wall spaces with fans. First tape doubled lengths of fishing wire to the fans with packing tape, then attach the fishing wire to the wall with tape. This makes it easy to move the fans around as you create your layered masterpiece (and they don't get damaged).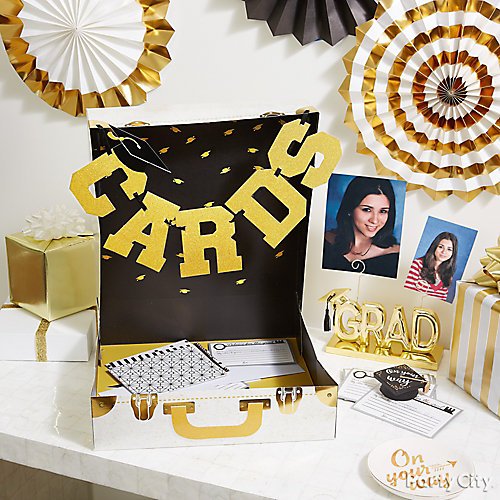 Idea 2: Set up a graduation card station
Set up a gift area on a table or countertop nook to help them gracefully accept presents and cards. A glam travel trunk matches the "adventure" party theme and doubles as a case for cards they'll want to keep to remember the day. Style the table with home decor touches like paperweights and trinket dishes – these make sweet take-home favors for friends of your graduate. Shop all graduation card boxes.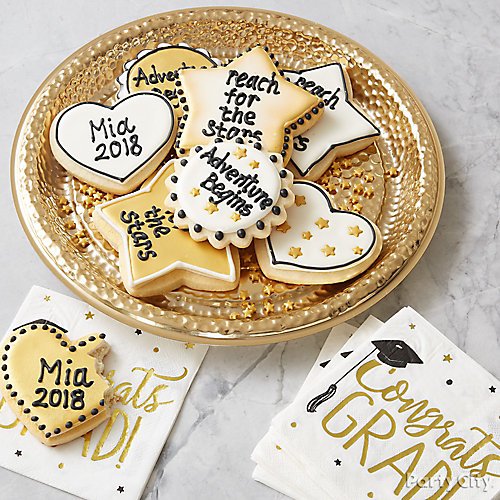 Idea 3: Sweet grad cookies to inspire their dreams
Personalize bakery cookies with phrases to match your adventure theme. Ice white and gold cookies with mantras like "reach for the stars" and "the adventure begins." Play off the star icon with star shapes and gold star sprinkles, and spoil your grad by making a few with their name and graduation year!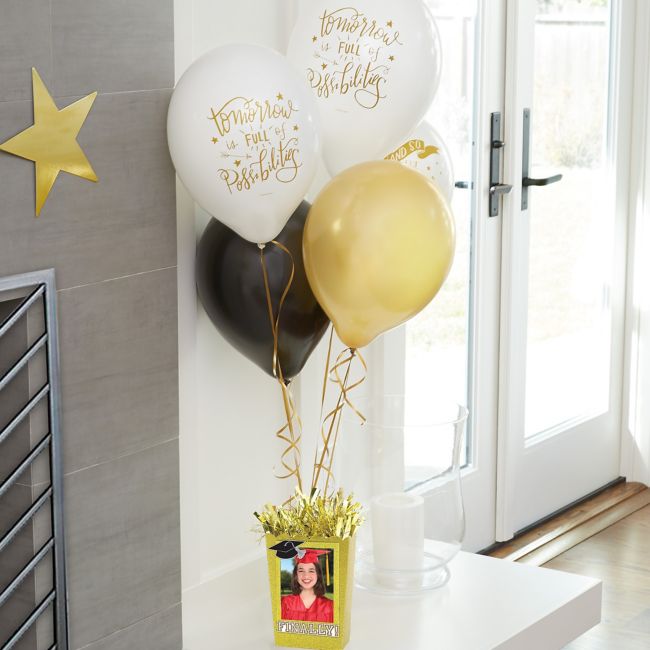 Idea 4: Decorate with photo memories
Personalize a photo balloon weight with their favorite photos. Make 5 or 6 of these and try them in different rooms. This graduation party balloon idea is easy to move around and try in different spots until you achieve decorating perfection. This type of décor element works on the floor or as a graduation centerpiece.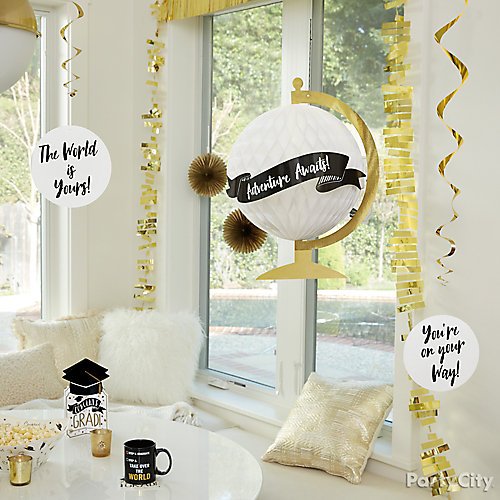 Idea 5: Easy indoor graduation decorations
Create a casual party vibe by decorating a comfortable seating area with trendy graduation decorations. The grad and their friends will be on Cloud 9 chatting in a kitchen nook filled with white honeycombs, delicate hanging swirls and pretty metallic garlands.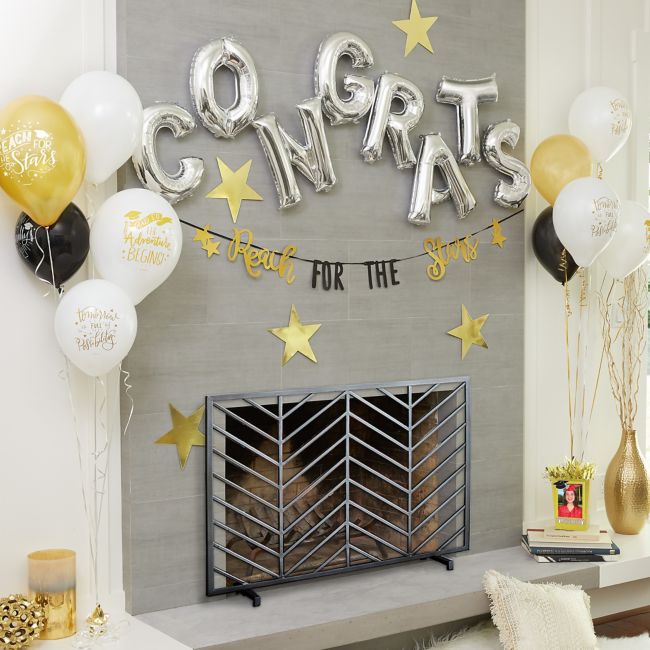 Idea 6: Say it your way with letter balloons
Decorate with words! Small metallic letter balloons have to be our top pick for stylish decorating this grad season. This idea works for small or large spaces and creates a backdrop for photos that speaks for itself. For a mantel area, choose a single word. For a hall or auditorium, try longer inspirational phrases. Add garlands, graduation balloons and stars to inspire grads to reach for the stars and go after their dreams!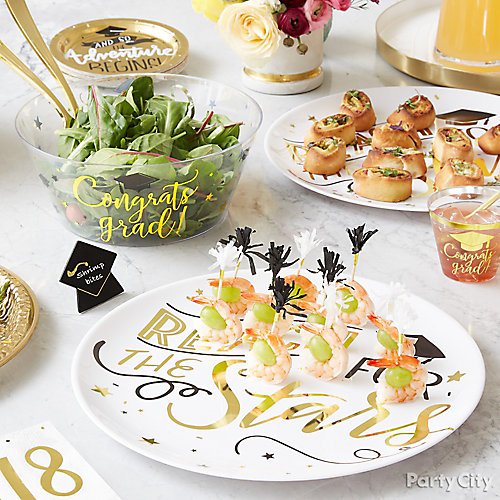 Idea 7: Think mini bites, light salads and mineral waters
Simple is smart for a stylish grad party that's all about mingling. Set out stacks of printed dessert plates and pretty platters brimming with small appetizers like spring rolls and shrimp bites. Appetizers are an especially important choice if you plan to serve a large meal or go out to dinner after the graduation reception. Whether you're going for petite bites or buffet-style, it's easy to find the perfect graduation tableware theme to fit the look of your party. For drinks, think light and fresh: orange juice and fruit mineral waters will earn high marks.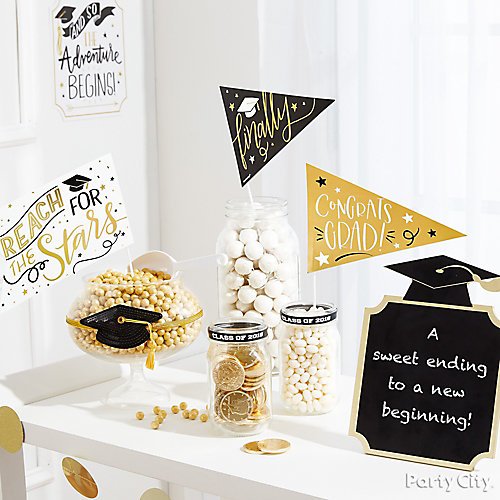 Idea 8: Celebrate with a graduation candy buffet
For a practical and petite grad party candy buffet, use a bar cart. To create height, mix and match mason jars in different sizes and tuck in grad-theme signs on sticks and a celebratory sign. You can use wearables like wristbands and headbands to decorate your containers with iconic grad caps. Dangle a gold dots banner to tie it all together.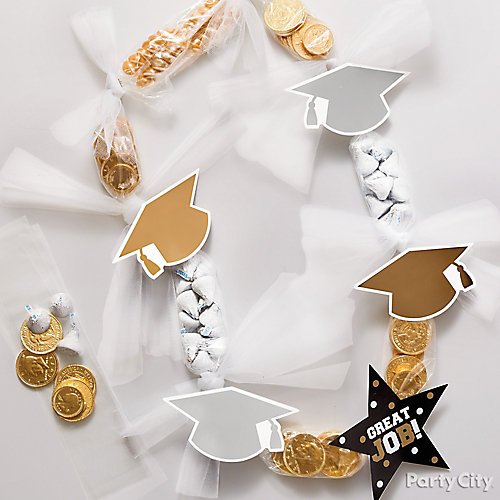 Idea 9: How to make a stylish graduation candy lei
Here's a stylish take on the classic candy lei graduation gift: use chocolate gold coins to symbolize their road to success and white chocolate kisses to represent your love. To make the sections: fill cell bags with candy, leaving about 2 inches on the ends, then attach using included twist ties. You'll want sturdy candy at the neck, so use 6 twisty lollipops for that section. Tape paper grad cap cutouts and tie on 5-inch lengths of white tulle to add sophistication. See all graduation gifts.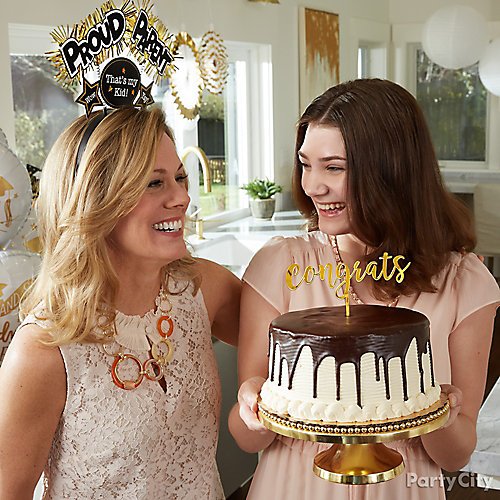 Idea 10: Something sweet for the graduates: a gorgeous "drip" cake
This trendy graduation cake idea is perfect for a small celebration your grad will truly love. The cascade of drizzled chocolate is ganache-style frosting made with whipped warm cream and chocolate. A cursive Congrats topper pairs perfectly and matches her style.