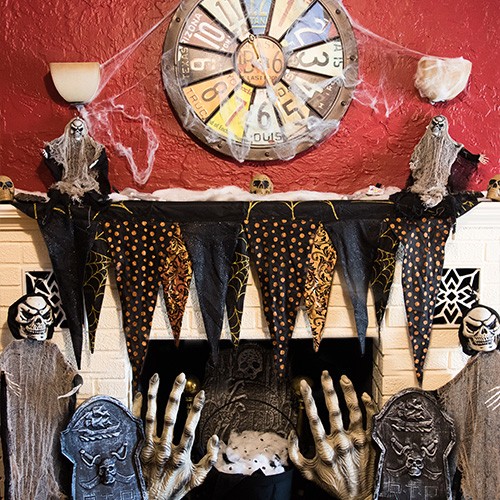 Idea 1: Haunted Mantel
Nothing screams spooky like a haunted mantel or fireplace. Add a Halloween mantel scarf along with some spider webbing. Then add all the spooky décor for a haunting touch including cauldron, bats, skeletons, and tombstones.
Create this Haunted Mantel look: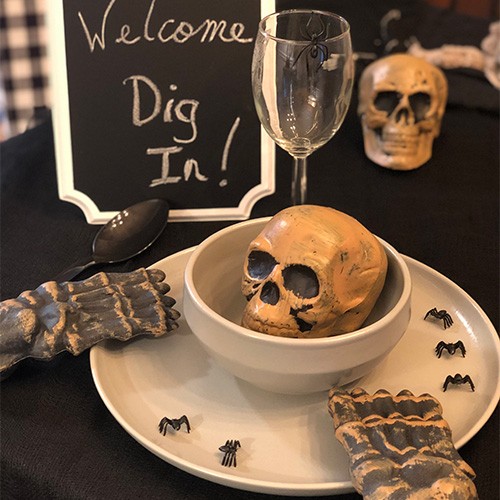 Idea 2: Grave Digging Dinner Party
Dig in everyone, dinners served! Your guests will be impressed with the Halloween details of your dinner party. Plastic spiders, miniature skeleton heads and mummy parts provide just the right touch to your place settings. Deliver your favorite Halloween message with chalk boards!
Create this Grave Digging Dinner Party look: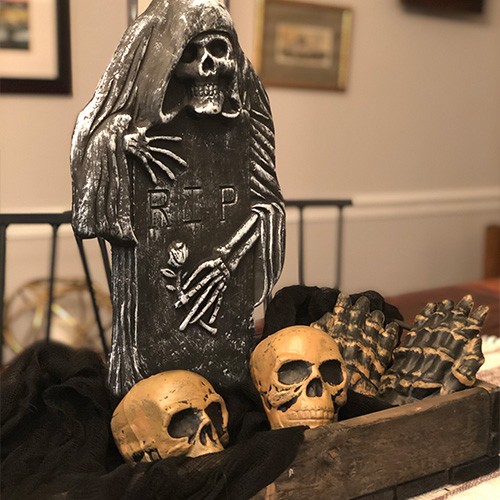 Idea 3: Creepy Centerpieces
Black is in when it comes to Halloween centerpieces. It's easy to create a creepy centerpiece by adding black cheesecloth to serving pieces and building a graveyard that highlights the center of your table. Start with a tombstone of the perfect height and add skeleton pieces around the base. Guests will think it took you hours to create your haunting look.
Create this Creepy Centerpiece look: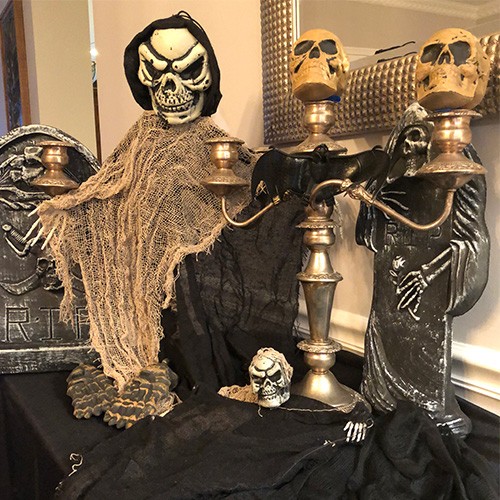 Idea 4: Tombstone Tables
Halloween is the perfect time to bring out the candelabra you've had tucked away in a closet. Candles, skeletons and tombstones make the perfect spooky indoor décor. Start by covering a table, dresser or counter top with black cheesecloth. Pick out your favorite reaper to compliment your candle holders and fill in the background with tombstones. Miniature skeleton parts topped with spider webs add the finishing touches to your indoor graveyard.
Create this Tombstone Table look: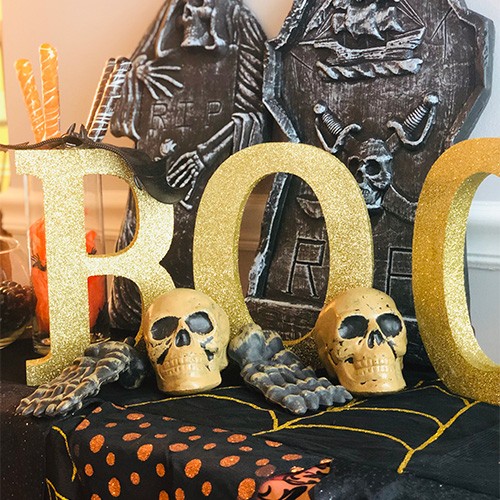 Idea 5: Boo Buffet
Invite guests to get into the Halloween spirit with a boo-tiful buffet. Start by covering the table with a black cheesecloth or Halloween mantel skirt. Add a little BOO to your buffet table with large decorative letters and skeleton parts. Turn the table into a candy buffet when you compliment your decorations with color coordinated candies in assorted containers.
Create this Boo Buffet look: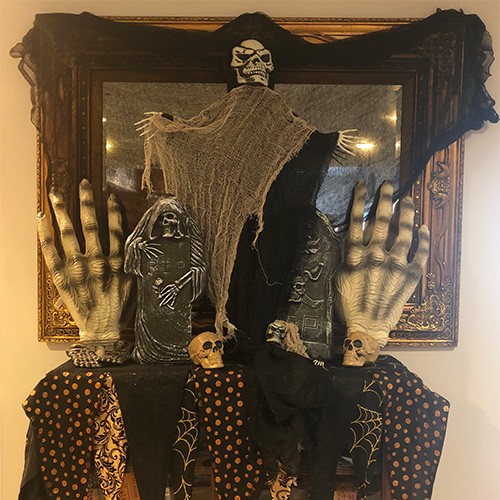 Idea 6: Skeleton Altar
Mirrors make the best easels for indoor Halloween decorations. Depending on the size of your wall mirror, outdoor graveyard props can be used to fill the space under or around it. Select an outdoor grave yard set or mix and match tombstones, skeleton parts and cheesecloth to create a haunting spot in your home.
Create this Skeleton Altar look: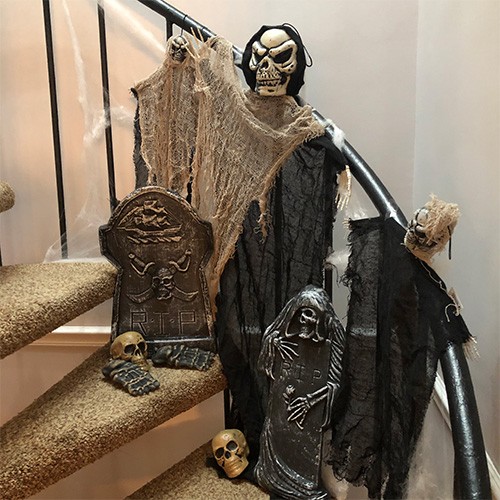 Idea 7: Scary Staircase
Surprise your family with Halloween decorations in unexpected places throughout your house. A staircase present a unique opportunity to hang bats from the bannister or reapers from the railings. Spider webbing can easily be woven with miniature spiders and other creepy creatures. It's an easy step by step process to scare the family from the bottom up.
Create this Scary Staircase look: