As families and friends begin to change the way they share treats, Halloween spooky baskets are growing in popularity. Spooky baskets are a fun gift to help you and your loved ones get into the Halloween spirit. Children and adults will love receiving these festive gifts. They're super easy to put together and with so many themes to choose from, spooky baskets can be tailored to each recipient.
While baskets are commonly used to hold Halloween goodies, you can also use cauldrons, gift bags, and plastic containers. Now, you may be wondering what to put in a spooky basket. They can be filled with everything from toys, to games, to Halloween candy. It all depends on the Halloween treats you want to give your lucky recipient! Finish off your gifts with shrink wrap bags and ready-made ribbons to make your cute spooky baskets look like you ordered them from a pro.
Learn how to make a spooky basket with the fun ideas below and when you're ready, shop premade Spooky Baskets or build your own with Halloween Trick or Treat Supplies.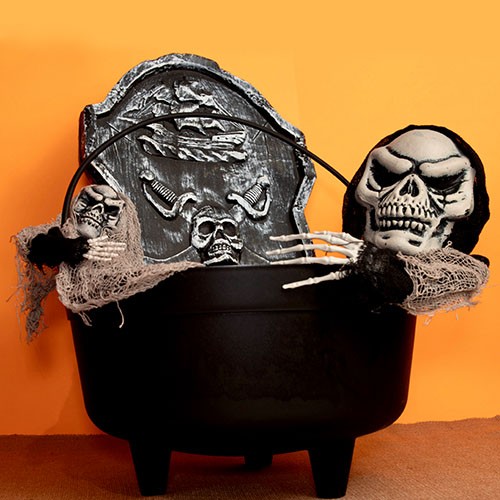 Idea 1: Spooky-filled Witch Cauldron
What's scarier than a witch cauldron? The skeleton decorations that fill it. Help friends get started with their haunted Halloween decorations by creating a Cauldron basket filled with outdoor décor.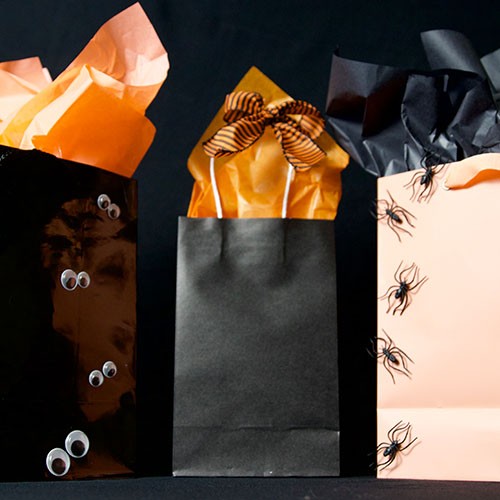 Idea 2: Boo Bags
A spook-tacular Halloween basket doesn't have to come in a basket at all. Black, purple or orange gift bags make a great base for building your Halloween gift. They come in all sizes and can be decorated as easily as plastic container. Glue googly eyes or plastic spiders on the bag or wrap it with spider webs before filling it with your favorite candy, toys or books. Add tissue paper and a contrasting colored bow to complete the look.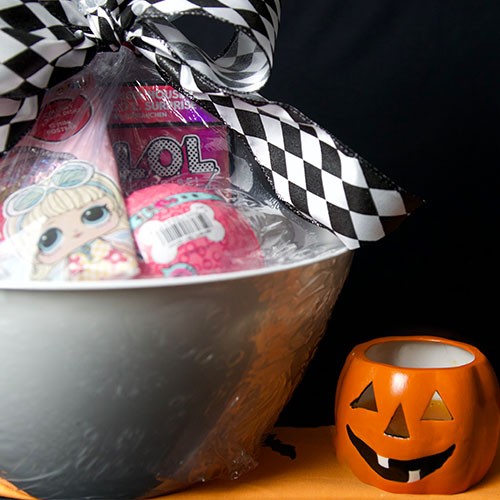 Idea 3: LOL Doll Fashion Passion Basket
Not all Halloween baskets have to include candy corn and witch potion. Surprise your favorite LOL fan with the latest LOL Dolls. You won't be searching the shelves to find the most popular balls or toys- Party City has your back on this one.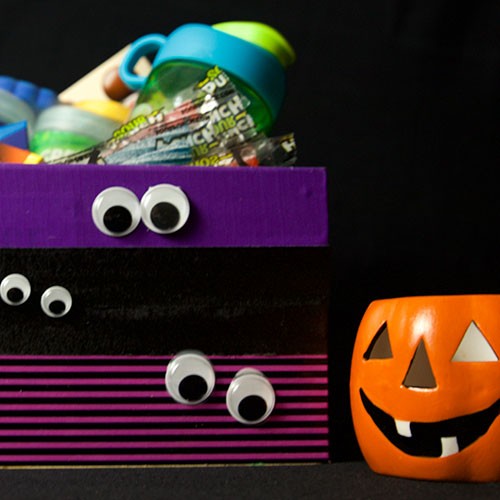 Idea 4: Googly Eyed Basket
This basket is made with a wooden box! There's so many containers that can easily be decorated with seasonal duct tape, stickers, googly eyes or ribbons. Larger containers allow you to fill it with larger items like movie size boxes of candy, Disney themed water bottles or seasonal toys. Don't forget the shrink wrap bag. It's so much fun to watch the heat of your blow dryer shrink in place.
Idea 5: Lollipop Cauldron
Big things come in small packages! Some of the sweetest Halloween gifts can be found in lollipop filled cauldrons or gum ball filled jars. Say, "You are Spook-tacular" with a seasonal bow.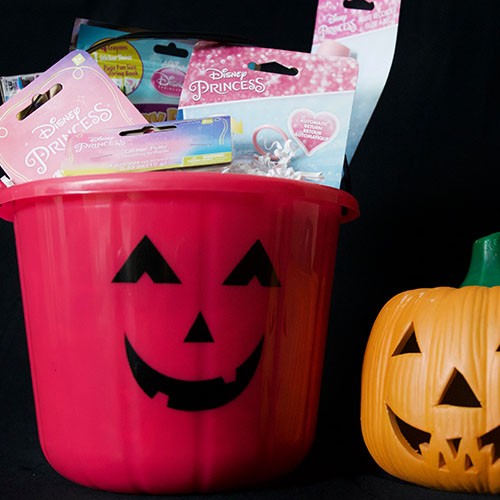 Idea 6: Princess Pumpkin Basket
Pumpkins filled with toys are the perfect way to celebrate Halloween without candy. Kids won't miss the sweet treats when they receive Disney, Universal, Warner Bro or seasonal toys. Everything you need is in one place and plastic pumpkins come in so many colors. It's fun, easy and customizable to every child in your life.
Idea 7: Reese's Cauldron
Conjure up Reese's Peanut Butter Cups this cauldron candy basket. Take a black cauldron bowl and drape fake spider webs out of it for a creepy look. Add Reese's Peanut Butter Cups or the recipient's favorite candy to the cauldron and you've got a spooky basket that's witch approved!
Idea 8: Avengers Basket
This basket is for the Avengers lovers! The Super Avengers Spooky Basket Kit is filled with Avengers party favors like stickers, pencils, tattoos. Add candy and tie Avengers balloons to the basket to take this superhero-themed spooky basket to the next level.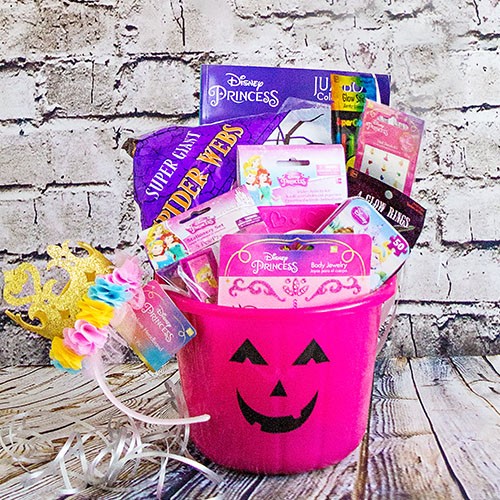 Idea 9: Disney Princess Basket
Create a magical Disney princess theme basket with a pink trick-or-treat bucket. The Super Disney Princess Spooky Basket Kit has princess goodies like jewelry, stickers, activity books, and a crown headband. Add these items to the plastic container and top off this fairy-tale Halloween basket with Disney-themed balloons.
Idea 10: Halloween Fun Basket
Halloween pranksters will love this Super Halloween Spooky Basket Kit! Inside the classic Jack-o'-Lantern treat bucket they'll find webbing, fake fingers, whoopee cushions, glow sticks, and more. Add 'Happy Halloween' balloons to the container to kick off Halloween season in a fun way.