Balloon towers make great decorations and photo props, and really add a special touch to your party! This budget-friendly balloon decoration can be created using very basic party supplies and doesn't require a stand or balloon column kit.
For this tower, we layered colorful balloons to match our Peppa Pig Party, but it's easy to switch balloon colors to fit any theme. And whether it's a graduation celebration, luau or baby shower, you'll be able to find an adorable foil balloon to top things off! This DIY is a little tricky, but don't worry—we'll show you step by step.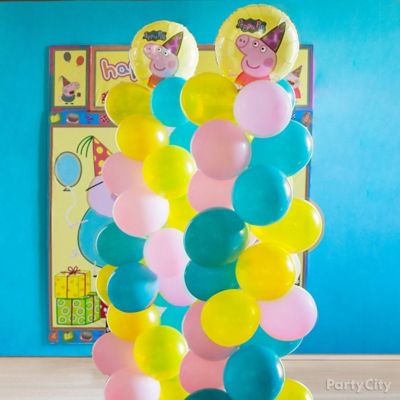 What you'll need for two towers:
12" balloons in three colors (We used two packs each in yellow, Caribbean blue and pink)
2 Foil Balloons
1) Inflate 3 Balloons
Begin by inflating three different color balloons, keeping them uniform in size. Use a hand pump or helium to inflate.
2) Build the First Layer
Tie together the ends of your balloons. Then, tie ribbon to the center of your balloon cluster and attach it to a balloon weight. We used two balloon weights for extra support! (You will need roughly 70 inches of ribbon for a 6-foot tower.)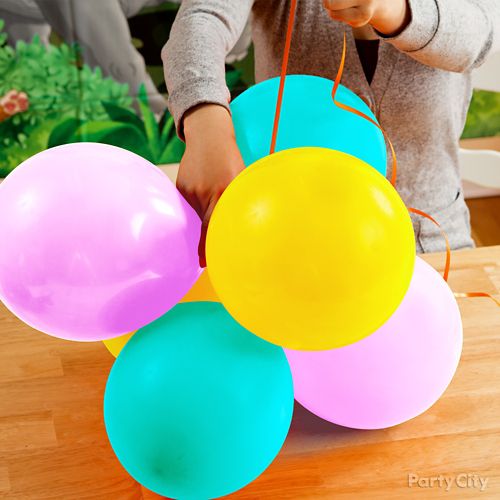 3) Add Additional Layers
Make another cluster of three balloons in the same color sequence. Stagger the layers to create the cool spiral effect. Add as many layers as you wish, attaching the ribbon through the center.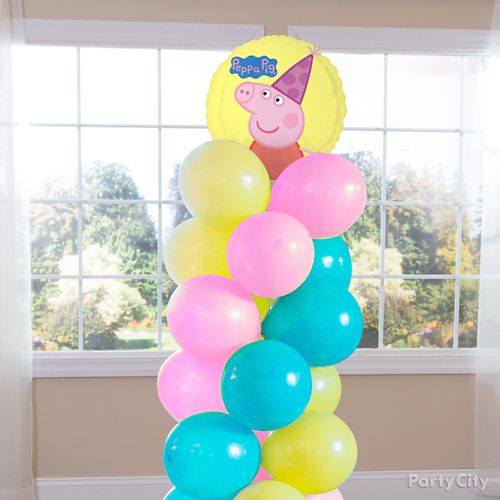 4) Top it Off
To complete the balloon tower, inflate a thematic balloon with helium and attach it to the center of the column. All finished!