Have a ball with marshmallow pops!
Create candy-coated marshmallows fit for a princess! They are easy to make - just dip marshmallows in Candy Melts® candy and add a pretty Sofia the First icing decoration on top.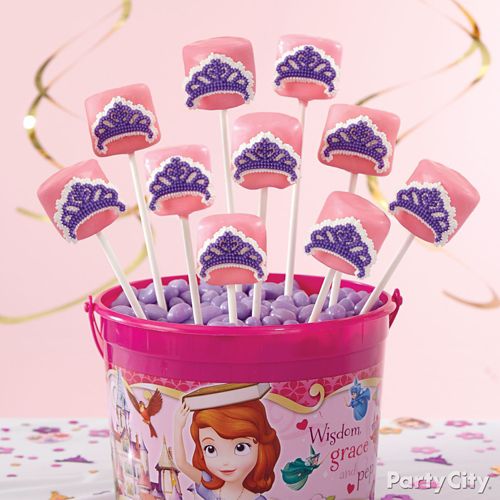 How-To
Ingredients:
Bright Pink Candy Melts® Candy (10 oz. makes 10 treats)
Bright White Candy Melts Candy (10 oz. makes 10 treats)
Large marshmallows
Sofia the First Icing Decorations
Supplies:
Microwave-safe bowls
8 in. Lollipop Sticks
Craft foam block
Cookie sheet
1) Dip marshmallows
Melt bright pink and bright white Candy Melts candy, separately, in microwave-safe bowls, according to package directions. Insert sticks in marshmallows. Dip marshmallows in melted candy. Gently tap against edge of bowl to smooth and remove excess candy. Insert sticks in craft block. Chill until firm, about 10 to 15 minutes.
2) Decorate marshmallows
Use a lollipop stick to add a dot of melted candy to back of icing decorations. Attach icing decorations to marshmallows. Chill until firm, about 3 to 5 minutes.