Princess perfect parfaits!
Adding some healthy treats to the party is the kind of wise decision Sofia is all about! Every girl will think these raspberry and yogurt parfaits rule - especially the yummy watermelon heart on top!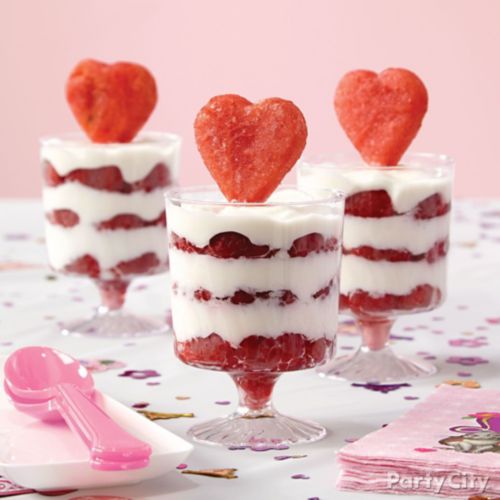 How-To
Ingredients:
Raspberries, washed and dried
Vanilla Greek yogurt
Watermelon
Supplies:
12 in. Disposable Decorating Bags
Food-safe scissors
Clear parfait cups
Knife
Heart Cutters (cut-out "D" used)
8 in. Lollipop Sticks
1) Fill parfait cups
Spoon a layer of raspberries in bottom of parfait cup. Place yogurt in disposable decorating bag. Cut small point off of decorating bag. Pipe a layer of yogurt over raspberry layer. Repeat, adding layers of raspberries and parfait until cup is filled, ending with a layer of yogurt.
2) Make watermelon heart
Cut a slice of watermelon 1/2 in. thick. Use straight side of heart cutter "D" to cut heart from watermelon. Insert lollipop stick into bottom center of watermelon heart, leaving half of stick exposed. Insert stick into center of parfait. Chill until ready to serve.