Sofia put a lot of heart into these cookies!
It's Sofia's world, so the cookies must be iced in pastels and topped with pretty hearts! Use Sofia the First icing decorations to add a quick and easy princess touch to the cookies.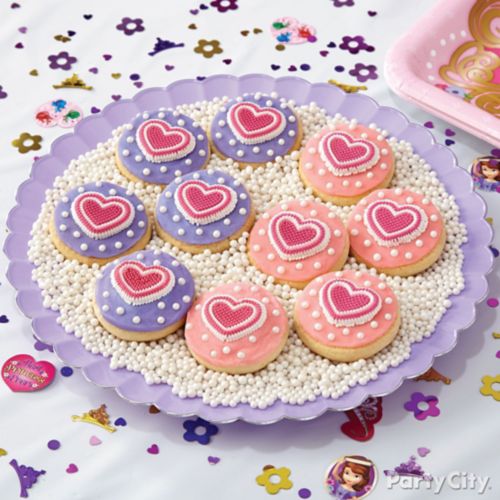 How-To
Ingredients:
Favorite roll-out cookie recipe
Buttercream Icing
Violet Icing Color
Rose Icing Color
Sofia the First Icing Decorations
White Sugar Pearls
Supplies:
Rolling pin
Round Cutters (cut-out "C" used)
Cookie sheet
Cooling grid
9 in. Angled Spatula
1) Make cookies
Prepare and roll out dough following recipe directions. Use straight side of "C" round cutter to cut out cookies. Bake and cool cookies.
2) Ice cookies
Tint portions of buttercream icing with violet and rose icing colors. Use spatula and violet or rose icing to ice cookies smooth.
3) Decorate cookies
Immediately position one heart icing decoration in center of each cookie. Position Sugar Pearls around heart.