Nibble on VIP crispy rice treats!
Easy treats, decorated Sofia-style, with Candy Melts® candy, sugar pearls and a Sofia the First icing decoration on top! What a great way to make every little girl a party princess for the day!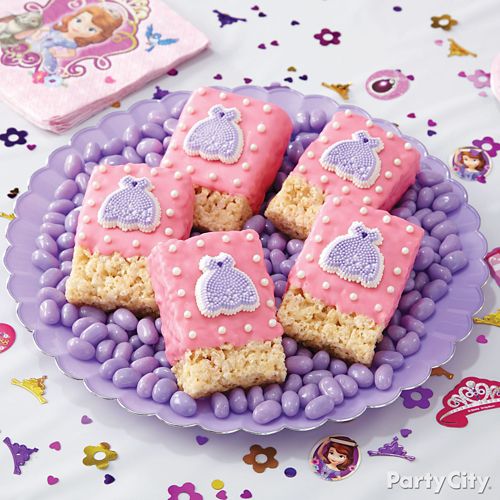 How-To
Ingredients:
Favorite crisped rice cereal treats recipe
Vegetable pan spray
Bright Pink Candy Melts® Candy (12 oz. makes 10 treats)
Sofia the First Icing Decorations
White Sugar Pearls
Supplies:
Performance Pans™ 11 in. x 15 in. Sheet Pan
Knife
12 in. Disposable Decorating Bags
Food-safe scissors
Parchment or waxed paper
Cookie sheet
1) Make cereal treats
Prepare crisped rice cereal treats mixture following recipe directions. Spray pan with vegetable pan spray. Press mixture into prepared pan. Let cool and unmold.
2) Cut into rectangles
Use knife to cut treats into rectangles, 2 in. x 3 in..
3) Decorate treats
Melt bright pink Candy Melts candy in disposable decorating bag according to package directions. Cut small point off of decorating bag. Place treats on parchment paper-covered cookie sheet. Use melted candy to cover 3/4 of top of treats. Position one icing decoration on each. Chill until set, about 3 to 5 minutes. Use dots of melted candy to attach white Sugar Pearls around edge of treats. Chill until set, about 3 to 5 minutes.