Royal ideas for decorating a Sofia cake!
You want to make everything right for your royal party - and with this gorgeous Sofia birthday cake, you'll make it amazing! Decorator fondant and heart cutters make it a breeze to cut the pretty flowers. The fun Sofia candle tops off the cake to perfection!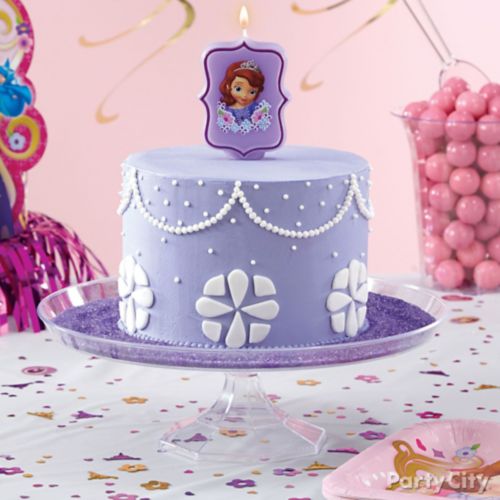 How-To
Ingredients:
Favorite cake recipe or mix (4 1/2 cups batter used)
White Ready-To-Use Decorator Icing — 4.5 lb. Tub
Violet Icing Color
White Decorator Preferred Fondant (2 oz. used)
Supplies:
Performance Pans™ 6 in. x 2 in. Round Pan
Cooling grid
Knife
9 in. Angled Spatula
9 in. Rolling Pin (purple guide rings used)
Heart Cutters (cut-out "F" used)
12 in. Disposable Decorating Bags
Food-safe scissors
Tip Set (round Tip #3 used; two needed)
Sofia the First Candle
Cake stand
1) Make layered cake and decorate
Prepare batter following recipe directions. Bake and cool two 6 in. cake layers. Level, torte, fill and stack layers on cake pedestal so you have a 2-layer cake, 4 in. high.Tint a portion of white icing with violet icing color; reserve remaining white icing. Use spatula and violet icing to ice cake smooth. Mark cake in 6ths at top and bottom, with sections 3 in. apart. Mark top garland border on cake, 1 1/2 in. deep. Use tip #3, a cut disposable decorating bag and white icing to pipe dot garland between division marks. Use tip #3, a cut disposable decorating bag and violet icing to pipe bead bottom border.
2) Make fondant flowers
Use fondant roller with purple guide rings to roll out white fondant ⅛ in. thick. Use heart cut-out "F" to cut six hearts for each flower (six flowers needed). For each flower, cut two hearts down the center to make four large petals. For smaller petals, cut ⅜ in. from points of four remaining ♥ cut a curve at top for round flower shape.
3) Attach fondant flowers
Use tip #3 and white icing to attach flowers to cake sides at division marks with dots of icing.
4) Complete cake
Use tip #3 and white icing to pipe random dots on cake side. Position candle.