Bring the magic of the winter landscape indoors with decor that's worth melting for! Cool is what this winter party is all about! Get cozy this winter with a party that celebrates the flurries and fun! Snowflake swirls, shimmering tinsel, metallic balloons and snowman decor make it easy to bring to life the magic of the winter season. Browse through our idea gallery for ways to blanket your party in the season's best colors of frosty blue and sparkling silver!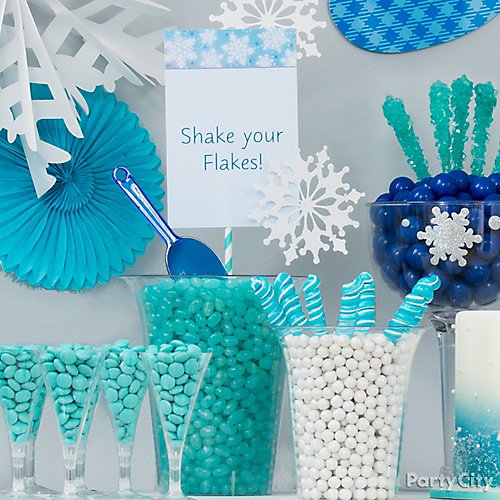 Idea 1: Walkin' through a winter candyland!
Everyone will shake their flakes when see this winter candy buffet! Fill large clear candy containers with chocolate drops, jelly beans, and candy sticks in a cool color palette: robin's egg blue, royal blue, Caribbean blue and white. You can even top off tiny plastic glasses and serve them to guests like cocktails. Don't forget winter touches like snowflake decals and a cute sign—like a custom invite attached to a paper straw!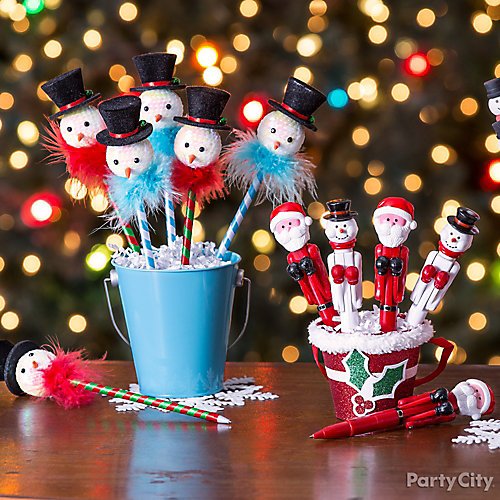 Idea 2: Put winter in its place—as a festive favor!
Standing snowman and Santa pens in favor pails is an easy grab-and-go idea. Just fill solid-color and glittery metal and cardboard pails with paper shreds. Guests won't suspect that those glittery snowflake "coasters" are actually cutouts!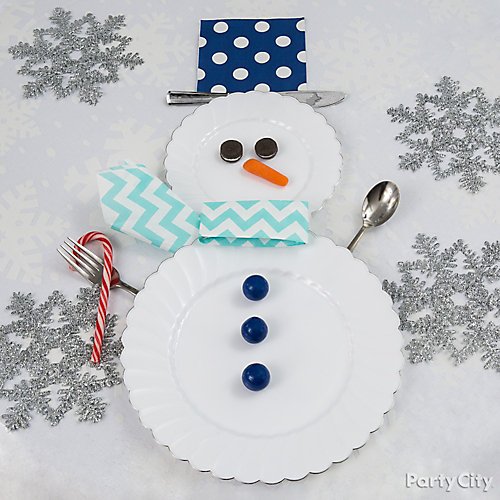 Idea 3: Build a place-setting snowman
Before serving the snacks, whet their appetite for fun! Set the scene by layering a clear snowflake table cover over a solid-white tablecloth and scattering it with silver snowflake cutouts. Then, it's time to assemble your tabletop snowman! Arm two plastic plates with silver utensils and make him a hat and scarf with polka-dot and chevron napkins. This jolly fellow comes complete with black-olive eyes, a baby carrot nose, gumball buttons and a candy cane. Snack time + play time = the best time!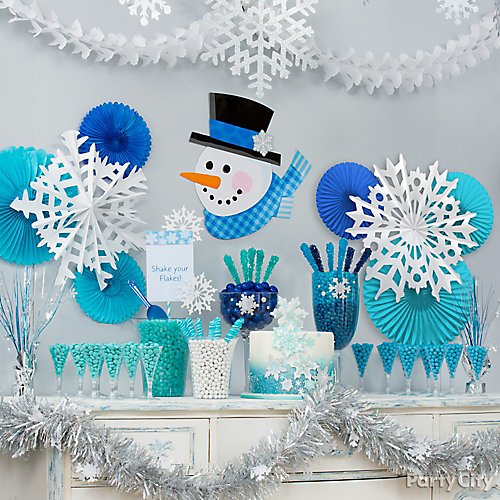 Idea 4: Bring together a wintry mix of decorations
Unlike snow and icicles, these winter wonders won't melt! Decorate your party table with paper and tinsel garlands for ice-inspired sparkle. The simple trick to that "wow" factor: display blue fan decorations, paper snowflakes and snowflake cutouts at varying heights over the table and on the wall. It'll really feel like a wonderland!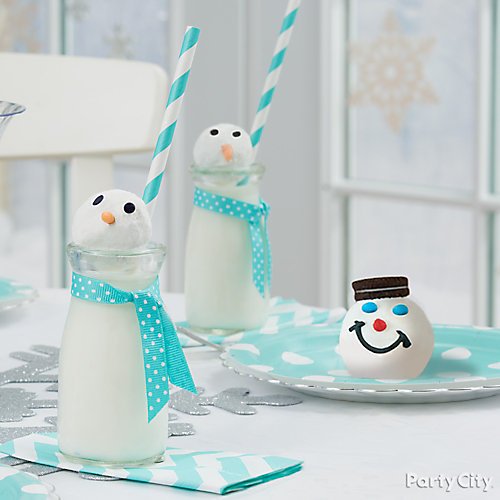 Idea 5: Melt for these frosty snowman treats!
Satisfy hungry tummies with too-cute donut-hole or cake-ball snacks and milk! Start by giving your treats little faces using ready-to-use icing. Then, place them atop bottles of milk. Dressed up in a polka-dot ribbon scarf and a chocolate sandwich cookie hat, these snowman treats are (almost) too cute to eat!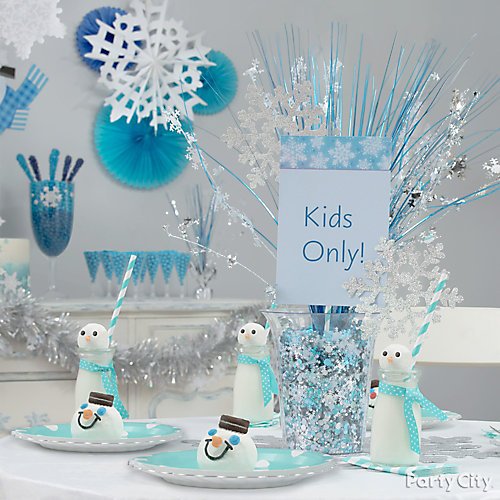 Idea 6: Warm up your table setting with a DIY centerpiece
Save the best winter decor for the hottest spot at the party! To make this table centerpiece, place a spray centerpiece inside a clear candy container and sprinkle in shiny snowflake confetti. The small sign is simply a custom invite glued to a paper straw. You just might want this for the grown-ups' table, too!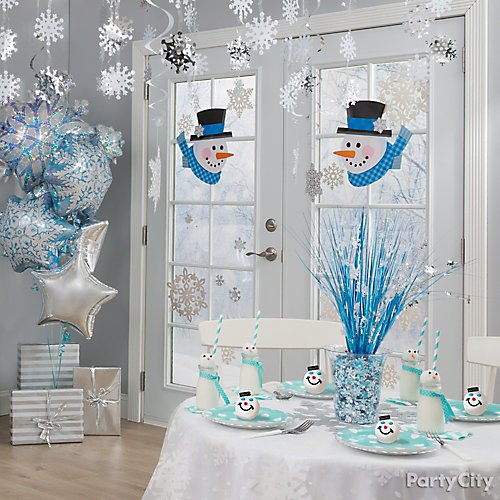 Idea 7: Gather friends inside for some frosty festive fun!
If the weather outside is frightful, you can set the scene for frosty fun inside your home. Bring in the magic—not the chill—of the frosty air by decorating windows with snowman paper cutouts and snowflake decals. In addition to swirls of shiny snowflakes hanging from the ceiling, make a silver and blue balloon bouquet to create a whimsical winter wonderland look!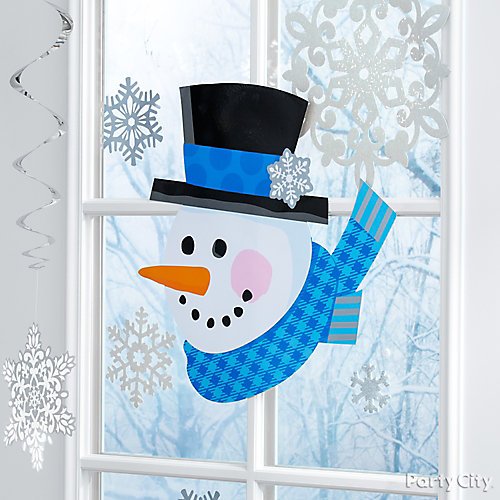 Idea 8: Summon a flurry of snow decorations!
No snow? No problem! Display cute snowman decorations—like this snowman cutout and snowflake cutouts—on windows and walls to bring the winter magic indoors. Thumpety, thump thump, look at this snowman go!