Dazzle them with a yummy crispy rice cake
Make a delicious crispy rice cereal treat in a snowflake shape by cutting freehand, then trimming with a knife. A platter of blue jelly beans really makes your giant snowflake pop!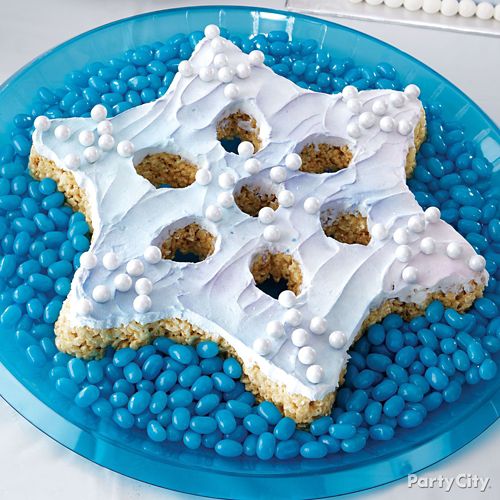 How-To
Ingredients:
Vegetable pan spray
Favorite crispy rice cereal treat recipe
Ready-To-Use White Decorator Icing — 4.5 lb. Tub
Violet Color Mist™ Food Color Spray
Blue Color Mist™ Food Color Spray
White Sixlets®
Supplies:
Large round cake pan
9 in. Angled Spatula
1) Make crispy rice snowflake
Spray round cake pan with vegetable pan spray. Prepare crispy rice cereal mixture following recipe directions. Press mixture into pan, and let set, about 10 minutes. Remove from pan and onto safe cutting surface. Freehand the snowflake shape, then trim with a knife.
2) Ice snowflake
Use spatula and white decorator icing to ice snowflake.
3) Decorate snowflake
Use violet and blue food color spray to lightly spray icing. Attach Sixlets® to ends of snowflake and center.