This Slasher-themed party table is the perfect way to celebrate Halloween at home. It's quick and easy to put together and the whole family will love it.
Supplies:
Slasher Clown Costume
Slasher Machete
White Plastic Cake Stand
Black Plastic Rectangular Sectional Platter
Clear Plastic Carafe
Clear Premium Plastic Cake Server Set, 2pc
Bloody Gauze Table Cover
Blood Splatter Plastic Cups
Bloody Hands Lunch Napkins
Black Paper Desert Plates
Black Premium Plastic Cutlery Set
Black Cheesecloth Table Cover
Red Velvet Slasher Cake (instructions below)
Bloody Vanilla Milkshakes (instructions below)
Fresh Fruit and Powdered Donut Holes
Ice Scream Ice-cream Tubs (instructions below)
Slasher Red Velvet Naked Cake
We used two boxes of red velvet cake mix divided between three 9" cake pans to make this 3-tiered slasher cake.
Once baked, cut the top off each cake so they are completely flat. Wrap them and put them into the freezer. Freezing them prevents a lot of the crumbs coming off when icing it.
Place the first cake onto your cake tray and add cream cheese frosting to the top. Place the second cake on top of that, and again, frost the top. Repeat for the top tier. Frost around the outside of the cakes leaving gaps for red sections of the cake to show through.
We placed a knife in the center of the cake, and then drizzled strawberry glaze over the top of the cake to make it appear that blood was running over the sides.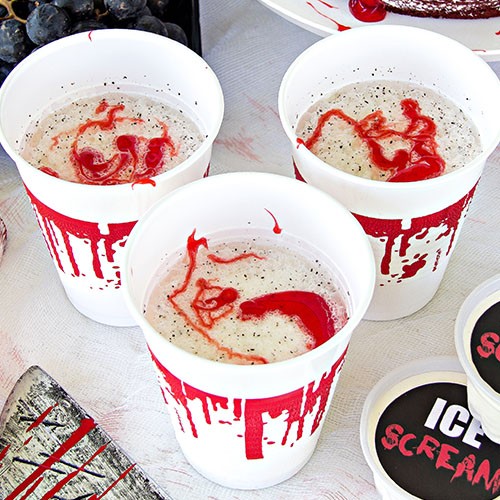 Bloody Vanilla Milkshakes
Blend 2 scoops of vanilla bean ice-cream with milk for each milkshake. Pour into the Blood Splatter Plastic Cups, and then drizzle a little strawberry glaze (leftover from the cake) over the top. Kids can mix it in to make a strawberry shake, or drink it as it is.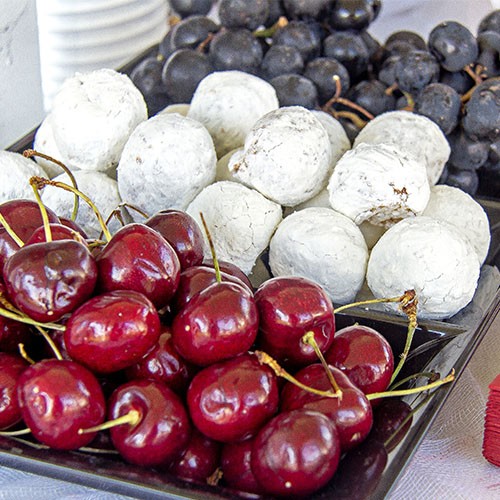 Slasher Snacks
Include a few different food options into the sectional platter. We chose to add red cherries, black grapes, and powdered donut holes to keep with the red, black, and white theme.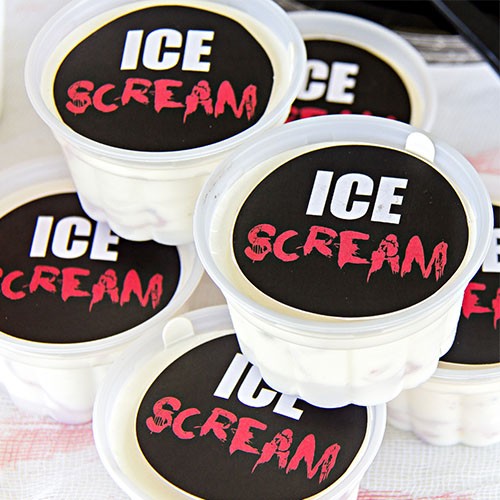 Ice-Scream Ice-Cream Tubs
Using your computer, make small round labels with the words ICE SCREAM on them and put them on top of individual vanilla ice-cream tubs.