Summon up a magical birthday party with help from the genie twins who do it best—Shimmer and Shine! From invites to games and more, this guide unlocks the magic that makes a birthday party genie divine!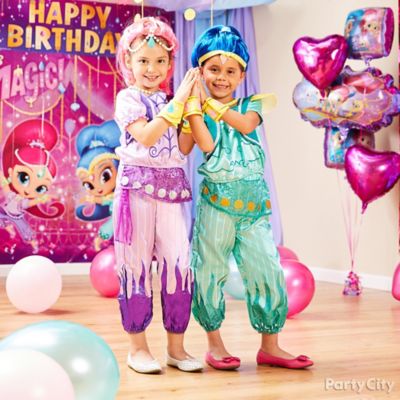 Idea 1: Pick a birthday outfit that shimmers and shines in style!
Let your birthday girl and her bestie live up the special day by dressing up as their favorite genies. Having a special outfit for the birthday party makes the celebration even more "zara-mazing!" Just don't forget to take the pictures!
Idea 2: Keep things casual with a fun party outfit
A new party outfit is always a special treat. Keep it fun and causal with a T-shirt and baseball cap of your birthday girl's favorite genies-in-training: Shimmer and Shine! Add a birthday ribbon for that extra special touch.
Idea 3: Display eye-catching treasures with a photo banner
It's easy to add magical touches that make a party simply genie-riffic! Drape table covers in hues of purple, pink and blue, then add circle-shaped garlands around a custom photo banner featuring the birthday girl. Your party favors turn into stunning take-home treasures when put on display surrounded by gold fringe, shimmering garlands and blushes of pastels!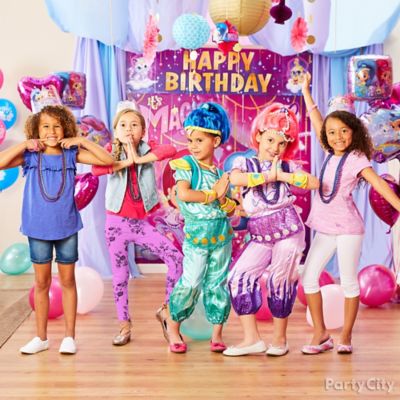 Idea 4: Get the birthday girl and her guests divinely decked out!
Ready, set, shine! Put the little genies in training for summoning their own magical fun with beads. They'll love being divinely decked out! Then have them pose for a photo op to capture the magical moment!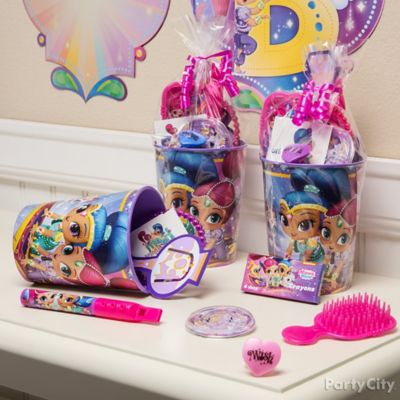 Idea 5: Use tumblers as treat containers
Using a tumbler as a favor cup makes for bright packaging and turns into an extra favor for the party guests. Fill these tumblers with favors like hair brushes, bracelets, rings and charm necklaces. A plastic treat bag keeps all the goodies inside the tumbler. Now they're ready for the birthday girl to hand out at the party!
Idea 6: Stretch your favor budget with plastic favor bags
Plastic favor bags are a simple solution for "bottling" up all those genie treasures. Fill the bags with favors from the mega favor pack—rings, whistles, mini hair brushes and bracelets—so your budget stretches even a bit further.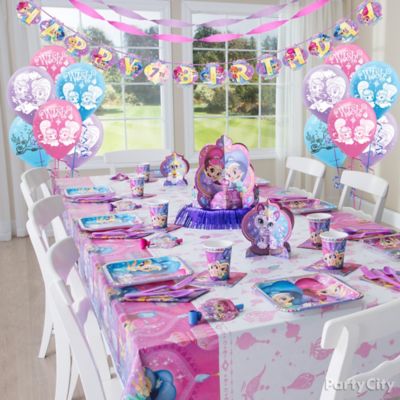 Idea 7: You'll love the jewel tones in this genie-inspired spread!
Give purple, blue and pink a touch of genie magic with the help of Shimmer and Shine. A plate setting coordinated with a pattern-matching plastic table cover effortlessly makes your setup sparkle. Top off your setup with streamers, balloons and a birthday banner for a look that's fitting for a genie-riffic birthday bash.
Idea 8: A photo booth makes having fun an easy feat
Throwing a party takes a lot of work, so you'll want an activity that focuses on the most important part of a celebration—having fun! And that's what a photo booth is all about! Use a scene setter as a photo backdrop and provide a handful of fun wearables—hats, head boppers, necklaces and more—that will get the party guests to strike a pose.
Idea 9: Make a classic pin-it game shine with door fringe
Genie twins Shimmer and Shine are all about adding touch of magic to their adventures, so add that magic to your party games in the form of decorative accents. The classic pin-it game shines with new life when placed against a sparkling pink door fringe. Don't forget a ribbon for the game winner!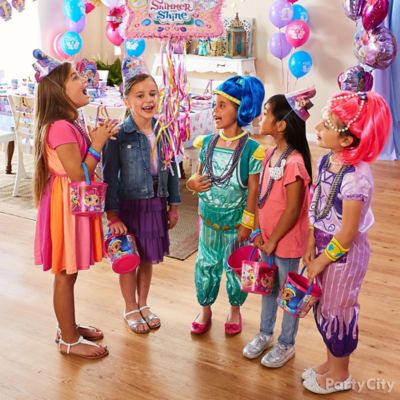 Idea 10: Keep yummy candies bottled up in a pretty pinata
Piñatas are a must at any birthday celebration. With a string pinata, you won't need a stick or a bat to break it open. Candies and party favors stay bottled up inside until the right string gets pulled. Add a bit more fun to the activity by giving each guest a treat bucket to scoop up the fallen treasures!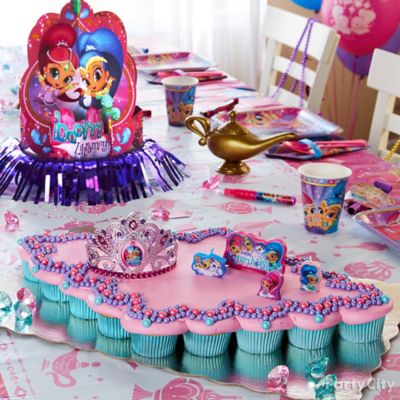 Idea 11: Make it look like your cake was made with genie magic
For an easy cake idea that looks like you had the help of genie magic, hop on the pull-apart cupcake cake trend! Cover the cupcakes with icing so that the cupcakes look like one cake. Decorate it with pastel-hued candies and a sparkling tiara. All that's left is lighting the Shimmer and Shine candles for your birthday girl to make her wish.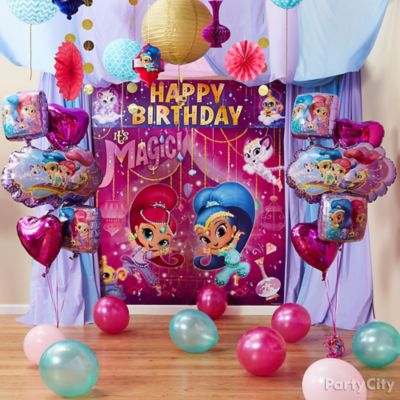 Idea 12: Try these tricks for creating Zharamy Falls at home
Don't have a magic carpet to travel to Zharamy Falls? Then bring Zharamy Falls to you by unlocking the magic with lanterns, paper fans and plastic table covers. Place a scene setter against the wall and surround it with jewel-toned hanging decorations and create a faux ceiling with pastel-colored table covers. It's simply genie's divine!
Idea 13: These decorations give favorite pets a seat at the table!
Choose a centerpiece that effortlessly makes your table shimmer and shine. Place a fringe-lined centerpiece in the middle, and then surround it with jewel-shaped confetti. Make sure to leave room for Shimmer and Shine's favorite pets Nahal the tiger and Tala the monkey. Effortlessly complete your magical table spread with a centerpiece that's easy to pop in!
Idea 14: Genie magic by the bucket-full!
It's not quite a genie in a bottle, but these buckets offer a magical touch to birthday favors. The buckets are especially handy for scooping up favors and candies fallen from the piñata, and they also make take-home favors feel like treasured finds!