Shine bright with Santa cheer! Roll out the holiday welcome with jolly table spreads and outdoor decorations. While your home isn't the North Pole, you can still make it a ho-ho-hopping Santa stop! No matter if it's Santa or other guests coming to town, it's easy to roll out the holiday red carpet and revel in the spirit of the season with our decorations and party ideas. Explore our gallery of glistening decorations, warm welcome greeters and jolly table spreads to make your place shine bright with Santa cheer.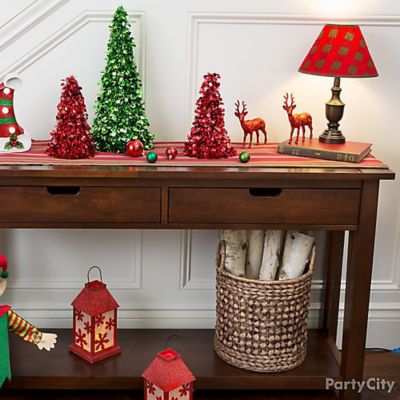 Idea 1: Create a dashing table display
Tinsel and shimmering figures make it easy to dream up magical holiday decor. For a new take on creating a sparkling winter wonderland, decorate a side table with tinsel trees sporting the classic holiday color scheme of red and green. Add in a couple of glimmer-coated reindeer figures to complete the holiday vignette!
Idea 2: Greet the Christmas season with a warm welcome
Christmas is all about spreading cheer, so your window decorations should do the same. A Santa wooden sign, a sparkling green garland and a couple of bright red bows offer a cheery outlook to your decorations and toward the season. Add a welcome sign made of red and white lettering for a trendy holiday look.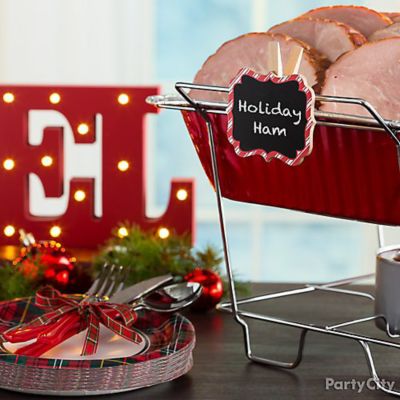 Idea 3: Give buffet gatherings a festive touch
In the words of a well-loved Christmas carol, "parties for hosting" is among the many reasons why Christmas is "the most wonderful time of year." Chafing trays sporting red-colored foil are perfect for big gatherings. Chalkboard nameplates on the chafing trays are a thoughtful touch that helps guests to quickly pick out their meal and get on their merry way to enjoy the holiday festivities!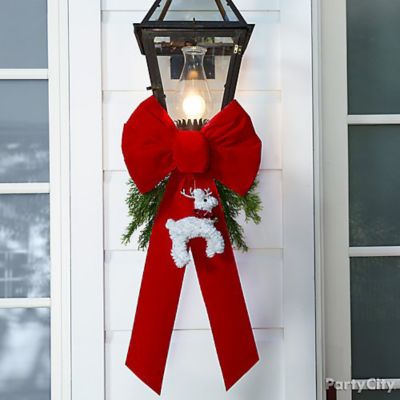 Idea 4: A mini reindeer brings a dash of cuteness to your holiday decor!
Details make all the difference in sprucing up your holiday décor. A mini tinsel reindeer adds a charming touch to the bright red bow and faux greenery. Place the merry ensemble as an adorable accent for your outdoor decorations!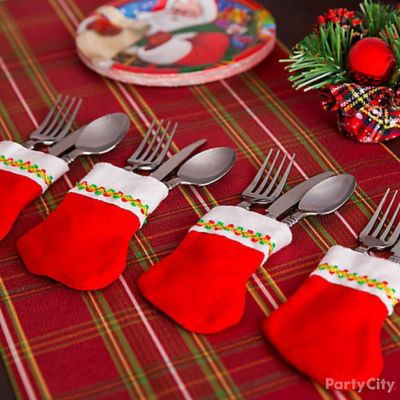 Idea 5: Keep flatware "stuffed" tight when serving guests
Make your holiday gathering both festive and easy with mini stocking cutlery packets. They're perfect for "stuffing" flatware into one place, making it convenient—and fun—for your guests to gather their utensils as they fill their plates at your party, especially if it's a buffet-style dinner.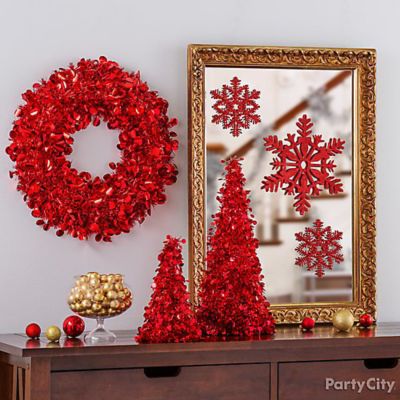 Idea 6: Create a dashing table display
Shimmering tinsel brings out the shine of the holiday season! Decorate your entryway table with tinsel wreaths and tree figurines, giving dimension to a solid color scheme. For an elegant decoration ensemble, pair red tinsel with gold ornaments or gold-foiled candies. It's the perfect décor that sparkles with cheer!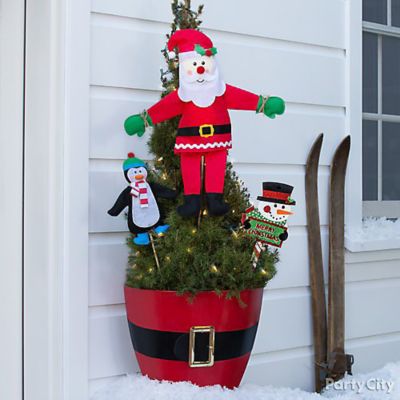 Idea 7: Stake a claim on Christmas fun!
A trio of North Pole friends—Santa, a penguin and a snowman—are ready to welcome guests! Put these yard stake signs in a porch planter or your front yard, and they'll point the way to the Christmas festivities or where Santa should make his next stop—your home!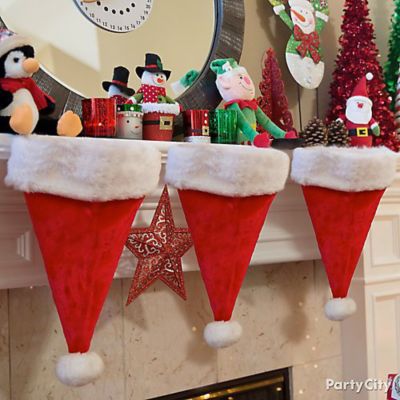 Idea 8: Hang Santa hats as stockings
We heart this clever idea for stockings… upside-down Santa hats! Use one Santa hat for each member of your family and hang them on your mantel like you would any other stocking. Pairing these hats with the seasonal plushies on the mantel will give your Christmas decorations a fresh look. Fun!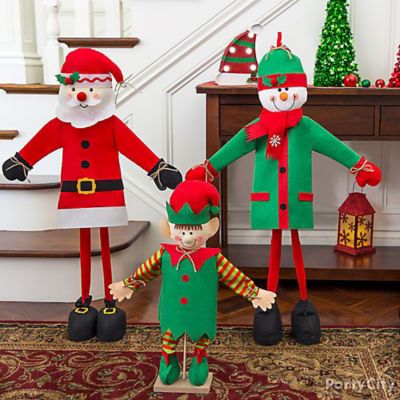 Idea 9: Create a sweet scene with elves and Santa!
You've decked out your walls in holiday décor, but a couple of free-standing figures make it easy to dress up other areas of your home. Santa, elf and snowman are ready to "stand in" as holiday greeters or as holiday decorations. Place them anywhere you think needs a Christmas cheer pick-me-up!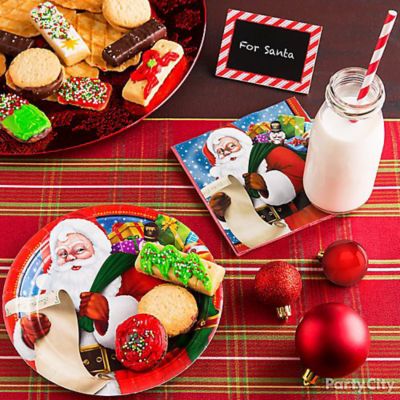 Idea 10: Set out a delightful display of milk and cookies!
Leaving cookies out for Santa is a classic holiday tradition, so why not make it a decorative plate setting! A classic Santa print and a red and white chalkboard label makes it clear who the cookies are for. Don't forget the milk! Serve it in a milk jar glass and a striped straw to complete the yuletide look!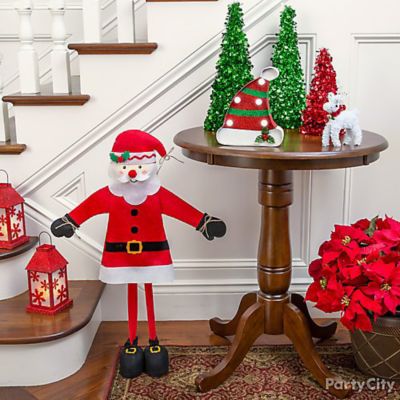 Idea 11: Take a stand for Christmas cheer!
When he's not making a list and checking it twice, this Santa can bring cheer to your seasonal arrangements! As a free-standing Christmas décor, Santa nicely complements your other holiday decorations. Place him near your stairs or entryway table to show that he's on watch for Christmas cheer!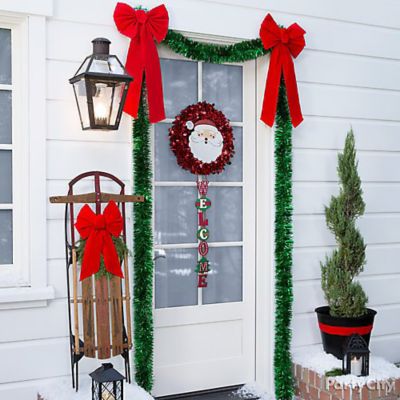 Idea 12: Create a sparkling Santa stop!
Santa is known for having "a twinkle in his eye," so put that warm and jolly spirit on display by dressing up your door in shimmering decorations like a Santa wooden sign and a green tinsel garland. Pair these shimmering decorations with a holiday-themed welcome sign for a simple setup that makes a grand entrance!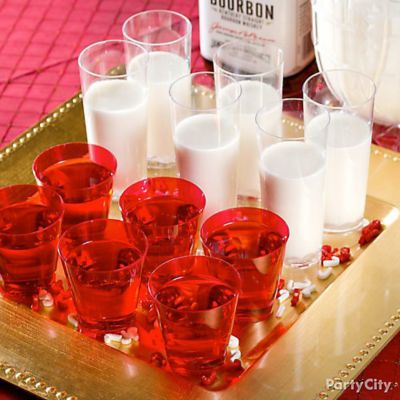 Idea 13: Milk and cookies for grown ups
Sneak into the kitchen for a grown-up treat: a spirited tray of bourbon and milk shooters! Use merry red shot glasses for the bourbon and mini cordial glasses for the milk chasers. Add candy cane sprinkles "confetti" to the tray for a clever touch. Time to eat, drink, and be merry!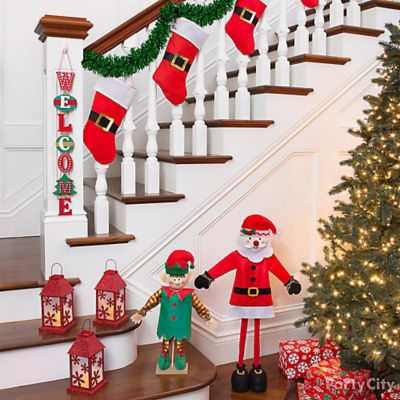 Idea 14: Step up your stairway décor with holiday swag
Decorating steps up during the holidays—colorful lights on the house, ornate trimmings on the tree, and don't forget the cascading garland on the stairs. For an easy decorating idea, pair a green tinsel garland with festive holiday stockings bearing Santa's belt buckle. Hang a welcome sign at the beginning of the stairway for an added welcoming touch.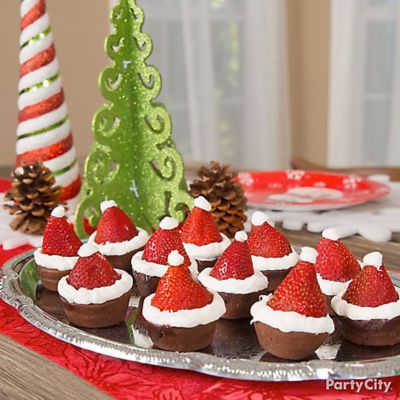 Idea 15: Strawberry Santa hats? Sweet!
The elves have been tinkering in their workshop, this time with brownies! These adorbs Santa hat brownie treats are a cinch to make. Just cut the tops off strawberries and stick them on top of brownie rounds. Next ring the hats with whipped cream and add a little dollop on the top of the strawberries to cap them off. They'll be Santa's merriest snack!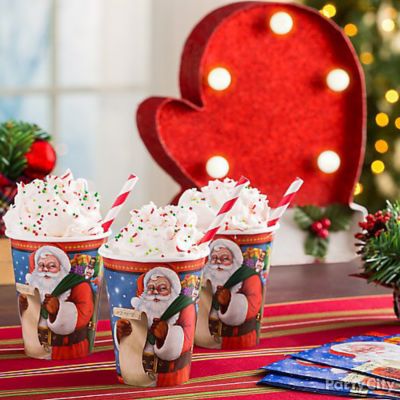 Idea 16: Shine a light on the merriment with a marquee sign
A lighted marquee mitten makes for a cozy complement to a hot chocolate serving area at your holiday gathering. Using paper cups featuring the jolly man himself—Santa Claus—makes your treat that much merrier.