Vibrant summer party ideas in greens, blues and pinks! Dress up your party food with colorful serveware, glasses and drink dispensers. We have a heat wave of cool inspiration for your next summer bash. When the sun gets hot keep the food light, flavorful and refreshing with fruits and veggies, cold drinks and simple salads. All of them look even more appetizing in bright bowls and color changing glasses. Click on the ideas below for full details!
Idea 1: Bright and breezy poolside salad ideas
Light salads in blue bowls are perfect poolside or on the patio. Try an Orzo Mediterranean Salad with tomatoes, olives, basil, feta, roasted garlic and a drizzle of olive oil. Pair with an Arugula Beet Salad looks fabulous in a Caribbean blue bowl. Yellow heirloom tomatoes and sliced steamed beets will hit the spot on a hot day. Lettuce eat!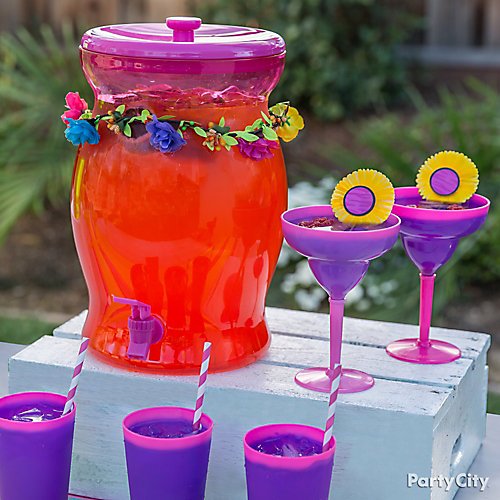 Idea 2: Quench the summer heat with blood orange cocktails!
It only takes a few easy touches to add serious summer style to your drink station. Add a floral head wreath to your dispenser, and set up on rustic wooden crates for height. Pop drink picks into every cup, and serve something bright and delicious. We love the vibrancy of blood orange Italian soda, fresh orange slices and ice in a pink dispenser. You can also turn this recipe into a cocktail: in a shaker with ice, shake 4 oz of your orange drink with 2 oz tequila, per person. Salt the glasses, strain the drink and pour, finish by adding more ice. Way to beat the summer heat!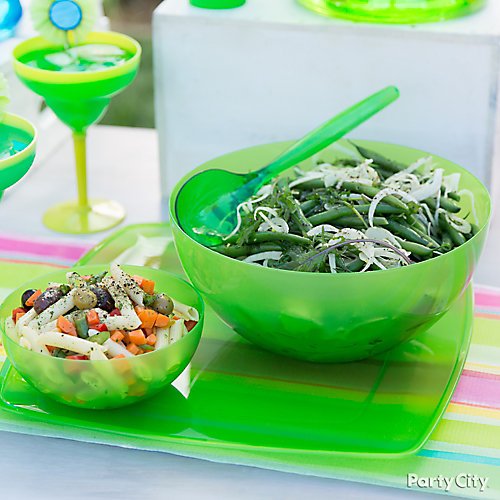 Idea 3: Green bowls show off your summer salads!
A green colorway is fresh for any summer gathering! Let guests nibble on an Arugula Salad with steamed green beans and slivers of jicama tossed in balsamic vinegar. This Summer Ziti Pasta Salad is brimming with yummy extras like tiny chunks carrots, red pepper plus green and black olives and a sprinkling salt and pepper. Simply irresistible in green bowls. Yum!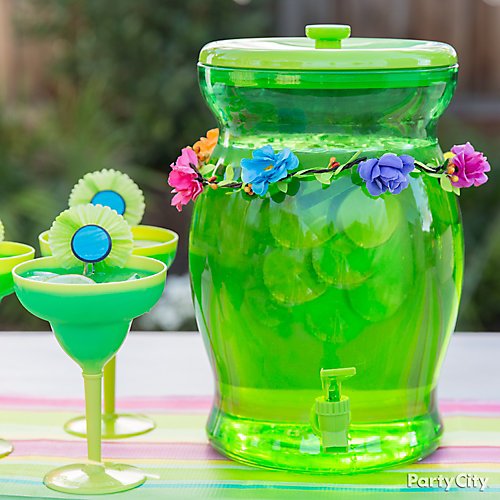 Idea 4: Try a Limonada Cooler or Jalapeno Lime Margarita
Be inspired by the lush plants of summer and go green with your drink menu. For a non-alcoholic drink dispenser idea concoct a tasty Limonada Cooler with lemon-lime soda, the juice of 3 fresh limes and garnish of 4 sliced limes. Craving cocktails? Make Jalapeno Lime Margarita by muddling jalapeno slices with 1 cup lime juice, adding 8 oz tequila and 4 oz honey. Rim glasses with salt and garnish with mint and a summer-y pick.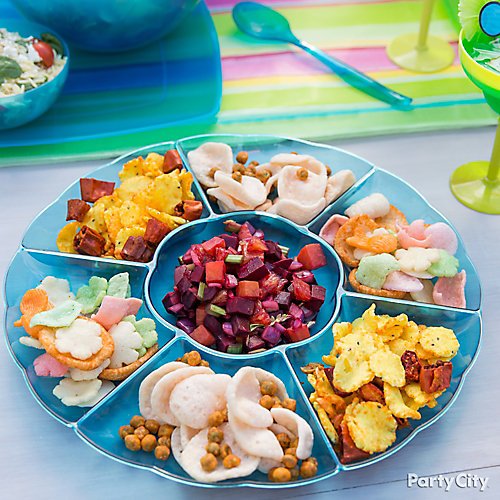 Idea 5: Impress with a mix of exotic crackers in a sectioned tray
This clever summer food idea is inspired by the "pupu platter" — a tray of Chinese or Hawaiian food, usually seafood. We used shrimp chips, a variety Japanese rice crackers, a mix of differently colored tortilla chips, and a beet and green onion relish for dipping in the center!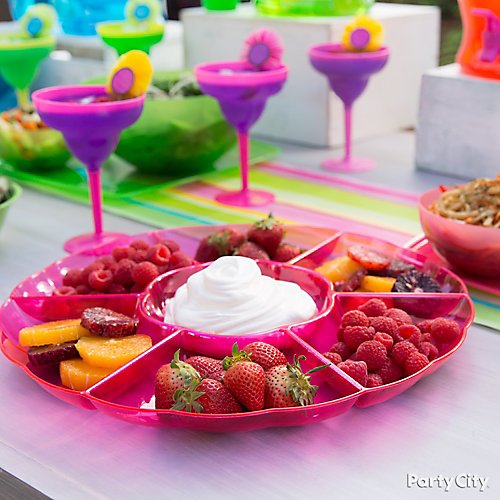 Idea 6: A colorful serving idea for fruity edibles
Ditch the chips and fill this vibrant chip and dip platter with your fave fruit and a dollop of whipped cream. Strawberries, raspberries and sliced steamed beets are refreshing on a hot summer day. Can't wait for pool party time!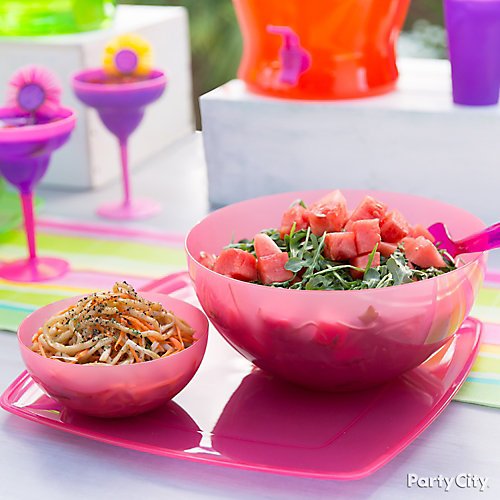 Idea 7: Pretty in pink salad ideas!
Our Udon Noodle Salad has noodles, sesame oil, wine vinegar, carrot slivers and crumpled seaweed. The light and refreshing Watermelon Salad combines watermelon cubes, handfuls of arugula and a sprinkle of balsamic vinegar. Complete the look with a serving spoon and platter.