Dash over to get the rainbow pretzel how-to!
Candy melts and pretzels create a sweet and salty treat that will keep the pegasus ponies fueled for flight. To make them you'll need a rainbow of Candy Melts and our Rainbow Dash Pretzel Pops How-To, and then arrange the treats in a container filled with pink jelly beans. They'll be flying away with your little ponies in no time!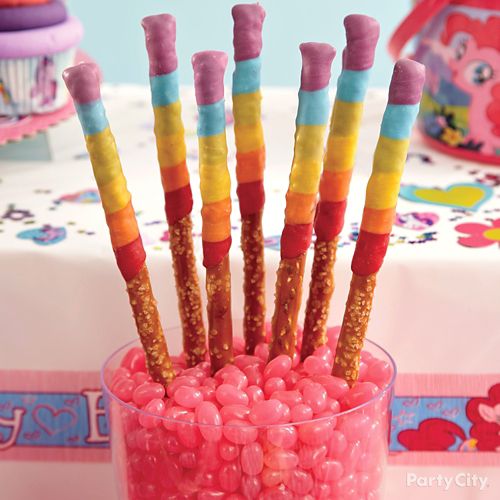 How-To
Ingredients:
Lavender Candy Melts Candy
Blue Candy Melts Candy
Vibrant Green Candy Melts Candy
Yellow Candy Melts Candy
Orange Candy Melts Candy
Red Candy Melts Candy
Pretzel rods
Supplies:
12 in. Disposable Decorating Bags
Cooling grid
Parchment Paper
17.25 in. x 11.25 in. Cookie/Jelly Roll Pan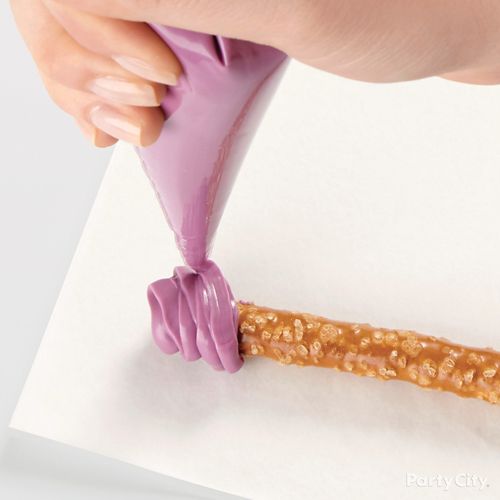 1) Melt candy
Melt lavender, blue, green, yellow, orange and red Candy Melts candy, separately, in decorating bags. Cut small point off of decorating bag. Place pretzels on cooling grid over parchment-covered cookie sheet.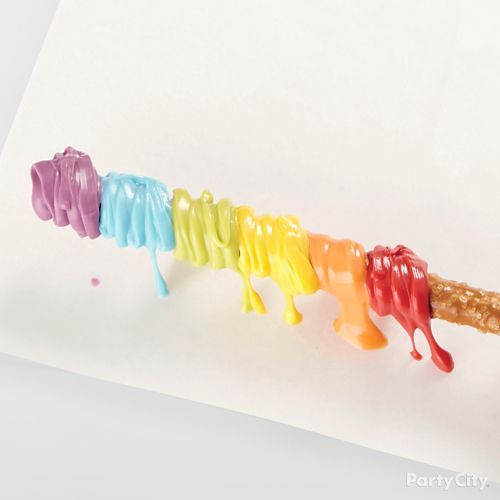 2) Decorate color bands
Pipe 3/4 in. diagonal bands in lavender, blue, green, yellow, orange and red. Tap grid gently to smooth and remove excess candy. Chill until firm, about 10 to 15 minutes.