There's something magical about a candy buffet. Who doesn't want to feel like a kid in a candy shop? We think a rainbow color scheme makes it even more magical. This party setup would be adorable at a St. Patrick's Day bash, a My Little Pony birthday, or any rainbow-themed event.
Start with white table covers and paper garlands to make your colorful confections POP. Sixlets®, rock candy and gumballs layered in clear candy containers stand out next to vibrant decorations like rainbow garlands and candy-colored balloons! Keep reading for more (eye) candy ideas everyone will love sinking their teeth into, then shop candy buffet supplies.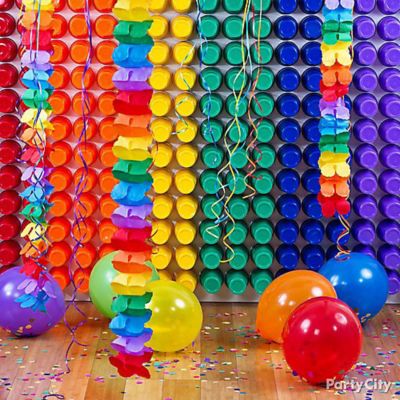 Idea 1: Colorful cups make an Instagram-worthy photo backdrop!
DIY a giant rainbow for your party peeps out of everyone's favorite party cups! Grab a pack of plastic cups in every hue of the rainbow and a few large pieces of sturdy poster board (available at Party City stores). Use hot glue to attach cup rims to the poster board, arranging the cups in rainbow stripes. Place this prisma-color backdrop by the door of your rainbow party, and snap and share pics as friends walk in! Make sure to #PartyCity so we can see your colorful creation!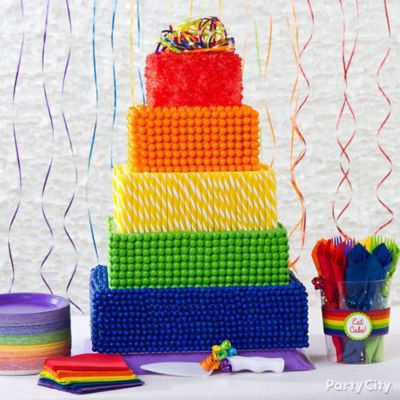 Idea 2: Create an incredible candy cake!
Lavish your group of rainbow-lovers with a tower of confection perfection! Start with candy in every color of the rainbow: candy sticks, chocolate Sixlets®, rock candy, lollipops… Then go overboard with a rainbow-colored cake featuring a different candy on every layer.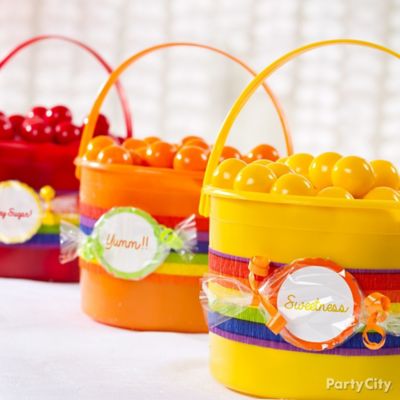 Idea 3: Make candy buckets extra-sweet with candy-wrapper labels!
Tubs of gumballs make yummy eye-candy centerpieces – and they're even more special with sweet labels that look like wrapped candy drops! Jot sweet sayings like Yumm! and Sweetness! on round stickers in contrasting colors, then wrap them up in clear favor bags. Twist the ends and tie with ribbon for a cute candy look, then stick onto the front of colorful buckets of gumballs with a rainbow streamer. What a treat! Shop all candy containers.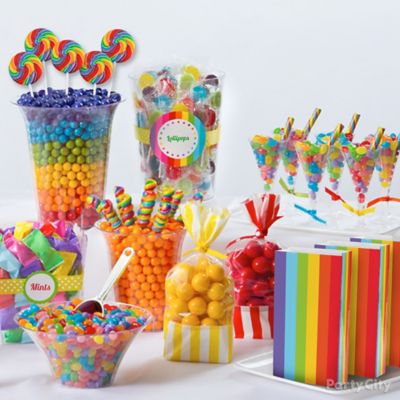 Idea 4: Candy in a rainbow mix = instant candy buffet!
For an easy-peasy rainbow effect, pick up chocolate Sixlets®, gumballs and jelly beans that come in a rainbow mix! Make your rainbow-licious candy buffet even sweeter by filling clear containers and decorating them with rainbow twisty pops and candy sticks!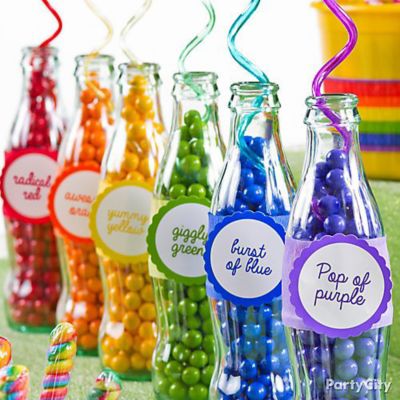 Idea 5: Make soda bottles *pop* with chromatic candy & favor labels!
Whip up a rainbow of candy "sodas" by filling mini classic soft drink bottles with solid-color Sixlets®! For even more matchy-matchy fun, wrap coordinating crepe streamers around each bottle with a round sticker and krazy straw. On the stickers, jot a cute nod to the colors inside each bottle. Display the bottles in a row on your table for a maximum rainbow effect!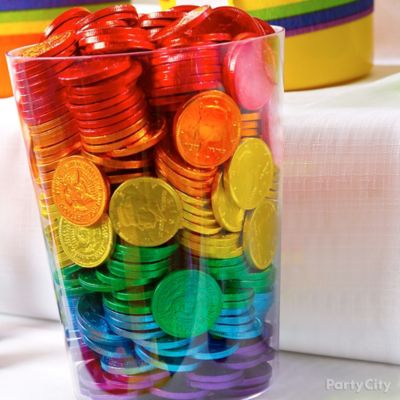 Idea 6: Create an end-of-the-rainbow pot of gold!
Layer sweets like chocolate coins or gumballs in a clear container to make the colors of the rainbow. Don't worry about making perfect layers – the colors were made to blend together! Partygoers can grab handfuls of candy to munch on during the festivities or fill party favor bags for when they get a candy craving after the celebration.
Idea 7: Layer on the fun with chocolate drops and lollipops!
Create pin-teresting pots of candy "flowers" in the warm colors of the rainbow! Layer yummy chocolate candy drops and Skittles® in scalloped candy containers, then "plant" some daisy lollies and whirly pops. Friends can pick their favorites for a handmade candy bouquet – don't forget the scoops and treat bags! (Whirly pops in a variety of colors are available at your Party City store).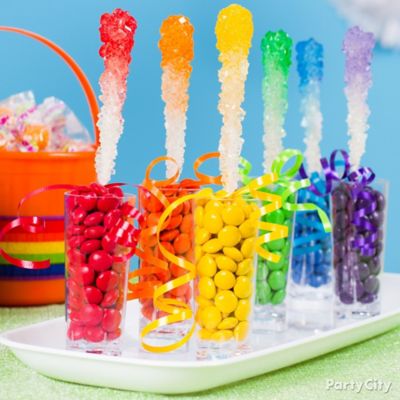 Idea 8: Turn white rock candy pops into rainbow treats!
Send them over the rainbow with ombré rock candy sticks! To get the gradient effect, dip white rock candy tips in water, then in sugar sprinkles until you have rock candy in every color of the rainbow. Place the sticks in mini cordial glasses with chocolate drops, tie off with some curling ribbon and arrange on a white tray to make the prismatic pops really shine.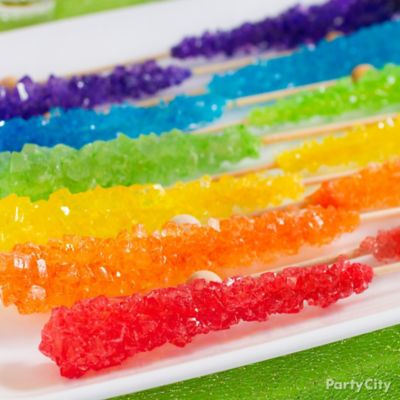 Idea 9: Treat them to a sweet trip over the rainbow!
Kids and adults alike will love your whimsical arrangement of gumballs, rock candy and whirly pops in all the colors of the rainbow. Display your candy creations on a grassy green table cover with a couple of fluffy decorations for clouds.