Make any party sweeter with tips for a blue-tiful candy buffet! Unique color combinations make this table of sweets super-cool. Create your own yummy candy land in dreamy purples and blues with a hint of DIY. Fluffy paper flowers and a custom banner add a sweet touch to your blue-tiful candy table!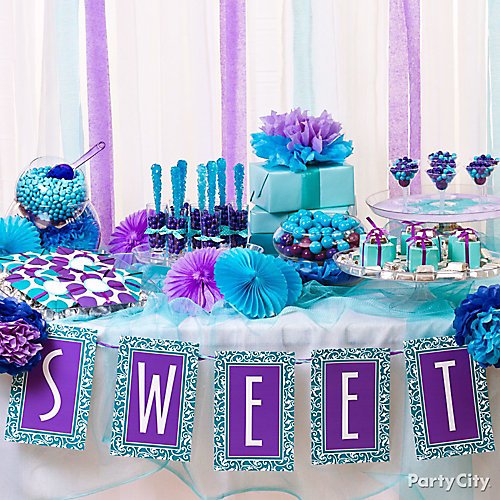 Idea 1: Create a delicious & dreamy candy-scape!
Your beautiful candy table will have everyone talking long after the party's over! We love paper fans and flowers, floaty tulle and a backdrop of streamers.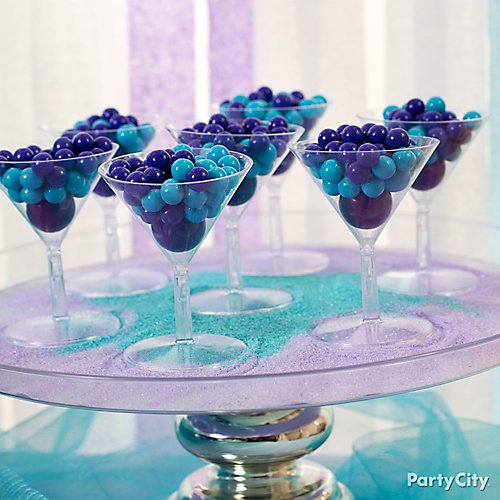 Idea 2: Sixlets® + gumballs = sweet-n-chic
Raise your pinkies to these fancy gumball martinis! Place large gumballs in the bottom of mini martini glasses and top with chocolate Sixlets® in purple and Caribbean blue to make sweet martinis on the "rocks"! Sprinkle decorative blue and purple sand for more eye candy. Cheers!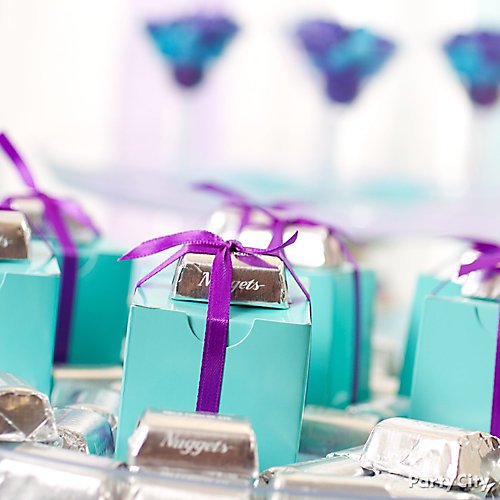 Idea 3: Sprinkle silvery mini chocolate bars everywhere!
Make classy little favor boxes irresistible by tying a mini chocolate on top with ribbon. These look fab on display, especially when they're nestled in a bed of more silvery mini candy bars! Inside the boxes, hide tasty surprises like buttercream mints, Jordan almonds or chocolate drops. (Candy bars available at Party City stores.)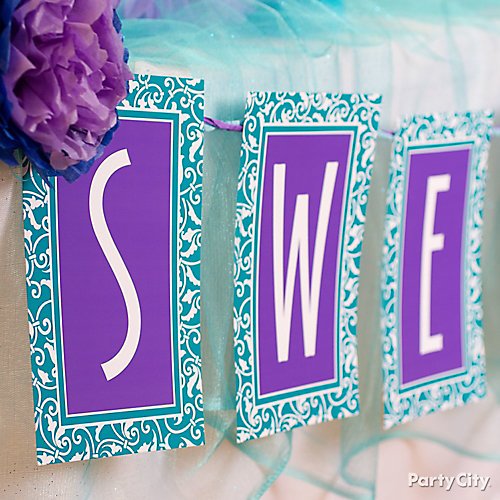 Idea 4: DIY a sweet garland in blue & purple!
Make a candy table banner that's pure eye candy! To make this candy-colored garland, twist purple and blue streamers into thin ropes and weave together, then attach invitation cards personalized with a candy-coated word. Visit your local Party City store to custom-print invitation cards (and even change the background color!).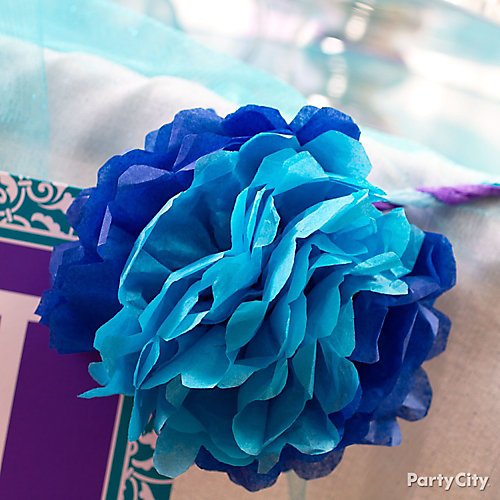 Idea 5: Paper flowers make your table blossom!
Special touches like this give your candy table a unique look, and it's easy to do! Vary the size, layer on the colors and try different petal shapes to create your own style. Mix in pre-made paper fans for a put-together candy buffet that looks party-planner perfect!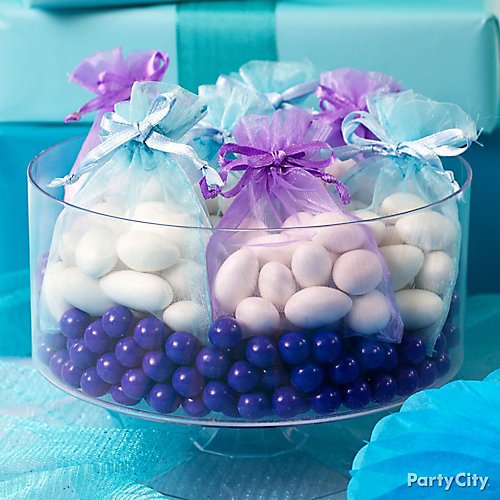 Idea 6: Organza bags = sheer gorgeousness!
Jordan almonds are a classic and here's a way to make them trendy too! Put them in organza bags in dreamy hues of purple and blue and nestle the bags on a bed of pretty purple chocolate-filled Sixlets®. Nom, nom!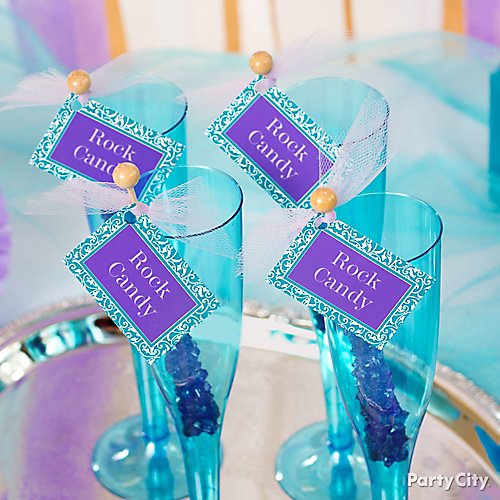 Idea 7: Custom labels add a touch of personal-ity!
Make a splash with DIY tags on rock candy swizzle sticks. Customize labels with the name of the guest of honor, congrats, happy birthday, or even the name of your specialty drink! Tie the tags onto rock candy with dreamy tulle ribbon for an elegant, easy way to bring the blue and purple theme to every corner of your candy buffet. (Caribbean Ornamental Scroll Tags can be customized at your Party City store.)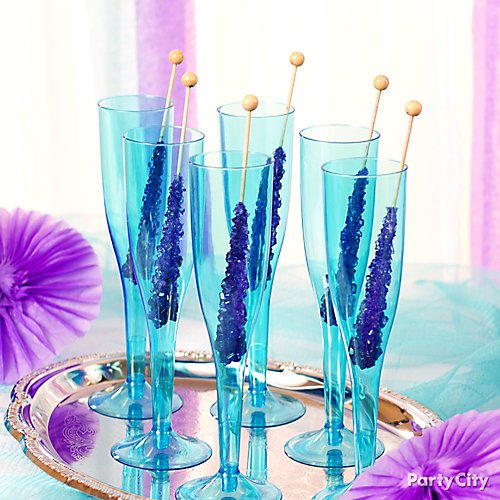 Idea 8: Rock on with sweet swizzle sticks!
Cheers to new drink ideas! Serve up drinks that are as beautiful in blue and purple as they are tasty. Place purple rock candy in blue champagne flutes; these colorful swizzle sticks add a touch of sweetness to tea, tonic water, brunch punch or bubbly. And presentation is everything, so set these stunners on a silver serving tray for real punch!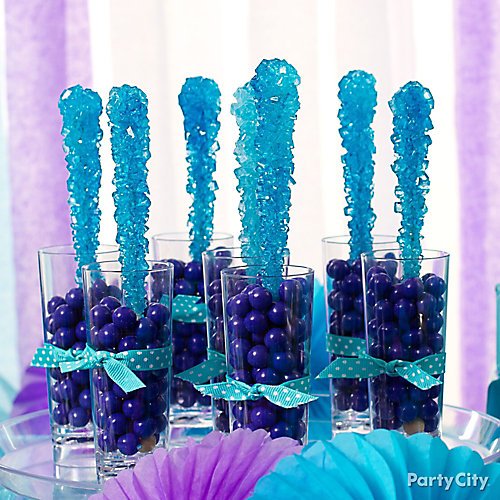 Idea 9: These luscious candy drinks taste as yummy as they look!
Go for the wow factor with a riot of rock candy shooters! Fill mini cordial glasses with chocolatey purple Sixlets®, tuck in blue rock candy sticks and ring each glass with coordinating grosgrain ribbon. On a clear cake stand, these beauties demand attention!