Catch our easy ideas that make you a Pokemon party master. Choose your favorite Pokemon and start training for the big day with easy tips for cool favors, decorations, games and cake (yum!).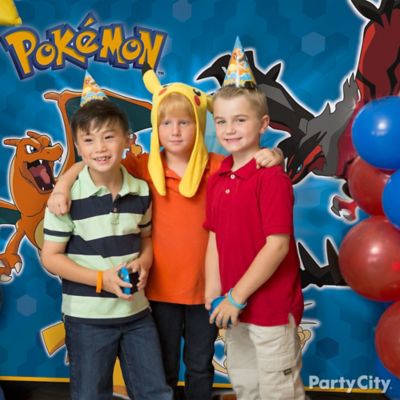 Idea 1: Give everyone Pokemon Master gear!
Get the birthday star's whole crew in on the fun with exciting Pokemon accessories the moment they walk in! Everyone will feel like adventuring in Pokemon party hats, Pikachu hoods and wristbands.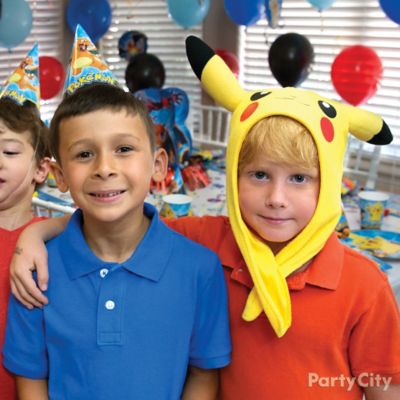 Idea 2: Party hats, go!
Slip into the Pokemon party spirit with fun wearables like hats, wristbands and award ribbons. Whether his pals want to be a trainer or a Pokemon, there's something for everyone on the team.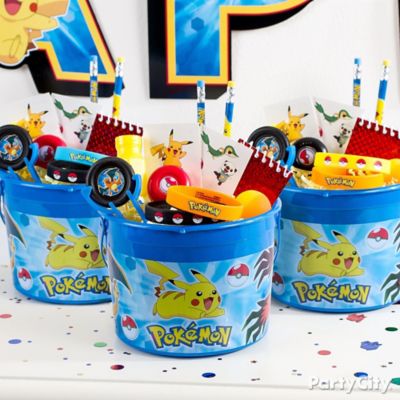 Idea 3: Catch dozens of Pokemon with this bucket!
Need somewhere to put all those poke balls? Fill a Pokemon favor bucket with paper shred and top with awesome favors like disc shooters, yo-yos, bouncy balls and more!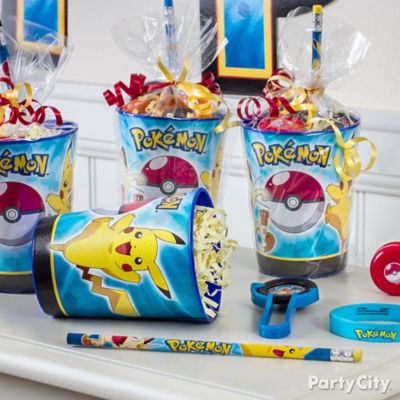 Idea 4: Give them the best favor cup ever!
Make epic party favors by filling a Pokemon favor cup with paper shred and training supplies like pencils, wristbands and disc shooters. Slip the cups into a plastic bag and tie off with ribbon for a fantastic presentation! Not only are the cups adorable, they're also reusable.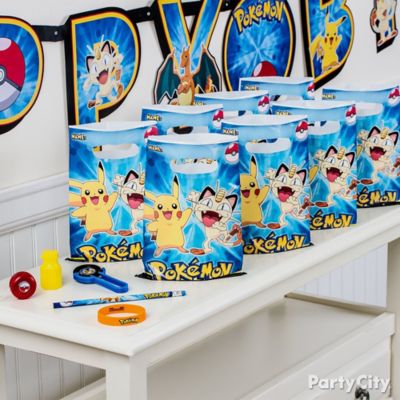 Idea 5: Create awesome favor bags in a flash
Use "Quick Attack" to create easy thank-you gifts with a mega favor pack and themed favor bags. Take handfuls of toys from a Pokemon favor pack and toss them into matching Pokemon favor bags - easy! They'll be snatched up before you can say "I choose you, Pikachu!"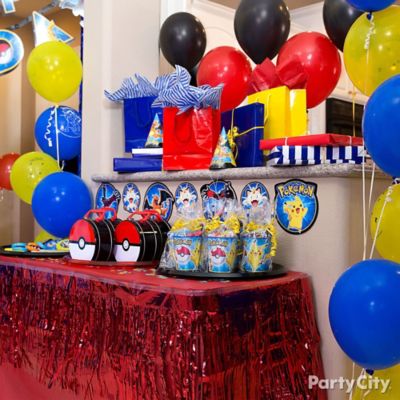 Idea 6: Grab their attention with a Pokemon League favor table
Activate excitement with an awesome favor and gifts table. Display colorful Pokemon lunch boxes and favor cups on black and red platters. Make the table super-cool with Pokemon balloons, metallic fringe, paper cutouts from swirl decorations and confetti.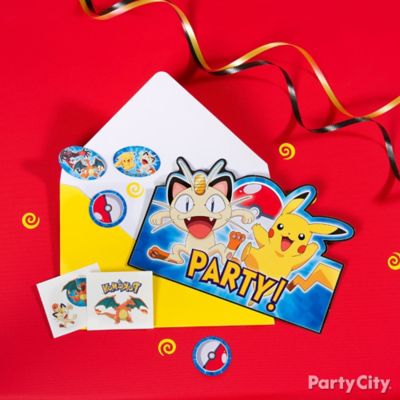 Idea 7: Unite your trainers with a wristband pass
Make your Pokemon Masters feel even more special with a hand-delivered invite with a Pokemon wristband tied on. Tell them to wear their wristband on the day of the party to prove they're on their way to becoming the very best trainer, like no one ever was!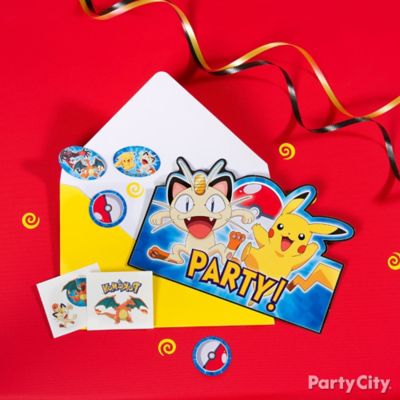 Idea 8: Include a tattoo party pass in the invites
The birthday boy has challenged you to party! Along with a bit of confetti, give your little heroes Pokemon tattoos with instructions to wear one on the day of the party. They can use them as passes into the Pokemon League!
Idea 9: Turn your party room into a Pokemon Center
Earn a badge for your awesome decorating skills! Start with a Pokemon balloon bouquet, then add coordinating decorations like solid-color balloons, a gold fringe garland and swirl decorations. Check out our place setting and Pokemon cake ideas below to complete the room and become the champion of birthdays!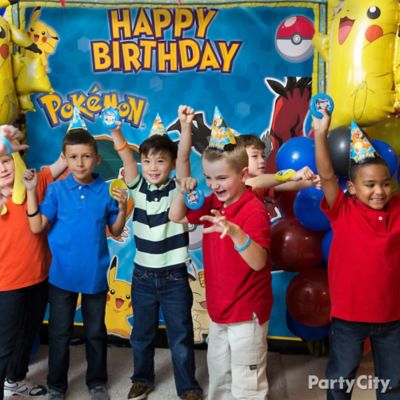 Idea 10: Take photos for the Pokemon Hall of Fame!
Victory! Gather the Pokemon Champions around a Pokemon scene setter for an awesome photo op. Have the trainers stand in their best "gotta catch 'em all" pose and capture all the fun in shareable pics and video!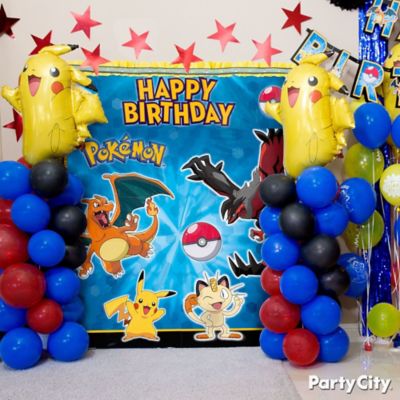 Idea 11: Transform any room into a Pokestop!
Create your own Pokestop for the kids with a Pokemon scene setter and balloons in your party colors. Make awesome balloon columns with Pikachu on top.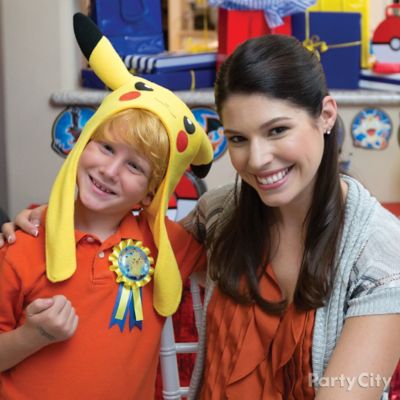 Idea 12: A Pika-perfect party look!
Give the birthday star his very own Pikachu hood. He'll be ready to catch Pokemon with his pals! Award him with a Pokemon Master ribbon he can wear for his special day — he'll feel like the Pokemon League Champion!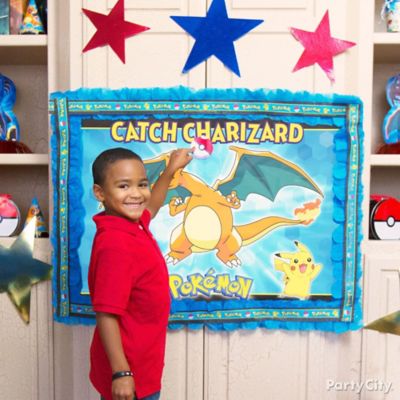 Idea 13: Get ready to play Catch that Charizard!
Why pin a tail on a donkey when you can capture a Pokemon? Have your kids put on their eye masks and use their poke ball stickers to see who is closest to catching that elusive dragon! For an extra-special DIY look, outline the Pokemon party game with solid blue and Pokemon-theme streamers.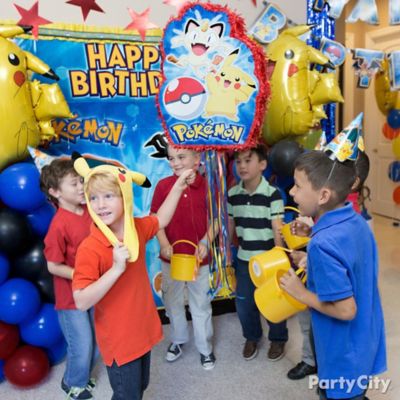 Idea 14: Do battle with a pinata!
Help the little trainers hone their moves with a Pokemon Pinata. They can use the "Strength" move to pick and pull ribbons and unleash treats from the pinata! Hand out favor buckets so they can use the "Pickup" ability to collect all the goodies to take home!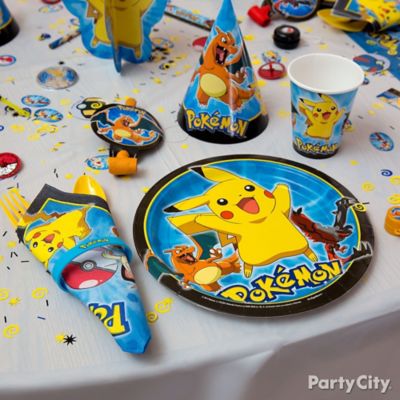 Idea 15: Make the table flash like a Thunderbolt!
Light up their faces with fun Pokemon place-settings. Start with a Pokemon tablecover and give the trainers Pikachu plates and napkins, party hats, blowouts and favors. It's simple to do and makes you the decorating master!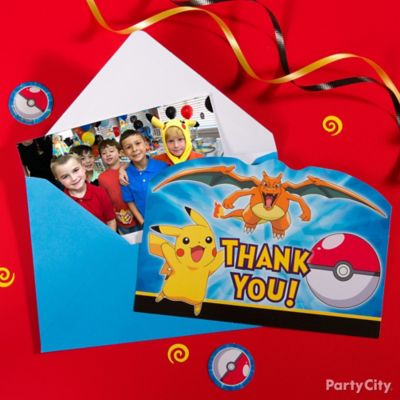 Idea 16: Pop a picture into your thank you notes
Commemorate your little heroes of Vermilion City with Pokemon thank you notes and a picture of them training hard with their favorite Pokemon. It's a great memento that reminds them of the party fun.