Decorate a Pinkie Pie cake for your birthday pony!
Bake a grand pony cake! Just follow the step-by-step instructions in our Pinkie Pie Cake How-To below and display your pony masterpiece on a platter with purple Sixlets® chocolates. It's a cake worthy of the Sugarcube Corner!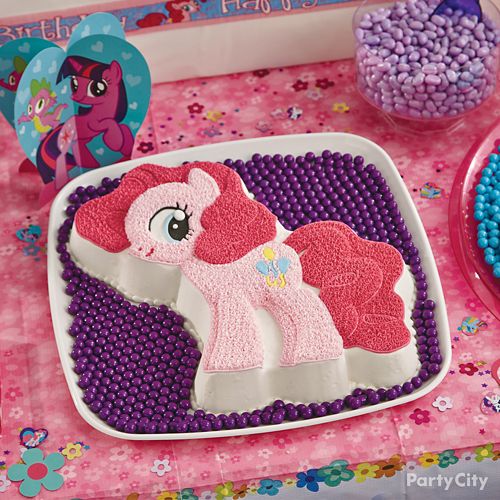 How-To
Ingredients:
Favorite cake recipe or mix (4 ½ cups batter used)
White Ready-To-Use Decorator Icing – 4.5 lb. Tub
Rose Icing Color*
Burgundy Icing Color*
Sky Blue Icing Color*
Royal Blue Icing Color*
Cornflower Blue Icing Color*
Lemon Yellow Icing Color*
Black Icing Color
Light corn syrup
Cornstarch
*Combine Rose with Burgundy for pink shown
*Combine Sky Blue with Royal Blue for blue shown (balloons)
*Combine Royal Blue with Cornflower Blue for light blue shown (iris)
Supplies:
My Little Pony Cake Pan
Cooling grid
Cake plate
11 in. Straight Spatula
12 in. Disposable Decorating Bags
Standard Coupler (2 used)
Decorating Tip 3 (4 used including one from tip set)
Tip Set (tip 5 used)
Tip Set (tips, 3,16 used)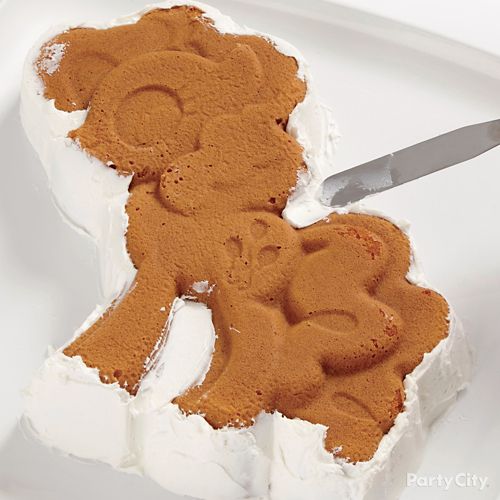 1) Ice cake
Bake and cool cake. Tint ½ cup icing dark pink, ½ cup light pink, ¼ cup dark blue, ¼ cup light blue, ¼ cup yellow and ¼ cup black. Reserve 1 ½ cups white (thin 1 ¼ cups with 4 teaspoons light corn syrup). Prepare disposable decorating bags, separately, with coupler and light pink, dark pink and white icing. Prepare additional disposable decorating bags, separately, with tip 3 and black, yellow and blue icing. Position cake on plate. Ice cake sides, background areas and eye smooth with thinned white icing.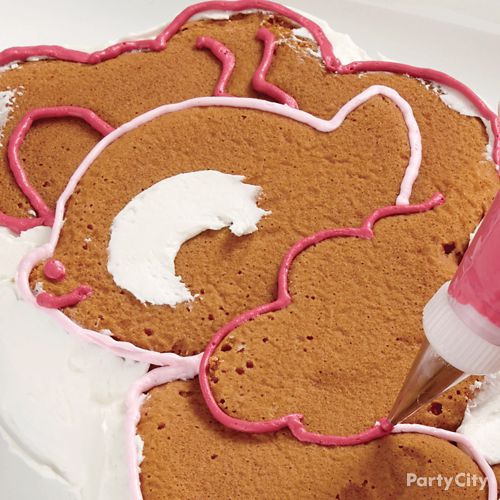 2) Outline cake
Use tip 3, a cut disposable decorating bag and light pink icing to outline body. Outline mane, tail, nose and mouth with tip 3 and dark pink icing.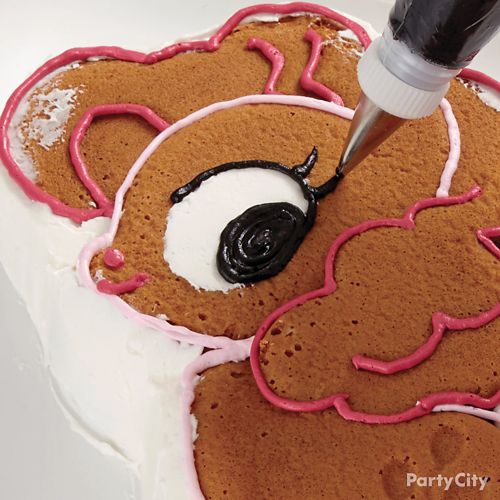 3) Decorate eye
Outline eye, lashes and pipe in pupil with tip 3 and black icing. Pipe iris with light blue icing and dot eye highlights with white icing.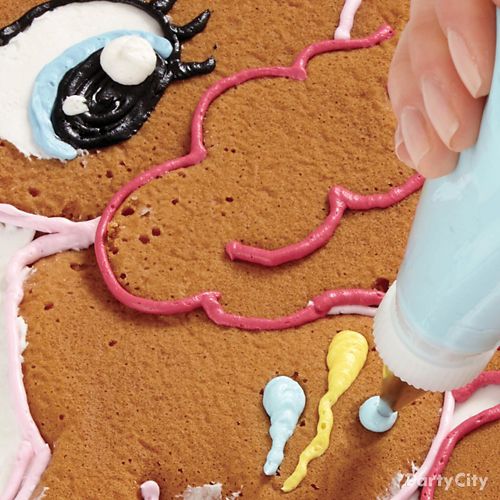 4) Decorate balloons
Use tip 3 to pipe balloons and strings with yellow and dark blue icing.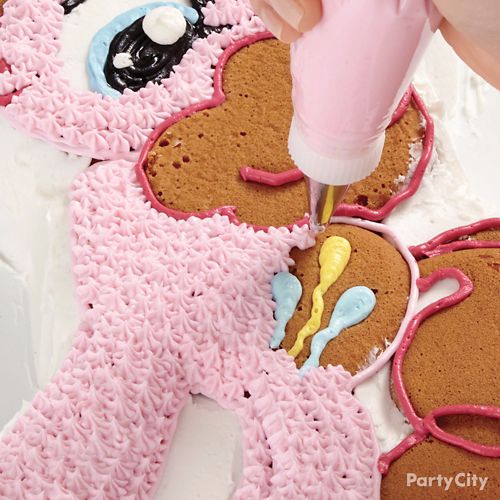 5) Decorate body and head
Use tip 16 to pipe stars on body and head with light pink icing.
6) Decorate tail and mane
Use tip 16 to pipe stars on tail and mane with dark pink icing.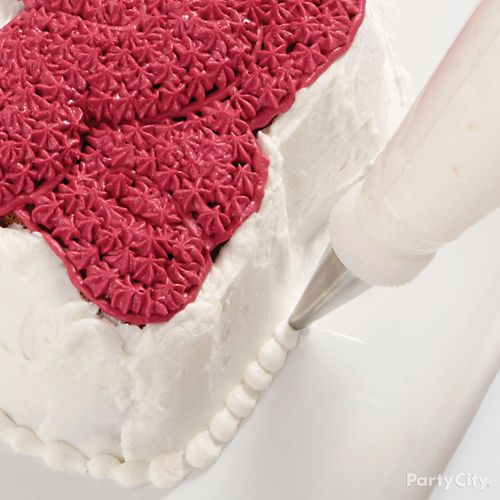 7) Decorate bottom border
Use tip 5 to pipe bead bottom border with white icing.