Glam it up with a pink and orange candy table! A pink and orange color story is perfectly diva-licious! A glint of gold looks amazing with vibrant pink and orange hues. Let it inspire a candy buffet that's posh and pretty for any party where a little luxe is called for! To show off your candy colors, mix and match different sizes of containers, cocktail glasses and pretty little organza bags. Get close-ups of all of these ideas, including the gorgeous fan decorations!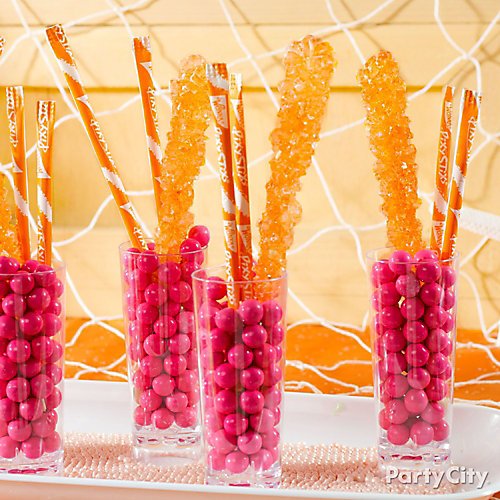 Idea 1: Make cute candy "drinks" for munching and mingling!
Cordial glasses brimming with pink Sixlets® get diva-licious when you add orange Pixy Stix® "straws" and dazzling rock candy! Set them on a white tray sprinkled with pink candy pearls to let your sweet creations shine. Have fun creating your own tasty candy combinations!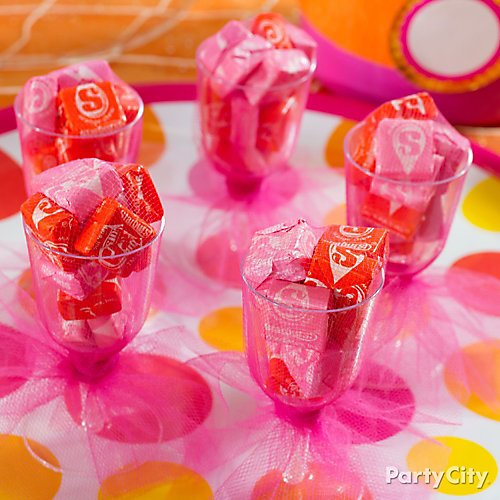 Idea 2: Summer-sweet favors are easy: Just add a flirty touch of tulle!
Make these little portions of paradise with mini wine glasses, pink and orange Starburst® and pink tulle! We cut 12-inch squares of tulle, wrapped them around the glasses and tied them off with smaller strips of tulle around the base of each glass. At the end of the party, bring a trayful out and give everyone a little take-home treat!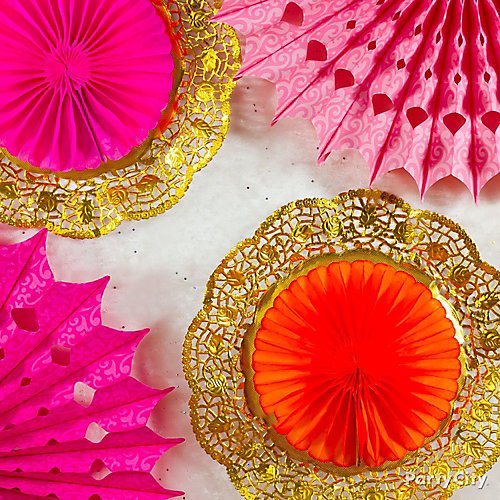 Idea 3: Mini paper fans + gold doilies = too beautiful
Give your candy-scape the star treatment with glam wall decorations. To DIY the gold doilie paper fan, just trim off the paperboard handles on the fans and attach to gold doilies with a bit of hot glue. We're loving these on the wall behind a candy buffet and/or dangling from the ceiling above the table. Pretty as a summer sunset!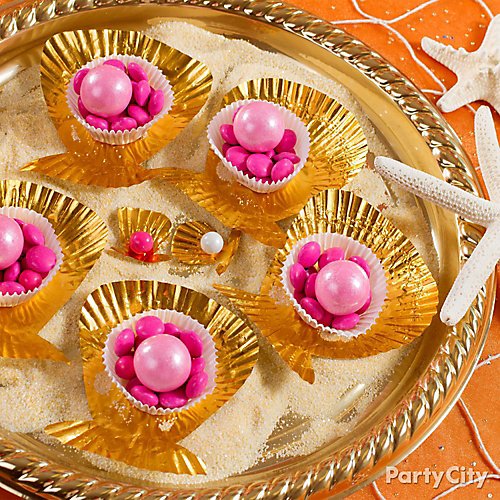 Idea 4: Candy pearls + golden oyster cups = very pin-teresting!
Serve a sand bar of pearly delights! To create this shimmering display, cut gold baking cups into oyster shell shapes and attach mini white paper baking cups. Fill the cups with pink chocolate drops and a pearl-pink gumball, or make a mini oyster with a single chocolate Sixlet®. Rest the "oysters" on a bed of sand on a gleaming gold tray. Looks like a treat a mermaid would love!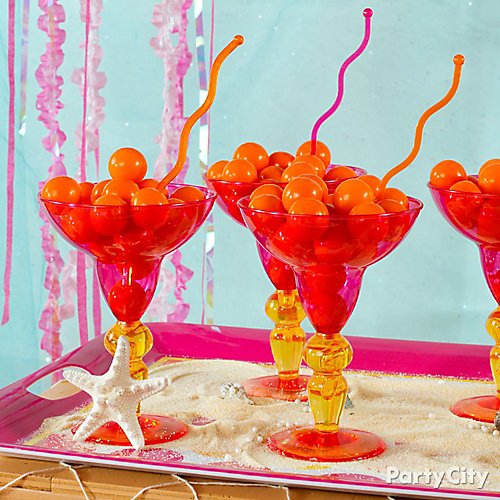 Idea 5: Cheers to cand-aiquiris!
The hot color combination of orange and pink looks cool served tropical-drink-style! Place bright orange gumballs in hot pink margarita cups (we love these oversized gumballs or you can use mini size). Serve them up on a tray covered in soft sand and scattered with elegant shells, just like the beach. Add swizzle sticks to complete "daiquiris" that pop with color!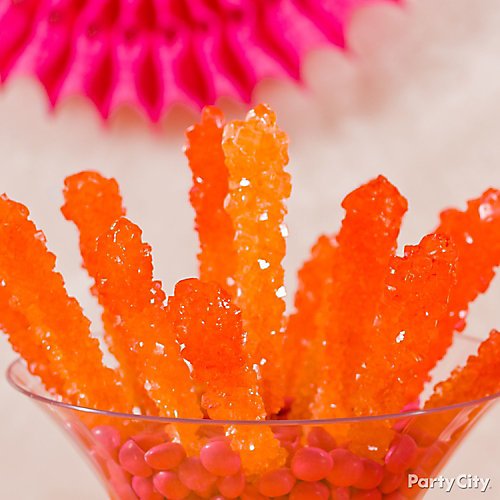 Idea 6: Give your rock candy a makeover (with color mist!)
We love this trick for creating a vibrant ombré-effect rock candy display: spray the ends of your rock candy sticks with edible orange color mist! For a WOW candy bouquet, display in flared bowls filled with chocolate drops. (For height, use a second overturned flared bowl as a base; see the first slide of this gallery for inspiration!)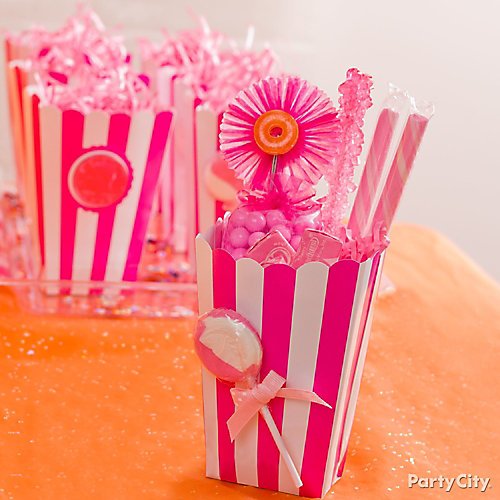 Idea 7: Cute candy favors make a style statement
Candy favors are both elegant and delicious! Decorate a favor box with lollies, bows and stickers. We filled them with paper fan favor bags and pink and white confections like rock candy, Starburst®, candy sticks and more. Adorable!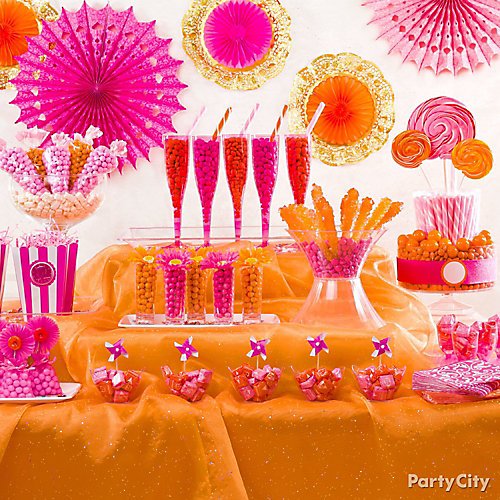 Idea 8: Create your own luscious pretty-in-pink candy land!
Glam it up with diva-licious candy buffet ideas in pink and orange with a touch of glitz. Color-coordinated candy, mini cocktail glasses and fun paper fans make a posh and pretty party!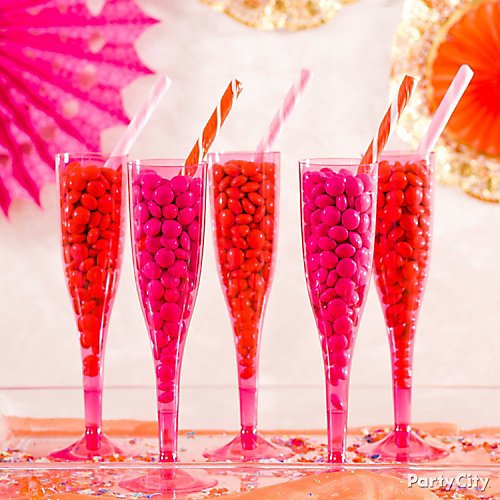 Idea 9: Here's to deliciously colorful candy "champagne"!
Style these tasty cocktails with candy stick or swirly lollipop "stirrers" and display them on a clear tray filled with confetti. Super fun! The pink and orange color-play of the candy looks fabulous in champagne flutes. Fill them with orange and bright pink chocolate drops, and the candy inside looks like bubbles!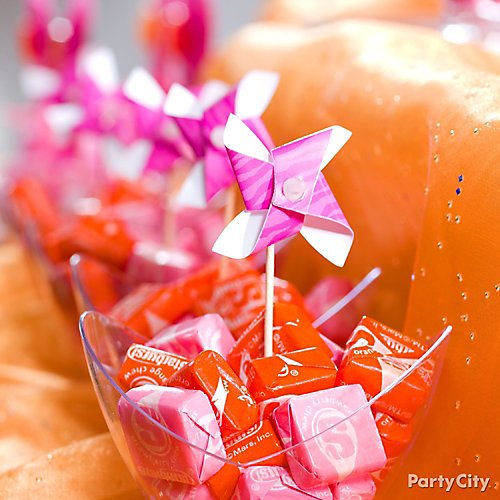 Idea 10: Pin this breezy pinwheel candy boat idea!
We're loving these sweet little candy boats with pinwheel "sails" (they're cupcake picks). Fill a row of cute clear mini bowls to the brim with pink and orange Starburst® or any small wrapped or coated candies. These look amazing lined up on the candy buffet – and they're super-quick to put together. Talk about a pin-teresting party!