These fun, no-fuss All-American eats will be the stars of your party! Patriotic eats, sweets and refreshers. Check out these great food and drink ideas that are as American as apple pie. Don't believe us? Just try to say no to hot dogs, hamburgers, French fries, s'mores and more. Get all the details and salute the red, white and blue!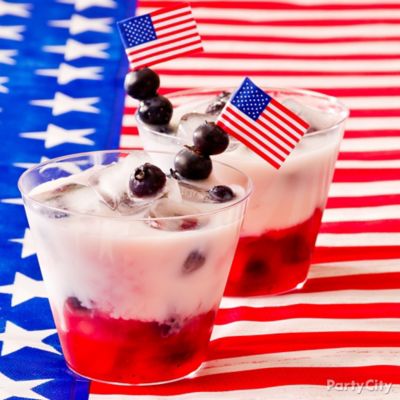 Idea 1: Grown-up cocktails can be fun too!
We adore this Blueberry Absinthe Cocktail's stars-and-stripes look and sophisticated flavor. Fill a cocktail glass with ice cubes (we froze blueberries inside ours). Use a cocktail shaker to mix a handful of ice, 2 shots Stoli Blueberry vodka, 1 oz pomegranate juice, 1 tbsp fresh lemon juice and a splash of simple syrup. Pour into a small tumbler. Top with 1/4 oz Lucid Absinthe, then club soda, pouring both slowly over the back of a spoon. The absinthe will slowly turn from clear to milky white.
Idea 2: A parfait buffet celebrates the spirit of the USA!
America loves individuality, so let everyone have it their way at a fruit-and-yogurt parfait station. Use mini parfait cups that are easy to carry as your guests mix, mingle and supervise water-balloon fights! Include summer berries, yogurt, granola, honey and other toppings so they can build tasty treats just the way they like.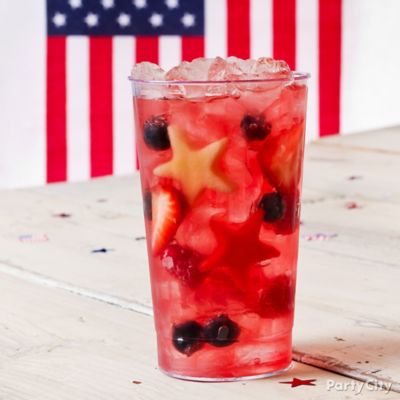 Idea 3: Bring out the stars by adding fruit
A little summer fruit in your party cups is a quick, easy way to turn even the most basic beverage into a festive party drink. Whether it's sangria or a Shirley Temple, make it U.S.A. all the way by adding sliced star fruit, sliced strawberries and a handful of blueberries. Red, white and blue all the way!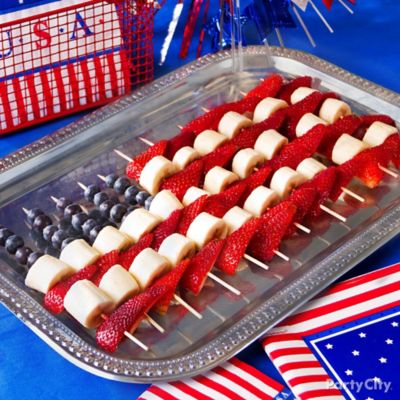 Idea 4: Make a fruit flag
Strawberry, blueberry and banana kabobs line up beautifully to salute the grand ol' flag. The berries are the perfect colors for this no-fuss patriotic dessert (marshmallows make perfect white stripes, too). A drizzle of chocolate syrup goes great with these, but either way, kids and grown-ups alike will eat 'em up!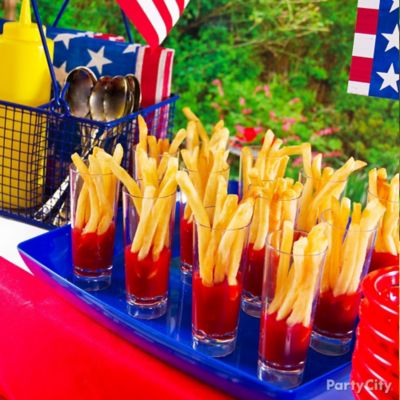 Idea 5: Serve fries in party-sized portions
Serve crowd-pleasing fries without the hassle of serving fries to a crowd. Use mini plastic cordial glasses to create a tray of single servings, complete with ketchup. They'll rave about this trendy twist on a classic American favorite.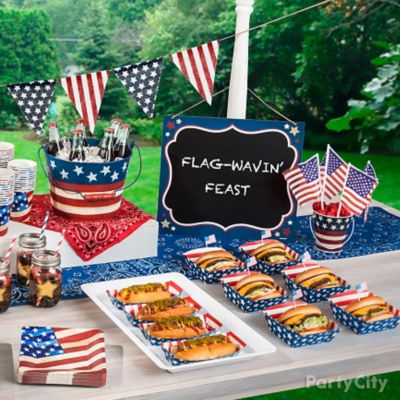 Idea 6: Grab-and-go hotdogs and hamburgers!
Pre-make hotdogs and hamburgers in mini trays, so everyone can take one (or two), chow down, and mix and mingle. Use flag picks in the food and a fun chalkboard sign to add sizzle to your buffet display.
Idea 7: Dress up your drinks for kids (of all ages!)
The best party drinks are as much about the presentation as the ingredients! Pour some red, white and blue stripes by starting with pomegranate juice, cranberry juice or red Italian soda, then adding blue Gatorade and club soda or lemon-lime soda. Finish with fun curly straws for a family-friendly cooler that'll make 'em ooh and ahh way before the fireworks start!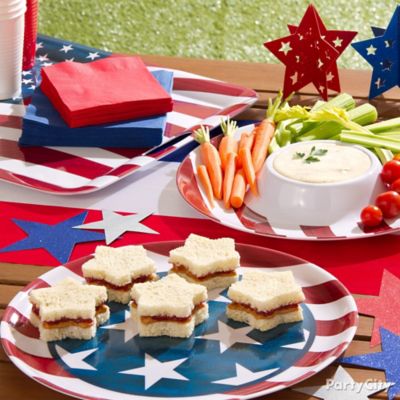 Idea 8: Salute the flag-printed serveware!
Serve up bite-sized patriotic portions on stars-and-stripes serveware! The grand ol' flag looks great on serving trays, platters and chip-and-dip trays with yummy finger foods like veggies and dip, and peanut butter and jelly sandwiches cut into stars.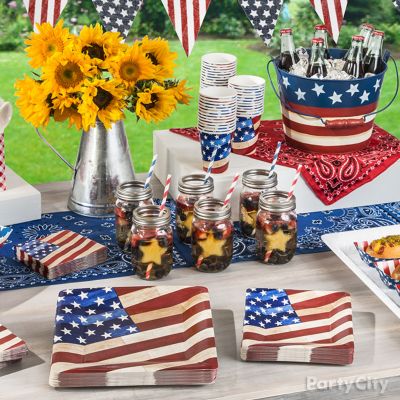 Idea 9: Fill the table with stars, stripes and sunflowers!
Create refreshing drinks by cutting pineapple slices into star shapes and popping them into mason jars filled with fruit waters and berries. Add striped straws in blue and red. Decorate your table with sunflowers and a tub of cola bottles, and use bandanas for table runners. Perfect for a day of food, friends and fireworks!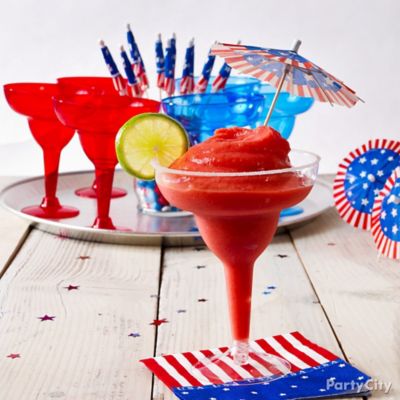 Idea 10: Give Strawberry Daiquiris some patriotic flair
Guaranteed to make your 4th of July party a chill zone! For each drink, blend 5 frozen strawberries, 1-1/2 oz lime juice, 1-1/2 oz rum, 1 tsp sugar and 1 cup ice. Don't forget the fruit garnish, drink umbrella and sugar rim! Yum!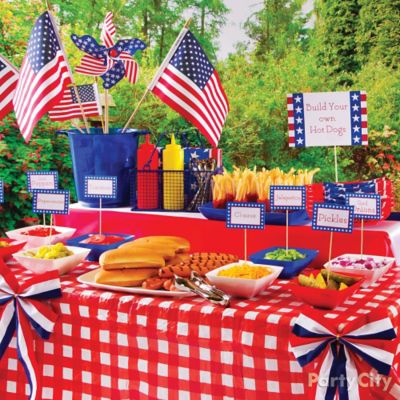 Idea 11: Make a hot dog station your main attraction
Setting out condiments to please every palate is your chance to look like the hostess with the mostess! Custom printable cards turn tried-and-true into terrific – and make it easy for guests to spot their favorite toppings, from pickles to pepperoncinis.