Cool ideas for celebrating your country in red-white-and-blue style! Fun, friends and fireworks! Have a blast at your neighborhood block party with these star-spangled ideas. Everyone's faces will light up like sparklers when they see your 4th of July favors, DIY firecracker centerpieces and stars-and-stripes decorations. Before you fire up the grill, check out our sizzling Independence Day ideas… from Uncle Sam-inspired funwear to a red-white-and-blue beverage bar. Too cool!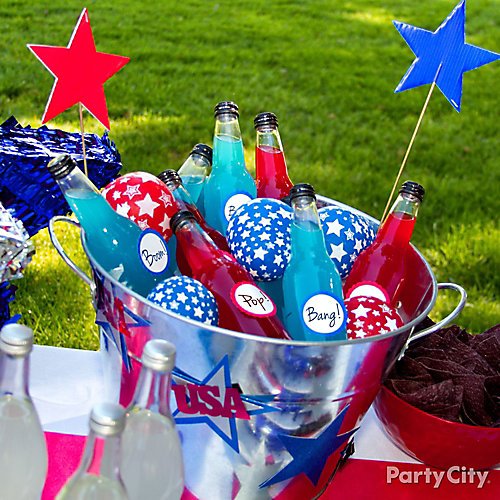 Idea 1: Keep the drinks chillin' with colorful balloon ice!
Here's a fun way to keep drinks cold: Fill red and white star-printed balloons halfway with water and freeze the night before the party. For a USA-mazing drink display, we attached sparkly stars to bamboo cutouts and snazzed up red and blue sodas with fun hand-written stickers. A warm summer's night, fireworks and ice-cold drinks – 4th of July perfection!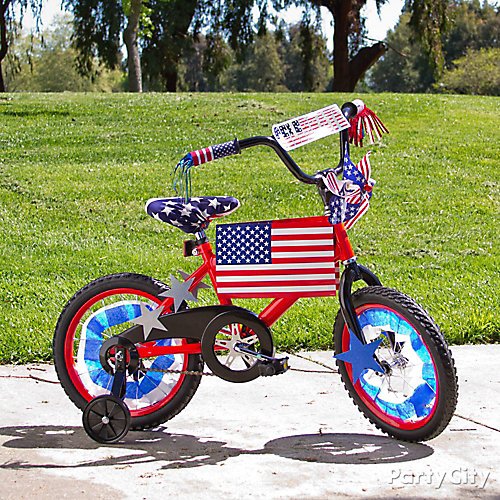 Idea 2: Let freedom ride!
Park the kids curbside with red-white-and-blue streamers, cutouts and pinwheels to get their bikes parade-ready. Try weaving streamers through the spokes of the wheels, taping star cutouts to the frame and wrapping an American flag bandana around the seat. They'll love cruising through the block party or parade on their decked-out wheels.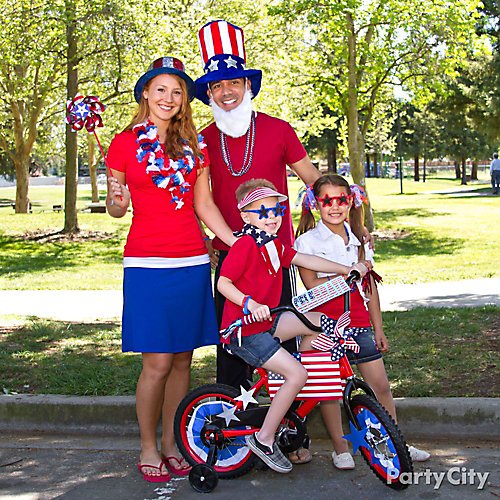 Idea 3: Take a patriotic family portrait
Make the 4th even more memorable with a family photo of everyone in their reds, whites and blues. Put on a flowery patriotic lei and top Dad in a stovepipe hat styled after Uncle Sam's – it comes with a beard! When Mom and Dad get in on the fun, you're sure to see smiles on everyone's faces!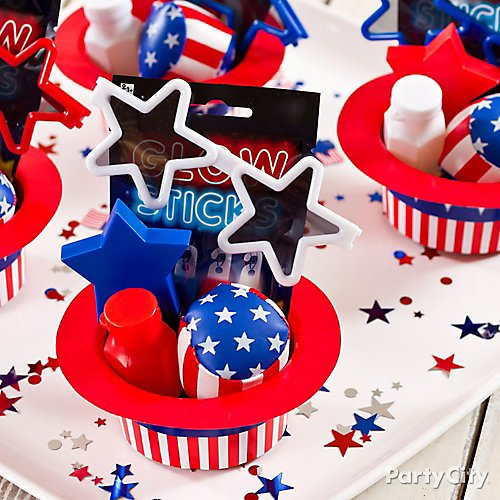 Idea 4: Give the little patriots Uncle Sam hats filled with favors!
What's more exciting than fireworks? Party favors in red, white and oooooh! Mini patriotic top hats make unique favor containers and fit the perfect amount of goodies, like star-shaped novelty glasses, bubbles and glow sticks. Put them out on a tray to surprise your pint-sized patriots. They'll have a blast playing all day!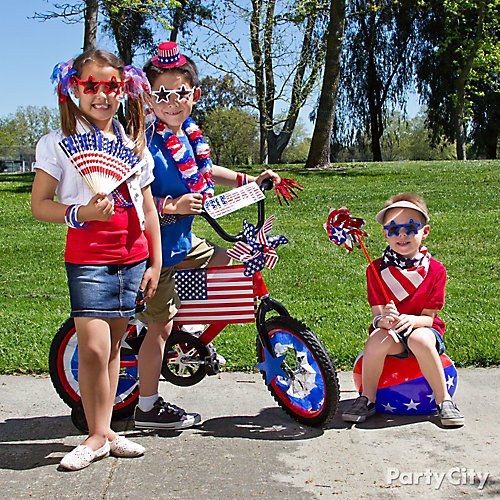 Idea 5: Parade time! Get your stars & stripes on!
The kids will have a blast decorating themselves in leis, sunglasses and hats for the parade! These little Uncle Sams and Lady Liberties will love decking each other out in head-to-toe patriotic party gear – and you'll love taking pics to share on Instagram (#adorable)… Check out details on how to decorate their bikes!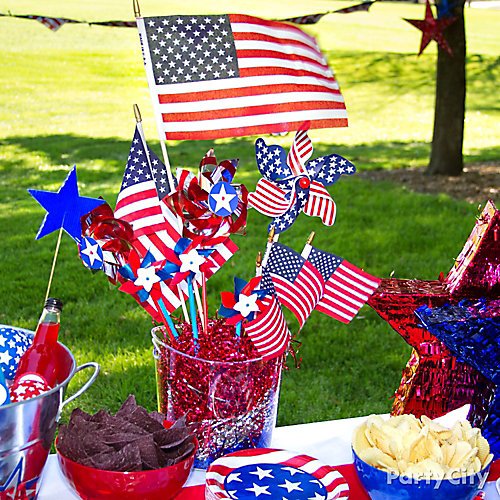 Idea 6: Yay for flags and pinwheels!
Our fave 4th of July centerpiece is also a great way to display patriotic party favors. Mix different sizes of American flags and pinwheels in a clear ice bucket filled with metallic tinsel. It's a bright and colorful display that celebrates the spirit of Independence Day!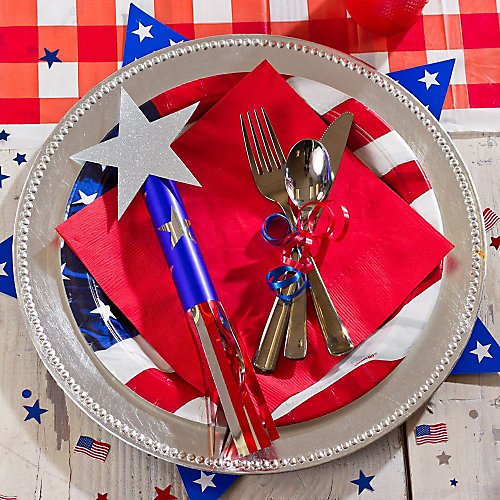 Idea 7: Fun ways to create fireworks at each place-setting
Make each place-setting sparkle like fireworks by decorating with stars, stripes and silver! Start with a large star cutout, and then layer on a silver charger and a flag-design plate. Pairing a noisemaker with each plate setting makes for a spirited décor and favor!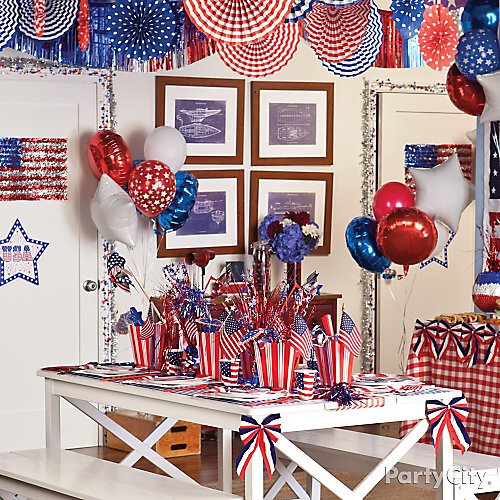 Idea 8: Set a "fireworks" ceiling display
If you're having an indoor party, bring the magic of the 4th of July inside by creating a ceiling display that will amaze your guests. Hang paper fans, metallic garland and other great decorations in patriotic colors from the top of your ceiling. The circular fan decorations and metallic shine of your garland will set a sparkling scene for your party.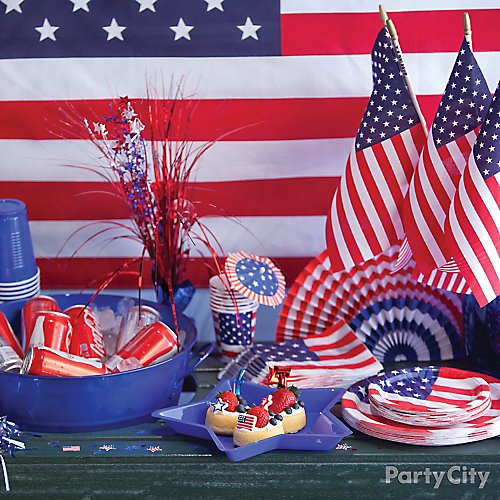 Idea 9: Drape a star-spangled banner behind your tables
Make a grand Old Glory backdrop with a large American flag. Make a big impression with the large flag from the flag kit as your background, then add solid color serveware and tableware printed with stars and stripes. Sprinkle handheld American flags and mini paper buntings along the table for fun pops of color.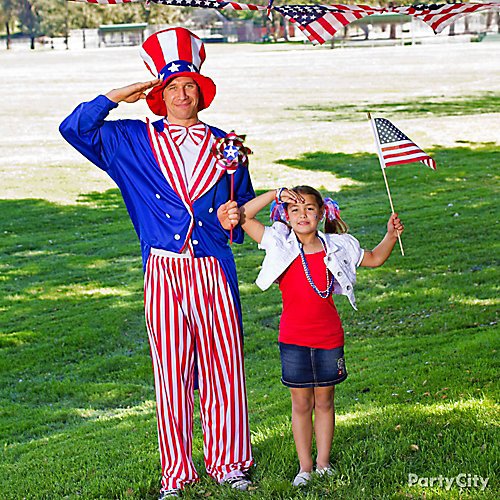 Idea 10: The kids will love it when you get your Uncle Sam on!
Whether you're in the parade or going to a big barbecue, an Uncle Sam costume will get everyone's vote. The kids will love it when you hand out little flags and pinwheels, and the adults will get a kick out of your attitude! Get ready for some Twitter-ific pics. Go U.S.A.!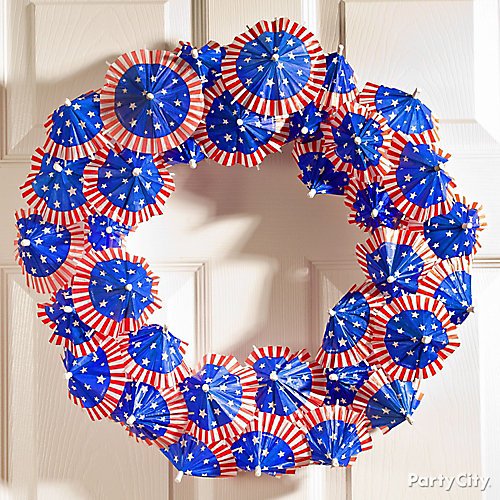 Idea 11: Make a DIY patriotic wreath to greet guests at the door!
Show off your Independence Day spirit with a wreath of flag-print parasol picks! It's easy to create this unique 4th of July decoration: Start with a foam craft wreath and place patriotic drink umbrellas all over so it's covered from every angle. Hang on the front door or gate to welcome everyone to your grillin' and chillin' extravangza!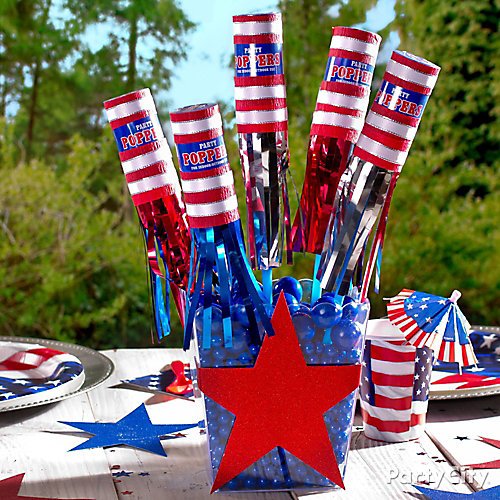 Idea 12: Celebrate America's birthday with a fireworks display on the table!
Light up the sky with confetti and color over your backyard barbecue table with this DIY idea! Create firecracker favors out of kid-friendly Party Poppers that shoot out confetti and streamers. Wrap the poppers in red streamers with thin, white ribbon stripes on top. Tape red, white and blue tinsel fringe from a banner to the bottoms and pop on a bamboo skewer before placing in a container of gumballs. A cool centerpiece with patriotic flare!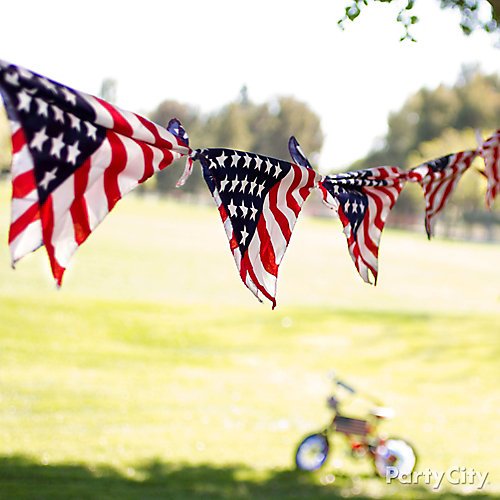 Idea 13: Knot bandanas to create a spirited streamer!
Broad stripes and bright stars make an excellent decoration, especially on a bunting. Get creative and make it unique with American flag-print bandanas. Just tie the ends together and string them from tree to tree or above the food table. Make sure to have extra bandanas on hand in case guests want to decorate themselves!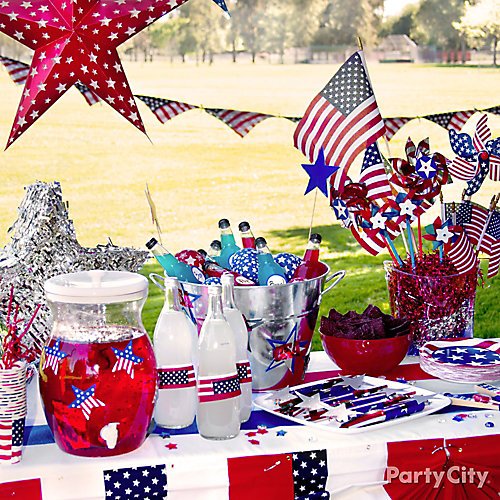 Idea 14: Set up a star-spangled drinks station!
The fireworks will be going all night, so take your cue from patriotic sparklers and style the table with silver touches like a foil star pinata and silver beverage tub. Star-shaped paper decorations, shimmery confetti and a satin table runner all stand out on your table of red, white and blue, letting your guests feast their eyes while they quench their thirst.