Your house will be the talk of the block this Halloween! Whether you're going for scary or sweet with your outdoor Halloween decorations, we'll show you how to absolutely delight this year's trick-or-treaters. Keep reading for Halloween decorating inspiration like giant eight-legged crawlers of every size, tombstones to line the lawn and cute porch decor!
Scary Halloween Yard Decorating Ideas
Sometimes being scared can be fun during Halloween! These scary yard decorating ideas will help your house be the most terrifying spot in town. If you want more decoration ideas designed to creep out trick-or-treaters, read our 15 Scary Halloween Yard Decorating Ideas.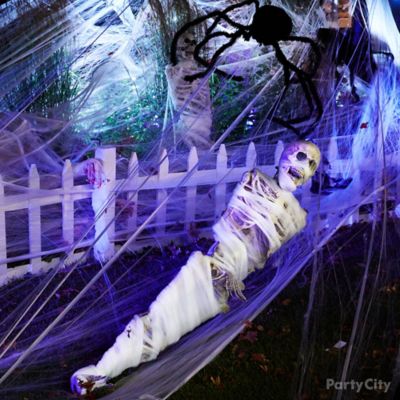 1. Wrap a Skeleton Decoration in Webs
Wrap a skeleton in webs to signal that this spider's prey has no escape. Secure him by attaching to a metal garden hook (from home supplies store) and stretch a clear table cover out so he is comfortable for his eternal rest. Run long stretches of spider web across his lair and all over your yard to let visitors know they should be very careful. Top off the haunted house illusion by hanging a giant black spider above victim number one. Then run for your life! For more creepy crawlies, see our Halloween Spider Decorating Guide!
Create a dark webbed world of spider victims: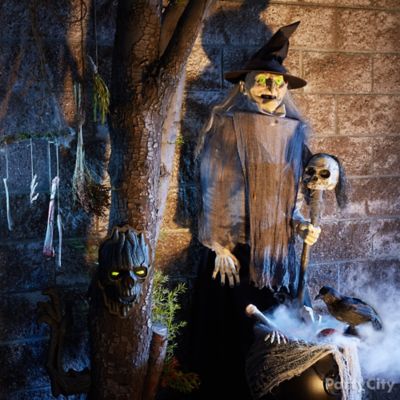 2. Create a Darkly Magical Witch Scene
Welcome to the witch's den! To create this wicked haunted house look, start by placing the animatronic witch in a spot where she has plenty of room to lunge! Next, easily set up a bubbling concoction that will emit eerie smoke. Start the recipe by placing dry ice into soup cans, then filling those with almost-boiling water. Put those cans in the cauldron and garnish the brew with a mixture of your favorite foliage, bones, and critters. Next, create a spirit tree to give the witch a freaky friend. For a final touch, create a wind chime out of bones for some awful ambiance! For a detailed look at our setup, check out our Halloween Witch Scene How-To.
3. Let Slim Man Scare Trick-or-Treaters!
Picture this Halloween animatronic, which we've dubbed "Slim Man," looming over everyone at eight feet tall, its unnaturally long arms swaying and its creepy whispering sounds in full effect. Now picture it back-lit with a strobe light in your front yard, tucked just behind some trees or bushes. First response from trick 'r treaters? If it isn't running in the opposite direction, it's because they're too freaked out to move.
Creep out the neighborhood:
Halloween Graveyard Ideas
The ghosts and ghoulies in your yard just can't rest in peace! The ideas below are just scratching the surface of the tomb, so be sure to visit our entire cemetery's worth of Halloween Graveyard Ideas!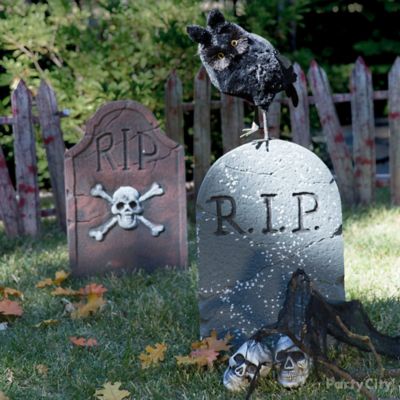 4. Dress Up Your Tombstones With Skulls and an Owl!
Someone gave this grave an offering of skulls instead of flowers! Skulls and gauze add extra dimension to the scene while the owl gives a little (after)life.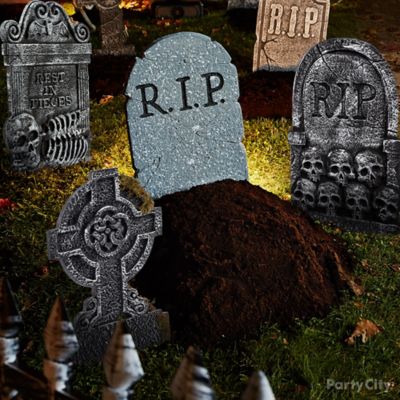 5. Conceal the Bodies Under Tombstones and Fresh Dirt
Transform your yard into a realistic scene that spooks people to death! (Fortunately for you, you won't have to move the bodies too far.) Choose an array of realistic, bone-chilling tombstones. Make it a truly sinister scene by topping off the graveyard look with freshly shoveled dirt in front of every grave. Keep the dead bodies safe by setting up eerie cemetery fences around the perimeter of your yard. There will be grave consequences for walking by your house this year!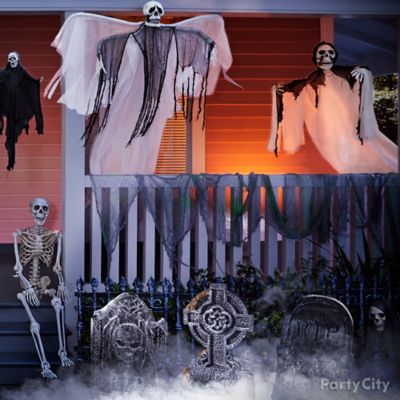 6. Use Black Gauze to Show Off Your Graveyard's Specters
Use black gauze to spookify fences, banisters and stairways. Drape black sheer gauze material to add a pleasing haunted effect here, there and everywhere. Use a variety of ghost and reaper props in different sizes to make sure your cemetery's well-inhabited by tormented spirits.
Halloween Porch Decoration Ideas
The best Halloween yard decorations lead to an even more incredible Halloween porch! Get inspired to create spooky, scary, and too-cute Halloween porch decorations below, then read the full article on Halloween Porch Decoration Ideas!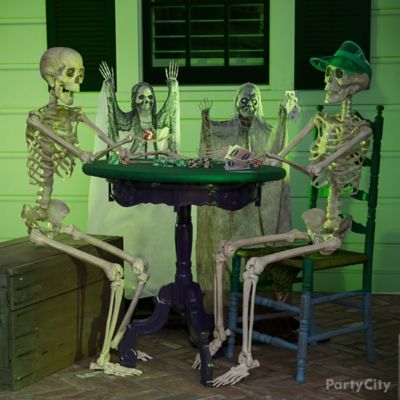 7. Set Up a Skeleton Poker Game
They're playing five card draw, graveyard rules! Grab a table and cover it with casino green, then set up the skeletons and ghosts so they can shuffle up and deal! (At least you know they're not hiding any aces up their sleeves!) You can use skeletons to create all sorts of funny scenes. There's no bones about it, everyday life is way funnier when it's depicted using Halloween skeletons.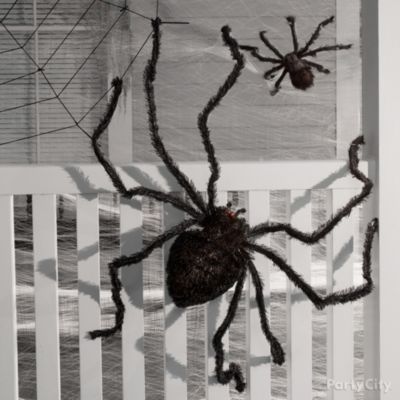 8. Creep Out Your Porch With Wicked Wall-Climbers!
Weave a web of fear with cobwebs and giant arachnids! Create crawling conditions for giant spiders by spreading stretchy spider webs from one side of the porch to the other. A giant light-up spider transforms into something even more terrifying at night when its evil red eyes glow. Add smaller spiders to the scene for extra creepiness.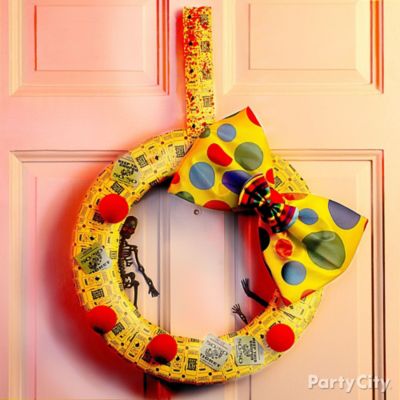 9. Clown Around With a Creepy Wreath!
Let arriving guests step right up to this carnival-inspired wreath with a creepy twist. You'll need a wreath form, a roll of raffle tickets, fake blood, mini skeletons and clown accessories. Cover the wreath in tickets and spray with fake blood. Get creative with clown noses and an oversized bow tie, then place a couple creepy skeletons in the center to smirk at guests as they walk in.
Cute Halloween Decorating Ideas
Looking to create a yard that gets more "aww"s than "eek"s? Decorate a kid-friendly Halloween wonderland with our adorable ideas! Need more frightfully cute decorations in your life? Explore all of our Cute Halloween Decorating Ideas.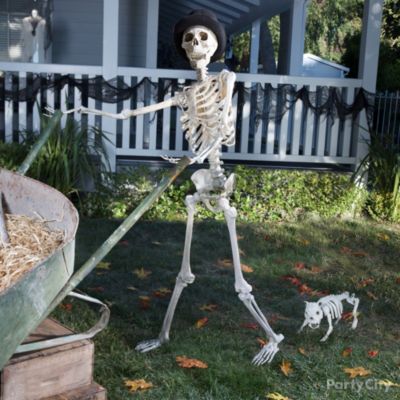 10. Pose a Funny Skeleton
Yard work never ends – not even for the dead! Tickle their funny bones with skeleton scenes in your front yard. This skeleton chap is hard at work with his bony best friend barking at his heels. Wait 'til you see what he's carting around in his wheelbarrow!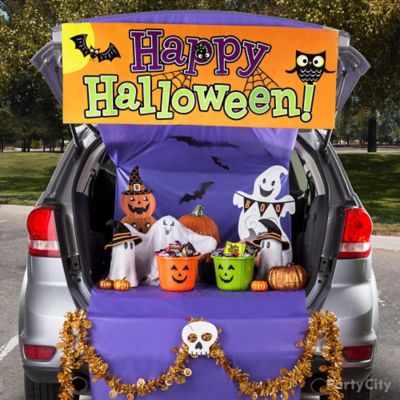 11. Decorate Your Car for Trunk-or-Treat!
It's time to gather the ghouls and take them for a spin in the parking lot! This trunk-or-treat idea repurposes Halloween yard decorations and small animatronics to make a lively scene. Place the ghoulish decor against a backdrop of purple plastic table cover and hang a scene setter banner on the trunk hatch. Add shimmery pumpkins, candy-filled buckets and bat cutouts—now you have a ghost story that's frightfully fun! See more Trunk-or-Treat ideas.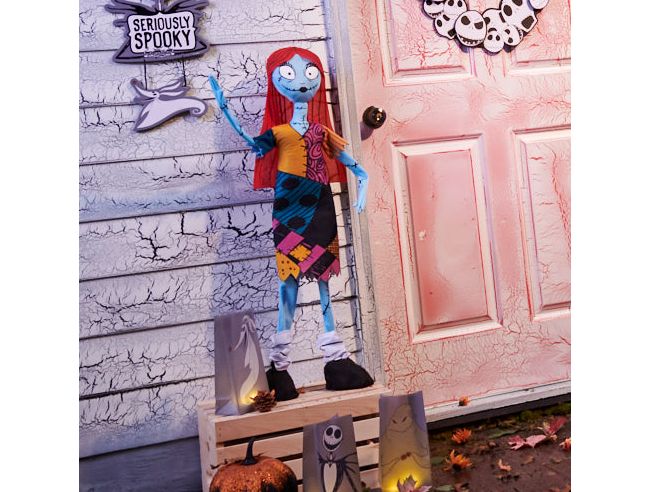 12. Nightmare Before Christmas Props
Welcome friends, family and trick-or-treaters to your home with frightfully adorable Nightmare Before Christmas decorations! Whether you're a die-hard Oogie Boogie fan or you forever ship Jack and Sally, your cute outdoor decor will appeal to a new generation of Nightmare Before Christmas fans.