Party City is your celebration headquarters. Not only for birthdays but for the holidays too! So fill your home with Christmas cheer thanks to products from Party City.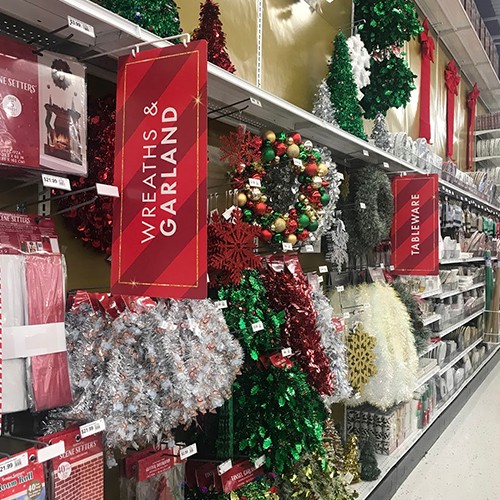 Christmas Decor Inspiration
If you are looking to add some new seasonal decor to your home, a trip to Party City is great for inspiration. You will find aisles filled with Christmas spirit. Everything from wreaths to stockings, tableware to costumes and even balloons! What is a celebration without balloons? You'll find fun Christmas themed balloons that are sure to bring the spirit of the season alive.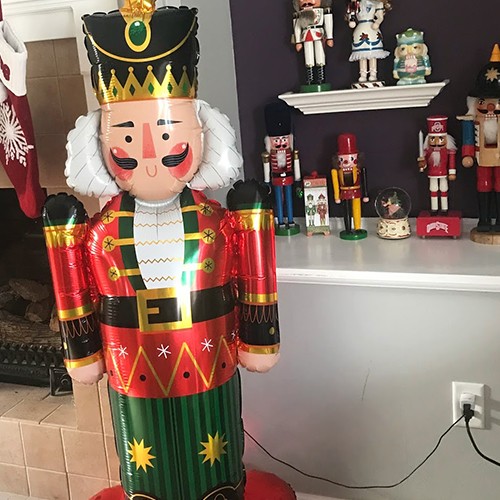 On Guard for Greetings
While I was looking at all the Christmas balloons one in particular caught my eye- the Airloonz Nutcracker Balloon. I have a cherished collection of Nutcrackers that all began when I was a child (and performed in the Nutcracker ballet several times). For the last couple of years I have had my eye on large outdoor Nutcrackers to put on my porch. But being a frugal minded mama, I just couldn't take the price tag on them. At just $12.99 each and 5 feet tall- I knew this Nutcracker greeter balloon would be perfect. These fun oversized foil balloons (also come in a Christmas Tree and Snowman shape) are actually meant to be air filled, not helium so they don't float away. After adding this fun find to my cart, I started to think about how else I could use balloons in my front porch decor.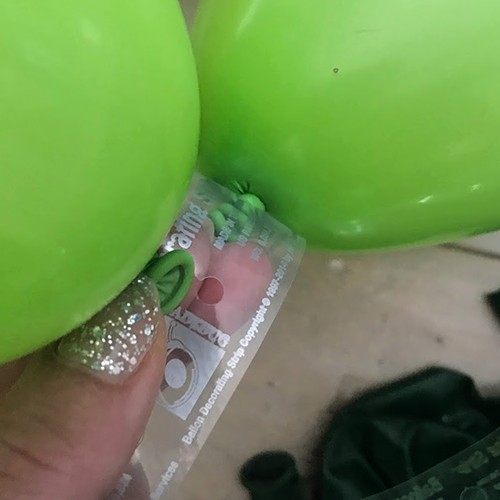 A New Kind of Evergreen Wreath
I headed over to the section with all the latex balloons to see if the inspiration would continue. At first the balloon column kits caught my eye to compliment the nutcracker. But right next to those kits was the Balloon Arch Decorating Strip and my wheels got spinning. Since I was wanting to create a welcoming porch scene, I definitely needed a wreath! I picked up several sizes of green and red balloons, the arch strip, some red curling ribbon and a large red bow. A tip on picking out latex balloons, if you do not see a color you want in the prepackaged bags, you can get the individual balloons in the bins for the same price as the bagged.

I got to work blowing up all the green balloons first. I bought 2 sizes just to add a little interest and fill in the wreath better. I laid the arch strip on the floor in a circle about the size I thought I wanted- but did not cut it yet, just to be sure it was a good size as I began to fill it up. I began placing the green balloons on the strip, just pull the knot through the hole, and left a few spots open along the way to add the red balloons.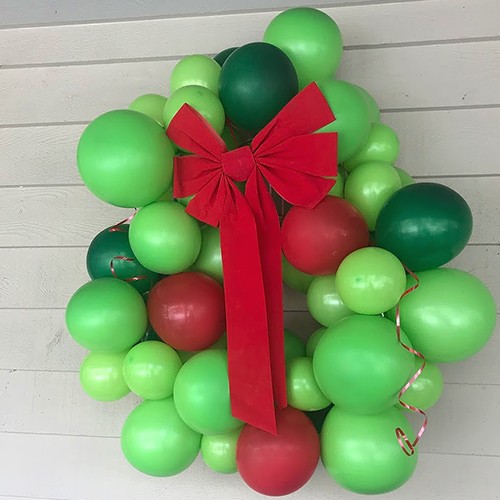 When I was done filling the strip, I cut the excess- be sure to leave one hole on each end of the strip open, this is how you will create the circle form. I used red curling ribbon to tie the two ends together. Originally I had planned on putting it on the door, but it ended up being a little bigger (and better) than I originally planned. The wall porch light ended up being the perfect anchor location. I topped off the wreath with a big red bow. I love how this fun twist on a Christmas classic turned out.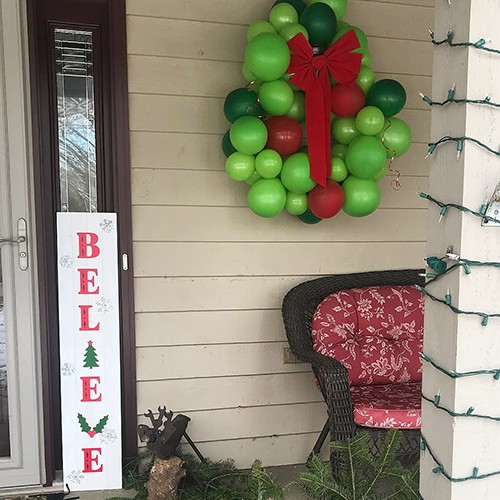 Welcoming the Christmas Season
After placing my nutcracker at attention and the wreath to adorn the wall, I knew I needed just one more item to finish off the look. I am so glad I picked up this wooden Christmas Believe Sign because it really does pull it all together. Now all who pass by will see the spirit of Christmas and hopefully be filled, as full as the balloons, with cheer!