Say cheers for this bubbly New Year's Eve cake!
Count down to 2018 with champagne bubbles and cake! Deck out an elegant white cake with black trim and gumball champagne bubbles spilling down the front – the perfect way to sweeten up your champagne toast! Boogie your way to our how-to for step-by-step instructions.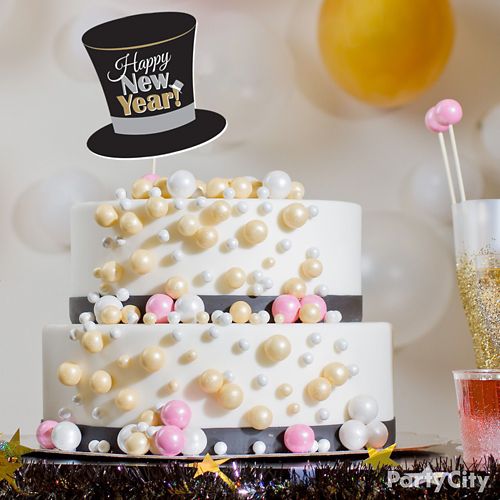 How-To
Ingredients:
2 two-layer cake rounds, 10 in. and 12 in. in diameter
Buttercream icing
3 boxes pre-rolled white fondant
Pre-rolled black fondant
Light pink gumballs (about 8)
Pearl white gumballs (about 12)
White Sixlets® (about 70)
Gold sparkle gel icing
Royal icing
Supplies:
Fondant roller
Fondant smoother
Pizza cutter or paring knife
Small paintbrush
Decorative paper cutout
8 in. skewers
14 in. cake platter
1) Make fondant bubbles
Create some glimmering golden bubbles! You'll need to prepare the golden fondant "bubbles" a day ahead. Use the third box of white fondant to make small "bubbles" from small bits of fondant rolled into balls. You can experiment with the sizes – we made ours roughly the sizes of Sixlets® and large gumballs.
2) Paint fondant bubbles
Let the fondant balls dry overnight. When dry and hardened, coat them with the gold sparkle gel, using a paintbrush to evenly spread the gel. Let dry for several hours.
3) Ice cake
To prepare your cake rounds for the fondant, ice them with a layer of buttercream icing.
4) Cover cake with fondant
Roll out two boxes of white fondant and cover both cakes, trimming off the excess with a pizza cutter or paring knife. Stack the cakes on the platter.
5) Create cake borders
Roll out the black fondant and cut two long strips, each about 1 in. wide. Make sure the two strips are long enough to wrap around the cakes. Dab the black fondant strips with water and attach to the bases of the cakes.
6) Place fondant bubbles
Use royal icing to "glue" your golden fondant balls, the gumballs and the Sixlets® onto the cakes. Arrange all the lustrous bubbles so they look like they're cascading from the top of the cake. Be sure to save the largest gumballs for the top and edges of the cake and the cake plate, as they're too heavy for the sides.
7) Add NYE decorations
Add some pizzazz! Glue your favorite NYE-themed paper cutouts to a bamboo skewer and insert into the cake. When the clock strikes midnight, cut the cake, pop a few bottles of bubbly and you're golden for the year to come!