Cool and creative New Year's food ideas! Nibble on appetizers until the clock strikes midnight! New Year's Eve is the last hurrah of the holidays, so there's no better time to throw a tasting party! Keep clicking for inspiration on serving mini frittatas, Italian skewers drizzled with pesto, home baked star croutons and more. To the New Year and the new tastes!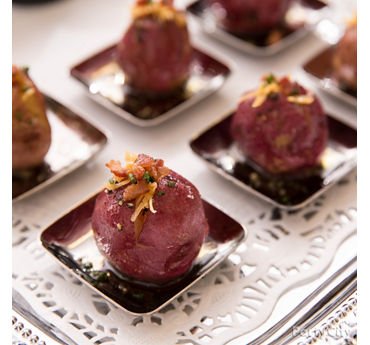 Idea 1: These little potatoes are easy-cheesy!
Cheese. Bacon. Bite-sized potatoes. What's not to love?! And making many small portions for this dish isn't labor intensive. Just bake the mini potatoes in the oven and slice the top to add in cheese, bacon crumbles and cilantro. These tiny silver trays, doilies and a large silver platter are perfect for their presentation. Delish!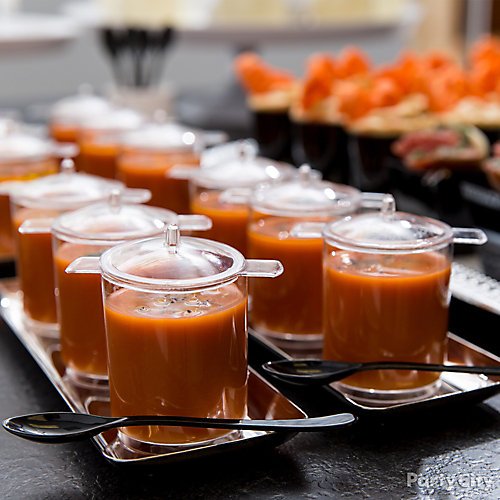 Idea 2: Serve sips of refreshing gazpacho soup!
This Spanish tomato soup is refreshing, and it's easy to have prepared ahead of time since the soup is served cold! Just spoon your favorite gazpacho into these little clear pots, complete with tiny spoons, and arrange them in little rows on mini silver platters. They'll be quite the crowd pleasers!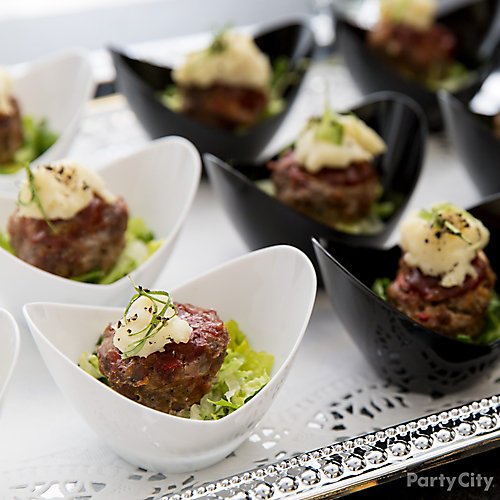 Idea 3: A tiny meatloaf will be a big hit!
Give an old favorite a new twist for the New Year! Take your favorite meatloaf recipe and add in chipotle seasoning and peppers to taste, and make it mini by rolling the mixture into balls rather than filling a loaf pan. Top the baked morsels with ketchup, mashed potatoes and a few sprigs of green onions. The black and white mini dishes give the presentation a stylish polish. Can you say "yum"?!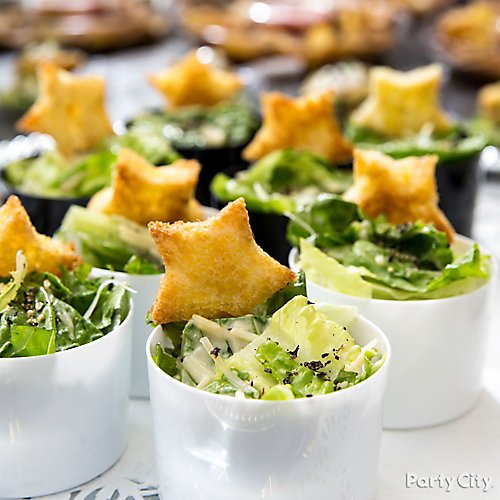 Idea 4: Star salad will shoot to the top of their favorites!
Have mini Caesar salads ready for everyone's New Year's resolutions! And give these little white bowls added glam by making star croutons to go with. All you'll need to make them is your favorite crouton recipe and a small star cookie cutter. Talk about starting the year off on a glamorous note!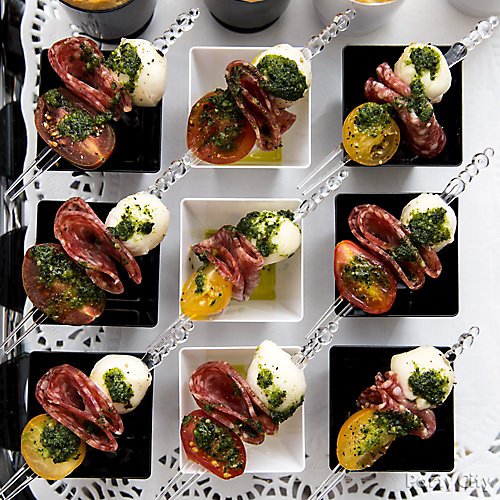 Idea 5: Be on-point with Italian flavors!
For this dish, skewer colorful cherry tomato halves, salami and fresh mozzarella balls on a party pick and then spoon on a small amount of pesto. It is designed to give a large impact of flavor in a small amount of food, and serving them on little black and white plates will make them look as bold as they taste. They're elegant enough for the classiest New Year's Eve party.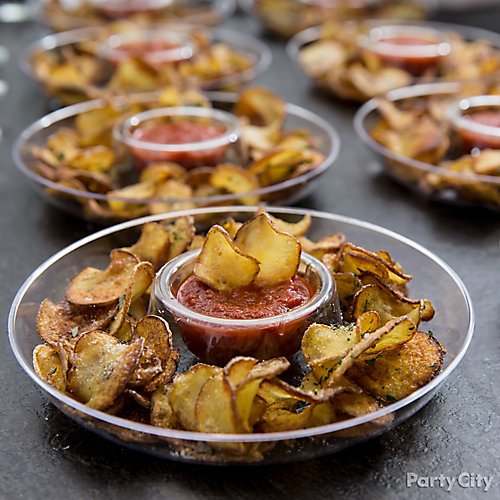 Idea 6: Marinara and parmesan make a delish chip and dip!
With this chip and dip combo, everyone will be glad it's served in personal bowls – they won't want to share! Dust thin slices of potatoes with olive oil, parmesan cheese and your favorite Italian seasoning, and bake them until golden brown at the edges. The flavors will have partygoers calling for champagne!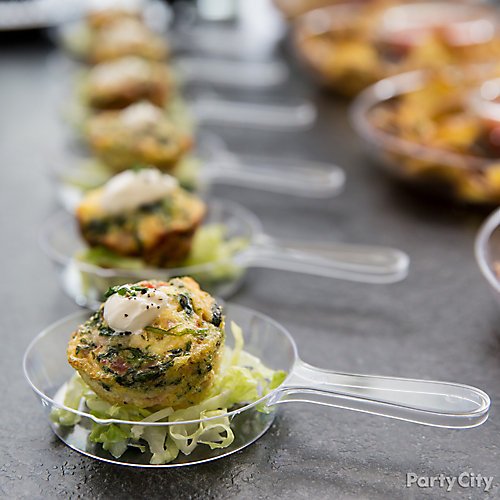 Idea 7: Skillet frittatas make for a scrumptious snack
Bake a little egg heaven into this mini frittata dish. Here we mixed together eggs, milk, spinach, minced garlic, pre-cooked sausage and red peppers in a bowl and baked them in a mini muffin pan. Once baked, serve them in mini skillets on a bed of shredded lettuce and topped with a dollop of sour cream and cilantro.