Build your own 1920's-style bubbly bar! Explore ritzy New Year's Eve drink recipes and glamorous ways to serve them. Sometimes it's best to focus on the important things, and in the case of New Year's Eve, we all know it's about the champagne. Create a display in mixed metallics with glamorous touches reminiscent of the Roaring Twenties. We bottled some of the best decoration ideas and New Year's Eve drink recipes so you can build your own elegant bubbly bar!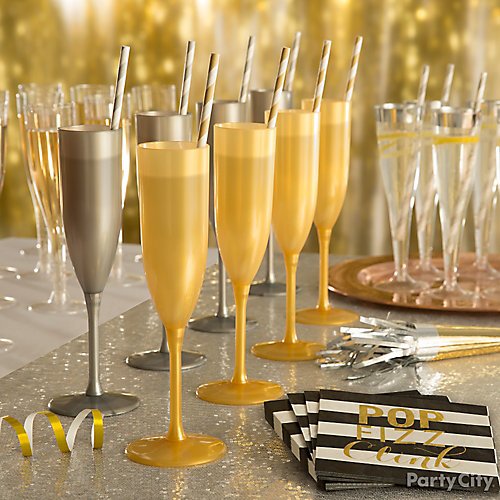 Idea 1: Sip, sip, hooray!
Mix and match sleek opaque flutes to serve up your libations, and style them with trendy metallic-print striped straws. Bold black and white striped napkins with Pop Fizz Clink written in gold draw eyes to your glitzy display, and remind your guests to toast to a new year!
Idea 2: Set up a ritzy drink station!
Create an eye-catching drink station with mixed metallic details like silver-rimmed champagne flutes and striped silver paper straws! Customize a gold-trimmed chalkboard sign with a playful phrase or list a menu of your drinks for the evening. Serve up classic prohibition-style spirits, like these Lemon Twist Fizz champagne cocktails.
Idea 3: Chic champagne shooters
The gents and flappers at your midnight ball will Charleston over to these mini shots, made with gelatin and champagne and served with silver spoons! Check out the recipe here, and don't forget to pair your drinks with jazzy metallic polka dot napkins that look like they've been sprinkled with confetti!
Idea 4: Crystalline delights enhance a classic 20's cocktail!
These stunning rose-gold cocktails get their color from a touch of brandy. To really make these the cat's meow, we traded cocktail straws for rock candy to sweeten the hooch to taste like candy! Clear rock candy on a stick is an easy and fun way to make drinks a little interactive this New Year's Eve. Serve them with shiny coasters and check out our Rose Gold Champagne Cocktail recipe to cheers to a New Year! Click here for the full how-to.
Idea 5: Dapper decorations for a New Year's drink
This Black Tie champagne is the bee's knees! Celebrate in style with this dashing New Year's drink recipe. See how we made it, and then serve up your drinks in gold-rimmed champagne flutes that are clear, so you can see the bubbles rising!