The clock's ticking—New Year's Eve will be here before you know it, and you want to plan a party everyone will remember. Whether you're throwing a small NYE celebration for family or an all-out bash for 600 of your closest friends, balloons can transform a regular party into an unforgettable event. Read on for a few of our favorite balloon hacks that will give your New Year's Eve party that "wow factor," whether you opt for air-filled or helium balloons.
Don't be afraid to GO BIG. This isn't just the first party of the year…it's gonna be the best!
Hack #1: Glitter Balloons
Wanna know the secret to DIY'ing trendy glitter balloons? Pump Ultra Hi-Float into a clear balloon. Spread the solution evenly by rubbing the outside of the balloon. Blow a little air inside to separate the sides, then use a funnel to add five to six tablespoons of soft foil confetti. Inflate the balloon with helium partway and shake to spread the confetti. Inflate the rest of the way and tie with ribbon in your party colors. You can also use a confetti balloon kit for a different look.
It's super fun to make these glitter balloons with air instead of helium and scatter them around the floor—but your guests may not be able to resist bringing in the new year with a bang…or should we say a pop?
Hack #2: Mix sizes and shapes
There aren't any hard and fast rules when it comes to what kind of balloons to use at your party. In fact, using a variety of shapes and sizes ensures the decorations are visually interesting.
If you want to keep things elegant, stick to a color scheme—black, silver, and gold is a New Year's Eve classic—and avoid using too many patterns or prints. clear mini balloons, shiny metallic foil balloons and 3D balloons like Pyramidz are some of our favorites.
Hack #3: Floating balloons illusion
Love the look of these balloons floating like champagne bubbles? Here's the trick: thread a needle with monofilament cord (a type of fishing line). Inflate the balloons with air or helium—helium will help the tops stay upright—and tie off. Thread the needle through the tail of each balloon, and knot the monofilament to keep the balloon in place. Keep stringing until you're happy with the length, then attach one end of the string to the ceiling.
Hack #4: Illuminated balloons
Set the scene for a romantic midnight kiss by incorporating balloon light displays into your New Year's Eve decorations. We used silver string lights (often called "fairy lights") that are battery operated, which means you can set them up without worrying about extension cords. Loop the string lights gently around balloon clusters or columns, then simply tape them in place in a discreet spot between balloons using slender pieces of duct tape. Another option is LED balloon lights, which you place inside balloons before inflating to create a glow effect.
As the night draws closer to midnight, your guests will swoon over the dreamy atmosphere your balloon displays create.
Hack #5: Next-level balloon columns
Balloon columns are a staple for large events, and they're easier to make than you might think. A balloon column kit and a good color scheme are all you need! Top it off with a 24-inch balloon to really make an impression.
For a more in-depth look at how to make a balloon column, check out this how-to article and substitute balloons in black and gold.
Hack #6: Shimmery Balloon Tails
For this year's NYE party, DIY your own shimmery balloon tails. Start by inflating a 24-inch balloon with helium and tying it with ribbon the same color as your desired balloon tail. Cut gold door fringe into small sections, slip a section around your balloon's ribbon, and staple the top edge to itself. Reinforce with hot glue to keep the ribbon in place.
The weight of these balloon tails keep these balloons from floating away. Instead, they'll catch the attention of your guests right away, floating and bobbing just above the ground.
Hack #7: Set up a balloon drop
Three...two...one...Happy New Year! Now picture this: dozens (or even hundreds?) of balloons floating down from overhead. A balloon drop guarantees your guests will be talking about your party in the morning.
For a large-scale event, you'll need to purchase a balloon drop net. The number of balloons you'll need depends on the size of net you choose, but you'll definitely need an electric air pump and a group of friends to help you inflate them the day of the party.
If you're having an in-home celebration, you can create a smaller scale effect with a balloon drop bag. The kids will love it, and the resulting photos are adorable!
Hack #8: Build a balloon arch
If you're looking for instant wow-factor, you'll need to build a balloon arch. Whether your guests walk beneath it as they enter the party or it serves as a party backdrop, a balloon arch will be one of the most memorable decorations at your New Year's Eve party. You may think this is something that requires a professional decorator, but we've packed everything you need into an easy balloon arch kit. For extra help, read our balloon arch how-to article and sub in the NYE balloons from your kit.
Hack #9: Go (really) big with number balloons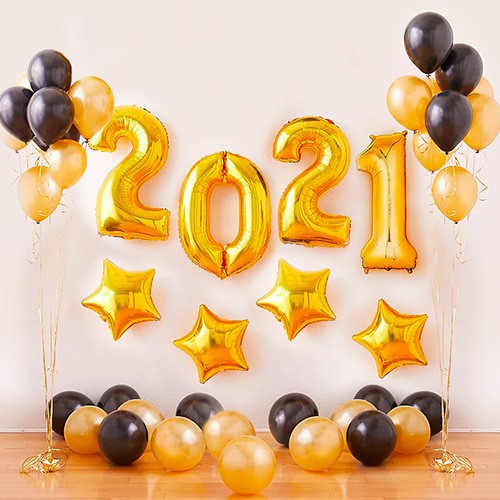 When giant number balloons just aren't enough, go bigger. These new jumbo number balloons are 53 inches tall, and make a B-I-G impression when used to spell out the coming year. Thanks to the eyelets at the top, they're easy to hang using monofilament cord (a type of fishing line). While giant number balloons are fun photo props, these are big enough to be a photo backdrop, or an impressive addition to other balloon decorations.
The easiest way to make a big statement with balloons? Inflate a LOT of 'em. Just when you think you have enough, inflate a few extra. Go for all shapes and sizes (plus a few statement balloons) while sticking to a color scheme to keep things on theme. Oh, and you're going to want a helium tank or an electric balloon pump. Trust us on this one.