Who is 100% done with 2020? *Raises hand* Typically, we ring in the New Year at our house with a big family-friendly bash with all of our local loved ones. Last year, I couldn't believe how excited we were to welcome 2020; but now we can't wait for it to be O-V-E-R! This year, we are shipping our daughter off to my parents' house and bidding adieu to one of the worst years ever on record with an FU 2020 adult dinner party with some couples from our QuaranTEAM! I'm glad that a cheeky party theme came out of this year at least…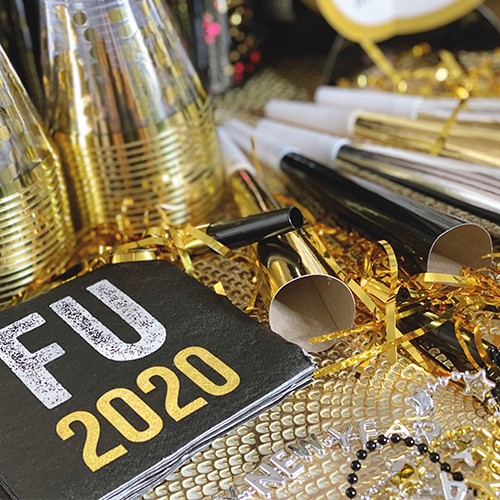 Supplies:
2021 Giant Black & Gold Confetti Photo Prop
FU 2020 New Year's Table Decorating Kit, 31pc
FU 2020 New Year's Swirl Decorations, 12ct
FU 2020 New Year's Beverage Napkins, 5in, 16ct
Metallic Vanilla Cream Fabric Tablecloth
Cheers to a New Year Plastic Tumblers 30ct
Gold Premium Plastic Knives 20ct
Gold Premium Plastic Forks 48ct
Black & Metallic Gold Stripe Premium Plastic Dinner Plates 10ct
Kit For 10 - Midnight Party New Year's Party Kit
Black, Gold & Silver Happy New Year Bead Necklaces 3ct
Metallic Black, Gold & Silver Star Bead Necklaces 42in 4ct
Glitter Black, Silver & Gold 2021 Glasses, 6ct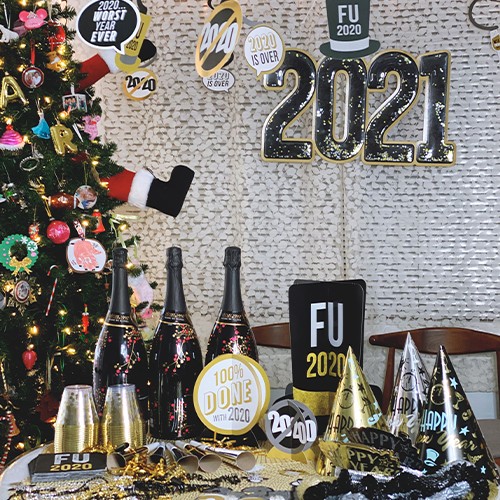 Party City has lowered prices on so many of their decorations, accessories and paper goods that we were able to set up a festive drinks and NYE accessories table as well as dress up our dining room for the dinner party for less than $85. And I'll definitely be using a lot of the supplies in the Midnight Party New Year's Party Kits for years to come.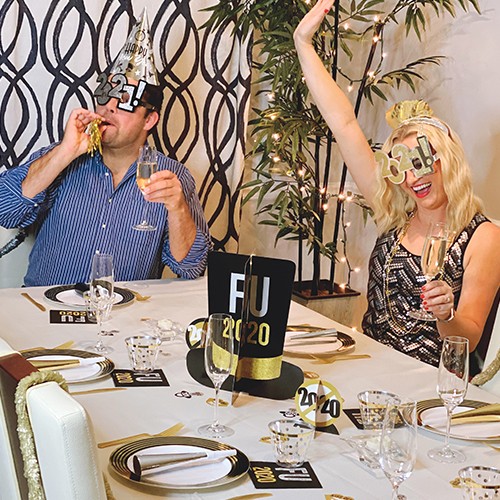 My favorite décor item we purchased though is the 2021 Giant Black & Gold Confetti Photo Prop. We decided to hang it on the wall and use it as part of our photo backdrop for the evening. I hope it's a beautiful omen of good things to come ahead… Happy New Year everyone!